Chantel Matikke Joins LMU Law Staff as First Law Library Fellow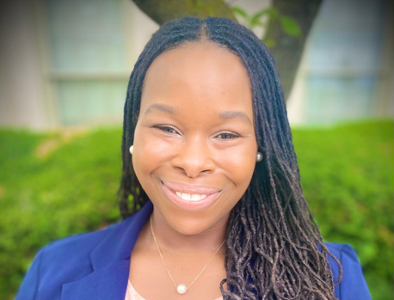 Lincoln Memorial University Duncan School of Law (LMU Law) announces the hiring of Chantel Matikke, JD '21, as its first Law Library Fellow.
The Law Library Fellowship provides a recent law school graduate with a stipend to complete a Master of Science in Information Sciences degree, at an institution of their choosing, while employed as a full-time staff member in the LMU Law Library. A primary goal of the fellowship is to diversify the law library profession by extending the opportunity to become a dual-degree law librarian to a lawyer who is a member of a group traditionally underrepresented in the legal profession.
"We are thrilled to welcome Chantel back to LMU Law through this innovative fellowship program," said LMU Law Vice President and Dean Matt Lyon. Dean Lyon also credited LMU Law Library Director Gordon Russell and LMU Law Library Associate Director Bianca White with developing the Law Library Fellowship.
Prior to joining LMU Law, Matikke worked with a local small business owner to provide project management, legal, and administrative support. She also enjoyed providing pro bono legal assistance at a local expungement clinic.
While a student at LMU Law, Matikke worked as a legal research assistant, deepening her interest in legal research while also gaining exposure to law librarianship. The Executive Symposium Editor for the LMU Law Review and a student member of the Library Committee, Matikke served in numerous leadership capacities while in law school. Additionally, she served on the Equal Justice Works National Advisory Committee and was LMU Law's first law clerk with the non-profit think tank Think Tennessee.
"Knowledge is a powerful tool in the pursuit of justice, equity, and truth. Library science helps to provide the infrastructure to make knowledge more accessible in the legal field and beyond. As an LMU Duncan School of Law graduate, I believe in the mission to 'produce practice-ready graduates who advocate with compassion, serve their communities, and adhere to strong ethical and professional standards.' I hope to contribute to this rich mission while serving as the Law Library Fellow."
Matikke is currently attending the University of Tennessee and seeking a Master of Science in Information Sciences degree. She anticipates graduating in fall 2026.
The Lincoln Memorial University Duncan School of Law is located in Knoxville's Historic Old City Hall Building. LMU Law is an integral part of LMU's value-based learning community and is dedicated to preparing the next generation of lawyers to provide sound legal service in the often-underserved region of Appalachia and beyond. For more information about LMU Law, call 865.545.5303 or visit us online at Law.LMUnet.edu.