LMU-CDM Faculty Research Published in the "Cardiovascular Medicine Journal"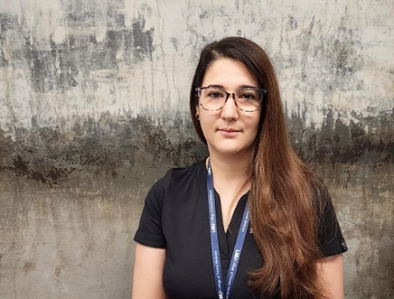 Lincoln Memorial University-College of Dental Medicine (LMU-CDM) Assistant Professor of Biomedical Sciences Karima Ait-Aissa, PhD, in collaboration with the University of Iowa, authored a research paper which was accepted and published in the "Frontiers in Cardiovascular Medicine Journal."
"Frontiers in Cardiovascular Medicine" is a leading peer-reviewed scientific journal covering all aspects of cardiology and vascular medicine in 20 sections, with more than 19,000 citations and 12 million views across 5,200 articles. This journal focuses on research that challenges the status quo of cardiovascular care or facilitates the translation of advances into new therapies and diagnostic tools. The journal has an impact factor of 6.05 which puts it among the top-notch journals in the field. 
Ait-Aissa's project investigates the bystander effect of radiation therapy on endothelial mitochondria in the development of vascular diseases. This research aims to identify new therapeutic targets and develop therapies to prevent long-term radiation-induced normal tissue injury effectively.
In the current publication, Ait-Aissa et al. have shown that radiation therapy induces mitochondrial damage, inflammation, and vascular dysfunction. Pretreatment with pravastatin, a hydrophilic statin known to have antioxidant properties, protects against radiation-induced vascular mitochondria injury. However, pretreatment with atorvastatin, a lipophilic statin, does not prevent the long-term effect of radiation therapy on vascular mitochondria.
In addition to the well-established relationship between periodontal diseases and the development of cardiovascular pathologies, cancer treatments have been shown to directly affect oral health leading to periodontal diseases.
"The data from this paper have potential avenue into using the anti-inflammatory and antioxidant effects of statins in head and neck cancer patients to efficiently prevent the anticancer therapy-induced periodontal diseases and protect against the development of cardiovascular diseases," said Ait-Aissa.
Read full article here.
Lincoln Memorial University is a values-based learning community dedicated to providing educational experiences in the liberal arts and professional studies. Lincoln Memorial University-College of Dental Medicine (LMU-CDM) is home to the Doctor of Medicine in Dentistry (DMD) and Dental Hygiene (DH) programs. It is located in Knoxville at the newly renovated LMU Tower. For more information about LMU-CDM programs contact, [email protected].