Bowers Receives President's Award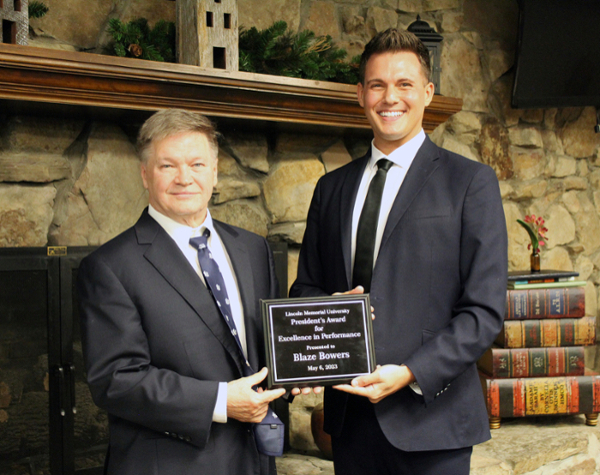 Lincoln Memorial University (LMU) President Clayton Hess presented Assistant Vice President for Academic and Student Support Services Blaze Bowers with the LMU President's Award during a special luncheon on Friday, June 16.
The LMU President's Award is given to an individual in recognition of excellence in performance, whether for normal or extra duties, assigned or pursued at one's own volition. The award is reserved for those who clearly make a dedicated effort to enhance the professional and collegial environment and image of LMU. The recipient is chosen at the discretion of the University president. The award is given at the discretion of the LMU President and not necessarily on an annual basis.
"This is the first time since becoming president in 2017 that I have given this award," said Hess. "Blaze has demonstrated a high level of ethical and moral character, excellent judgement, integrity in all matters and principled leadership. He exhibits a warm and caring attitude toward the staff he supervises and his colleagues across the institution, as well as a dedication to serving the best interest of our students."
Bowers joined LMU in September 2021. As assistant vice president for academic and student support services, he oversees the University's student services, academic success, counseling and accessibility, and institutional compliance and Title IX functional areas. He also serves as an instructor of criminal justice in the Paul V. Hamilton School of Arts, Humanities and Social Sciences. In addition, Bowers served as a fellow for the Tennessee Independent Colleges and Universities Association Executive Leadership Institute's Class of 2023.
"Mr. Bowers frequently represents the President's Office at meetings that I am unable to attend and currently serves as LMU's representative to the Tennessee Independent Colleges Government Affairs Council," Hess said. "There is no better advocate for LMU faculty, staff and students than Blaze Bowers."
Bowers came to LMU from the law firm of Wood, Smith, Henning and Berman in Tampa, Florida, following his graduation from the Stetson University College of Law, where he was a Raphael Steinhardt Awardee. While at Stetson, Bowers served as the teaching fellow for the Center for Excellence in Higher Education Law and Policy. He represented veterans before the Department of Veterans Affairs as an advanced certified legal intern at the Veterans Law Institute and served as a research and teaching assistant focusing on the areas of international law and human rights.
"I never expected to land in Tennessee or to be at Lincoln Memorial University. This has been the most impactful, transformative and incredible opportunity I've had in my entire life," said Bowers. "I love LMU, and I appreciate the president's office. I cannot say enough how much I value the support, encouragement, resources and empowerment it has provided me, for self-betterment, betterment of our division and for betterment of the institution."
Bowers now focuses his academic research on the disciplines of higher education law and policy, student affairs, administrative law and civil rights. He has published with the Florida Bar Association's Education Law Committee, has spoken at the Annual National Conference on Law and Higher Education and has been quoted by national publications on issues of Title IX and religious exemption law.
"I thank Dr. Hess for making a considerable personal and professional investment in me, Dr. Jody Goins, executive vice president for administration, for his mentorship and continuous training, and I have the best team in the world in academic and student support services," Bowers said.
Prior to attending Stetson, Bowers earned a Bachelor of Science in Secondary Social Studies Education and History from Grace College in Winona Lake, Indiana, in 2018. He is currently working on a PhD in higher education administration at the University of Tennessee, Knoxville.
Lincoln Memorial University is a values-based learning community dedicated to providing educational experiences in the liberal arts and professional studies. The main campus is in Harrogate, Tennessee. For more information about the undergraduate and graduate programs available at LMU, contact the Office of Admissions at 423.869.6280 or email at [email protected].