LMU Law Promotes Jordan Houser to Director of Career Services and Alumni Relations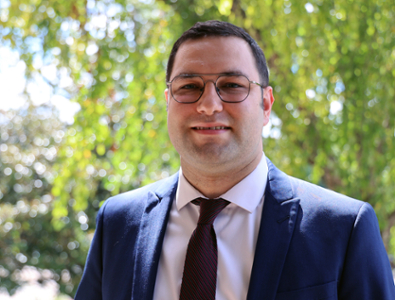 Lincoln Memorial University Duncan School of Law (LMU Law) Vice President and Dean Matt Lyon has announced the promotion of Jordan Houser to director of career services and alumni relations. Houser will lead LMU Law's Office of Career Services to counsel current law students and alumni regarding all aspects of career development, from aiding first-year law students with resume drafting to advising alumni on lateral moves years after graduation.
"In just a couple of years, Jordan has become an indispensable part of our LMU Law community," Lyon said. "I know that he will thrive in this new role. Moreover, by explicitly incorporating alumni relations into this position, we are increasing our ability to support and connect our growing LMU Law alumni network."
Houser joined the staff of LMU Law in 2021. Since that time, he has served as the assistant director of career services, where he has advised students and alumni on career and vocational matters, developed and maintained relationships with legal employers, and performed data collection and analysis to fulfill reporting requirements.
"Helping our students and alumni achieve their professional goals at LMU Law has been my greatest privilege. I am elated to continue serving our student body, connecting with our alumni, and raising LMU Law's profile in the local and broader legal communities," said Houser.
A 2017 graduate of the University of Tennessee College of Law, Houser is a lifelong resident of Knoxville, Tennessee. Houser previously served as a staff attorney in the Tennessee Valley Authority's Office of the General Counsel, where his practice focused on federal procurement and commercial transactions with an emphasis on complex legal and business risk issues. Prior to his time at TVA, Houser was a real estate associate in the Knoxville office of Baker, Donelson, Bearman, Caldwell & Berkowitz, P.C., where he served on the office's recruiting committee.
The Lincoln Memorial University Duncan School of Law is located in Knoxville's Historic Old City Hall Building. LMU Law is an integral part of LMU's values-based learning community and is dedicated to preparing the next generation of lawyers to provide sound legal service in the often underserved region of Appalachia and beyond. For more information about LMU Law, call 865.545.5303 or visit us online at Law.LMUnet.edu.