Dr. Sandra Weems Awarded the Houston Award for Teaching Excellence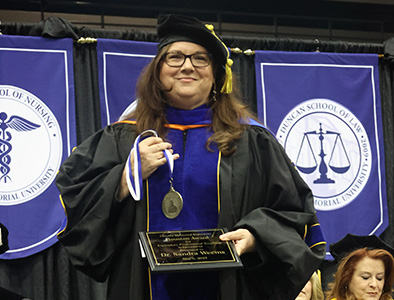 Lincoln Memorial University (LMU) Vice President for Academic Affairs R. Jay Stubblefield, PhD, bestowed the University's prestigious Houston Award for Teaching Excellence on Associate Professor of English Sandra Weems, PhD. The award was presented during LMU's Spring Commencement Ceremony on Saturday, May 6.
The Houston Award honors faculty who have exhibited exemplary professional teaching achievements characterized by clear, abundant, persistent demonstration of high standards of teaching. A member of the faculty of the Paul V. Hamilton School of Arts, Humanities and Social Sciences since 2016, Weems' teaching expertise is in British Literature, medical humanities, expository/argumentative writing, writing across the disciplines, and business writing.
"Dr. Weems exceptional teaching, mentoring, and research efforts have significantly impacted her students and colleagues alike," Stubblefield said. "She has been recognized for her outstanding faculty evaluations and has been invited to speak at other institutions on topics such as Medical Humanities."
In addition to the significant contributions to the English program at LMU through curriculum development, Weems also directs the Honors Scholars Program. She has been instrumental in the program's growth, impacting students across the university by promoting undergraduate research and fostering collaboration across disciplines. She has mentored many students and took a group to the 57th National Collegiate Honors Council conference in Dallas, Texas, earlier this year.
Prior to her academic career, Weems had a long corporate career in sales and marketing and pharmaceutical research. During those years she was a first-generation college student working her way towards an associate degree, part-time, in night classes at St. Petersburg College. She earned her Master of Arts and Bachelor of Arts degrees in English from the University of Florida, where she taught writing and literature classes as a graduate assistant and adjunct lecturer. She holds a PhD in English from UF, with an interdisciplinary concentration in medical humanities. Weems had the privilege of studying British literature at Cambridge University on scholarship.
Lincoln Memorial University is a values-based learning community dedicated to providing educational experiences in the liberal arts and professional studies.  The main campus is located in Harrogate, Tennessee. For more information about the undergraduate and graduate programs available at LMU, contact the Office of Admissions at 423-869-6280 or e-mail at
[email protected]
.