LMU Set to Confer Nearly 400 Degrees on Saturday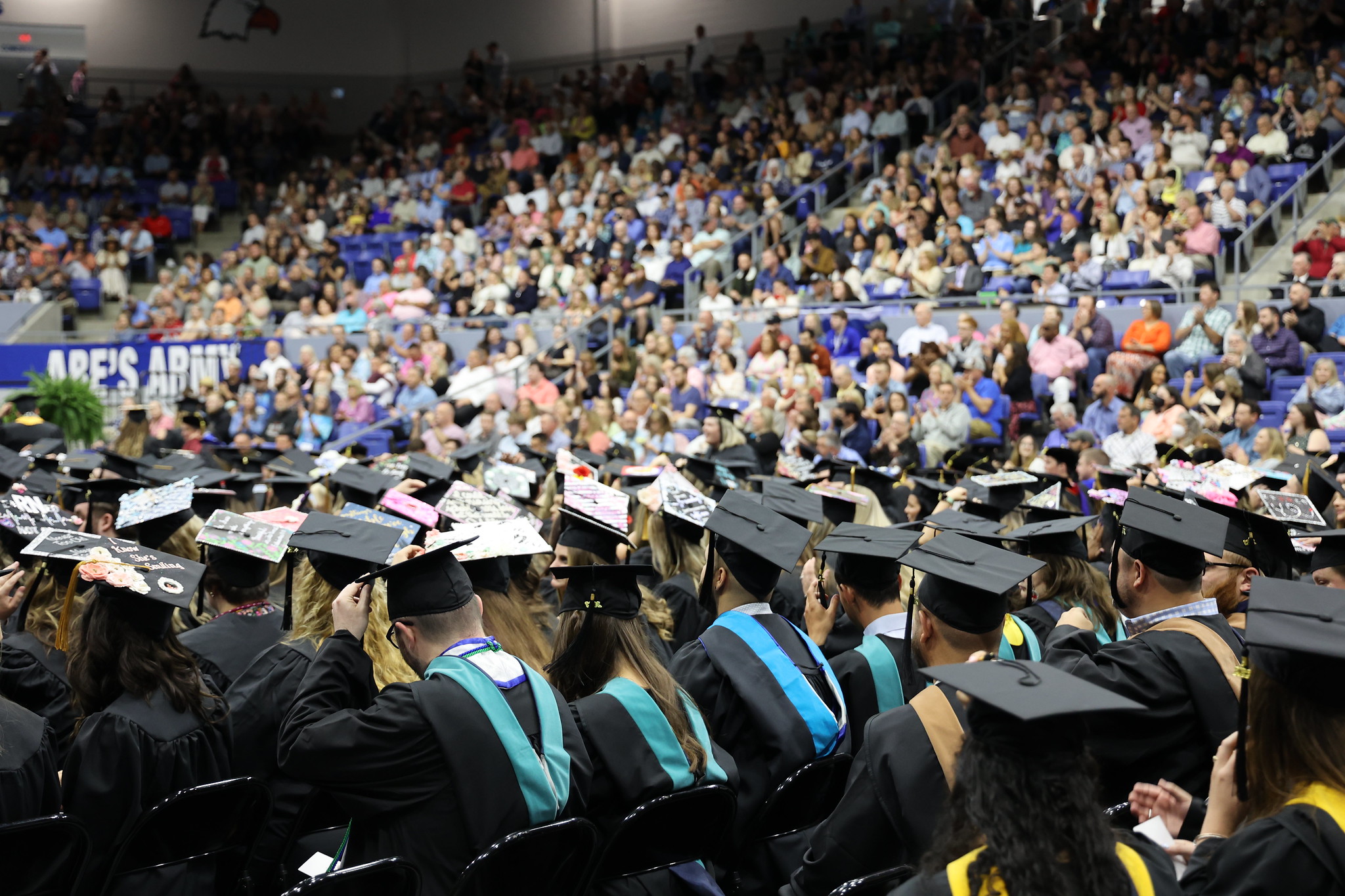 Lincoln Memorial University (LMU) will hold its Spring Commencement Exercises in Tex Turner Arena on Saturday, May 6, 2023. The ceremony is set to begin at 10 a.m.
President Clayton Hess will confer 237 undergraduate, 133 graduate and 23 professional degrees during the program. Additionally, the University will bestow the prestigious Sullivan Awards. LMU is one of approximately 60 colleges and universities in the United States to have the privilege of awarding the Algernon Sydney Sullivan and Mary Mildred Sullivan Awards. The awards are given to recognize individuals whose "nobility of character" and dedication to service sets them apart as examples for others. 
Mary P. Kirk will deliver the commencement address. Kirk retired as Vice President from the Southern Association of Colleges and Schools Commission on Colleges (SACSCOC) earlier this year. She had served in that role since 2014. She also served on the SACSCOC Board of Trustees from 2005 until 2014 when she resigned to take on an administrative appointment. Kirk had a long career in higher education prior to her SACSCOC service. She was president of Montgomery Community College in Troy, North Carolina, from 1999 to 2014. Kirk held various positions at Carteret Community College in Morehead City, North Carolina, from 1984 until 1999 when her tenure culminated as the interim president. She began her career working in private industry.
A native of Tryon, North Carolina, Kirk earned a Bachelor of Science degree from the University of North Carolina – Greensboro, a Master of Arts in Education from East Carolina University, and a Doctor of Education degree in Higher Education with a minor in Adult and Community College from North Carolina State University. Kirk has been involved in many organizations throughout her career including Rotary International, the North Carolina Community College Association, North Carolina Leadership Institute, Leadership North Carolina Board of Directors, North Carolina Association of Colleges and Universities, Board of Directors. She has been honored with awards including, the Kellogg Fellow, Governor's Award for Outstanding Volunteer, NC State I.E. Ready Outstanding Graduate Award; East Carolina University's 100 Outstanding Women Award and the Montgomery Community College Foundation Humanitarian of the Year Award.
The ceremony will be streamed live https://portal.stretchinternet.com/lincolnmemorialevents/index.htm on LMU's website and can be viewed live or on demand for anyone who can not attend in person.
Lincoln Memorial University is a values-based learning community dedicated to providing educational experiences in the liberal arts and professional studies. The main campus is located in Harrogate, Tennessee. For more information about the undergraduate and graduate programs available at LMU, contact the Office of Admissions at 423-869-6280 or email at [email protected]