Judy Hansard Honored with Mary Mildred Sullivan Award at LMU Commencement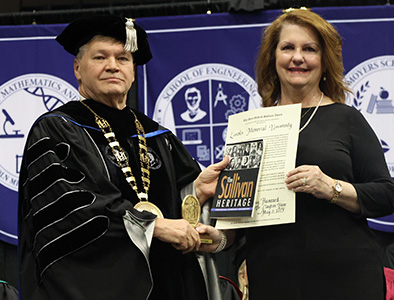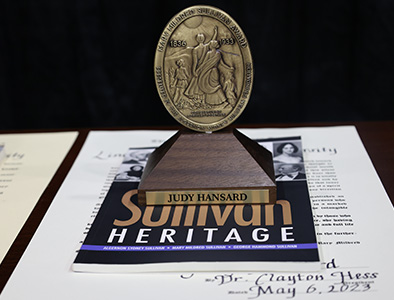 Lincoln Memorial University (LMU) Vice President for Academic Affairs R. Jay Stubblefield, PhD, presented Judy Hansard, of Tazewell, Tennessee with the Mary Mildred Sullivan Award at the LMU Spring Commencement Ceremony Saturday, May 6.
Since 1890, the Algernon Sydney Sullivan Foundation has presented Sullivan Awards to individuals who have distinguished themselves through service to others and their communities. LMU is one of approximately 60 colleges and universities in the United States to have the privilege of awarding the Sullivan Awards. LMU selects individuals whose "nobility of character" and dedication to service set them apart as examples of great citizenship.
Hansard was recognized as a community recipient of the honor. A two-time graduate of LMU, she earned a bachelor of arts in elementary education in 1981 and a master of education in guidance and counseling in 1996. Following a career in education, Hansard and her husband, Roger Hansard, have dedicated their lives to service to their community. Roger Hansard was the recipient of the Algernon Sydney Sullivan Award in 2016.
Hansard was the first president of the LMU Women of Service (WOS) and was the driving force behind the establishment of Lincoln's Cupboard to address food insecurity throughout the LMU academic community. What started as one location on the main campus in Harrogate, has grown to six campus pantries. Hansard and WOS did not stop there, opening Lincoln's Closet to provide casual and career clothes to students.
The Hansards co-founded the Regional Education Center (REC) Ministries in 2009, and she currently serves as the education director. Her REC work includes building community partnerships and providing services like computer classes, job skills, certified trainers in English as a second language, adult reading and writing, family literacy programs and GED tutoring. REC also offers food pantries at various locations. The Hansards established the REC annual Scholarship for LMU students.
Hansard leads the Children's Christmas Backpack program that serves over 600 children, and those children receive school supplies at no charge. She is a member of the Major George Gibson Chapter of Daughters of the American Revolution and was the recipient of the chapter's Community Service Volunteer of the Year award.
A woman of strong faith, Hansard has served as a director on the Tennessee Baptist Mission Board and on several committees. She is a missionary with the North American Mission Board and serves in several capacities including as a literacy trainer.
The Hansards are parents to two grown sons Joel and Jordan, and grandparents to four grandchildren.
The Algernon Sydney Sullivan Foundation was established in honor of a celebrated 19th-century humanitarian and attorney who often represented poor clients for free if their cause was just. The Sullivan Foundation has been recognizing college students for service and outstanding character since 1890. Learn more at https://sullivanfdn.org/.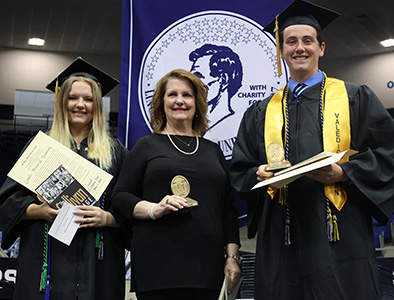 In addition to Hansard, LMU also recognized students Madison Criswell and Ethan Hubbard with Sullivan awards during the Spring Commencement Ceremony.
Lincoln Memorial University is a values-based learning community dedicated to providing educational experiences in the liberal arts and professional studies. The main campus is in Harrogate, Tennessee. For more information about the undergraduate and graduate programs available at LMU, contact the Office of Admissions at 423-869-6280 or email at [email protected].