LMU Celebrates Class of 2023 at Spring Commencement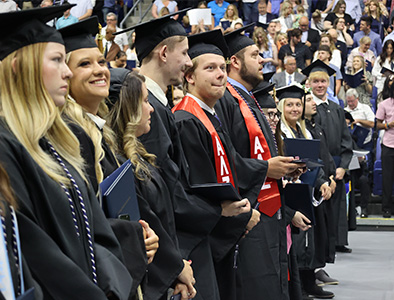 Lincoln Memorial University (LMU) President Clayton Hess conferred the degrees of nearly 400 degree candidates at LMU's Spring Commencement Exercises in Tex Turner Arena on Saturday, May 6, 2023.
Seventy-three associate, 158 baccalaureate, 121 graduate, 12 educational specialist and 23 professional degrees were presented during the ceremony. Ethan Hubbard, a Bachelor of Science in Chemistry degree recipient from Liberty Township, Ohio, earned undergraduate valedictorian honors with the highest cumulative grade point average. Aimar Apexetxea, a Bachelor of Science in Psychology degree recipient from Donostia-San Sebastian, Spain, was named salutatorian with the second highest cumulative grade point average.  
Four special awards were presented during the ceremony. Since 1890, the Algernon Sydney Sullivan Foundation has presented Sullivan Awards to college students who have distinguished themselves through service to others and their communities. LMU is one of approximately 60 colleges and universities in the United States to have the privilege of awarding the Sullivan Awards. LMU selects individuals whose "nobility of character" and dedication to service set them apart as examples of great citizenship.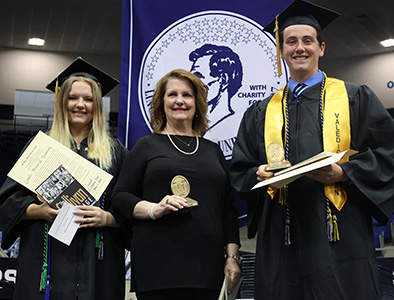 Madison Criswell, a Bachelor of Science in Veterinary Health Science degree recipient from Jefferson City, Tennessee, received the student Mary Mildred Sullivan Award. Hubbard received the Algernon Sydney Sullivan Award. Community member and alumnae Judy Hansard, of Tazewell, Tennessee, was honored with the community Mary Mildred Sullivan Award.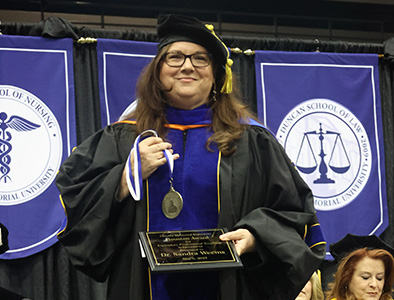 LMU's prestigious Houston Award for Teaching Excellence was bestowed to Dr. Sandra Weems, associate professor of English and the director of the honors scholars program at LMU. Weems' teaching expertise is in British Literature, medical humanities, expository/argumentative writing, writing across the disciplines and business writing. Her current research interests include interdisciplinary pursuits such as traumatology and literature, biomedical ethics, poetry therapy, and the clinical uses of reflective writing.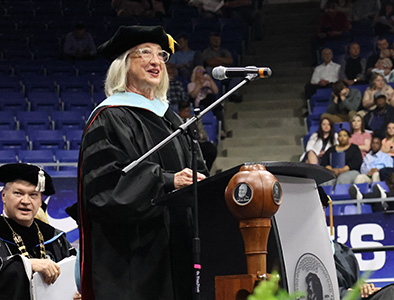 Dr. Mary P. Kirk delivered the commencement address. Kirk retired as Vice President of Southern Association of Colleges and Schools Commission on Colleges (SACSCOC) earlier this year. Kirk began her career in private industry working at a drug and alcohol treatment center and attorney's office before embarking on a career in education. She later served 30 years within the North Carolina Community College System before joining the administration of SACSCOC. Kirk shared several lessons she has learned over her career with the class of 2023.
"Make time to declutter – your home, your car, your closet, your phone… Take time to find a quiet spot and gather your thoughts every day. Minimize to make time for living. Your mental health is important," Kirk said. "Ignore those who try to belittle your goals. Don't let anyone deter you from your dreams. Stay on course, work hard and the naysayers will learn you can do anything your set your mind to accomplish."
Kirk closed her remarks by sharing a quote from writer Anne Lamott. "The challenge is how you are going to spend this one odd and precious life you have been issued. Whether you're going to spend it trying to look good and creating the illusion that you have power over people and circumstances, or whether you are going to taste it, enjoy it and found out the truth about who you are."
The full ceremony is available on demand on the University's streaming page, which can be found here (https://portal.stretchinternet.com/lincolnmemorialevents/portal.htm?eventId=731779&streamType=video).
Lincoln Memorial University is a values-based learning community dedicated to providing educational experiences in the liberal arts and professional studies. The main campus is located in Harrogate, Tennessee. For more information about the undergraduate and graduate programs available at LMU, contact the Office of Admissions at 423-869-6280 or email at [email protected].