Thompson Receives LMU-CVM Distinguished Service Award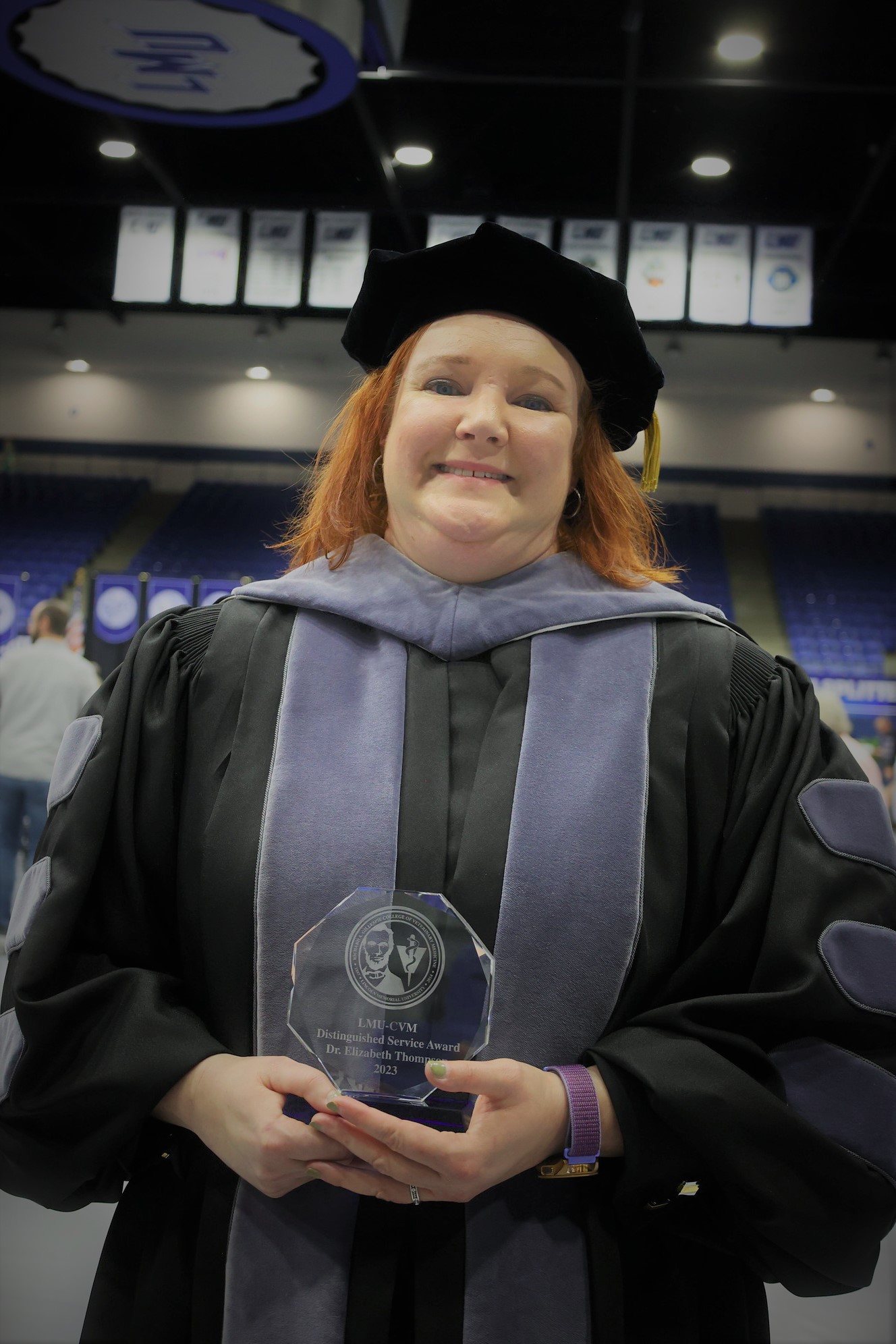 Lincoln Memorial University-College of Veterinary Medicine (LMU-CVM) Dean Stacy Anderson, DVM, MVSc, PhD, DACVS-LA, presented the Distinguished Service Award to Dr. Elizabeth Thompson during the 2023 Commencement Ceremony.
"LMU has been fortunate to have this dedicated educator impact over 1500 students through preparation to enter veterinary school or graduate as veterinary technicians," Anderson said.
The LMU-CVM Distinguished Service Award is presented to an individual who has, through his or her personal and professional achievements, demonstrated a strong commitment to the premise that the cornerstone of meaningful existence is service to humanity. The recipient will have excelled in serving the health and wellness needs of people within both the Appalachian region and beyond; enhancing access to comprehensive health care for underserved communities; supporting quality health care professions programs; and embracing quality, patient-centered care. The recipient is an individual that values diversity, public service, and leadership and demonstrates an enduring commitment to professionalism and the highest ethical standards.
She has spent the last ten years improving animal and human health in the Appalachian area as an educator of the pre veterinary and veterinary technology students at LMU. She has helped control the animal population in the area by helping to organize over 20 Remote Area Medical (RAM) spay and neuter clinics. She continues to positively impact the entire veterinary profession through her work at the American Veterinary Medical Association (AVMA) as their associate director of education and research.
Thompson joined the LMU faculty in August 2009 as an assistant professor of Veterinary Science. Prior to her employment at LMU, she enjoyed a successful career as a small animal veterinarian, first in a busy urban after-hours emergency clinic and later in a rural mixed animal practice. Thompson attended LMU from 1992 – 1994 as a chemistry major. She earned her DVM from the University of Tennessee College of Veterinary Medicine in 1998 and an EdD in Higher Education in 2019 from LMU.
See the recorded event here: https://portal.stretchinternet.com/lincolnmemorialevents
Lincoln Memorial University (LMU) is a values-based learning community dedicated to providing educational experiences in the liberal arts and professional studies. The LMU-Richard A. Gillespie College of Veterinary Medicine is located on LMU's main campus in Harrogate, Tennessee, with additional academic facilities in nearby Lee County, Virginia. LMU-CVM is an integral part of the University's medical programs and provides real-world, community-based education in a collaborative learning environment. For more information about LMU-CVM, call 1.800.325.0900, ext. 6600 or visit us online at vetmed.LMUnet.edu.