Phi Alpha Honor Society Holds 2023 Induction Ceremony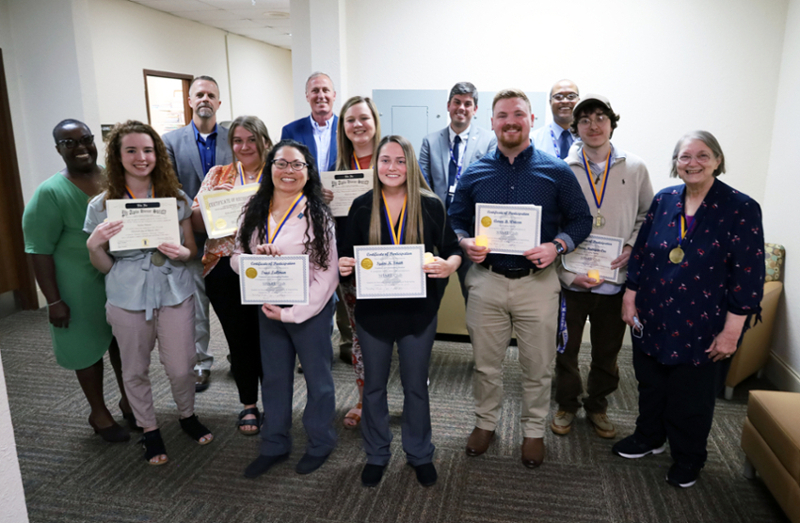 The Lincoln Memorial University (LMU) Social Work program recently honored several students with induction to the Eta Nu Chapter of the Phi Alpha Honor Society. The Social Work program is within the Paul V. Hamilton School of Arts, Humanities and Social Sciences.
"Establishing this chapter was one of the first activities we initiated after the Social Work program was accepted into candidacy with the Council on Social Work Education (CSWE)," said Ann-Marie Buchanan, PhD, professor of social work and chair of the Social Work Department, regarding the Eta Nu Chapter being chartered on Feb. 5, 1998. "Including the 2023 inductees, there will be over 100 students and alumni inducted into the chapter; 39% have completed or are completing their master's degrees in social work and are becoming the leaders in social work in the Tri-State area."
Students recognized during the induction ceremony included chapter officers Baleigh Rawls, president, and Aaron Watson, vice president and secretary. Inductees for the 2022-23 academic year included Elizabeth Gracie Anderson, Madison Baird, Neilea Hansen, Traci S. Tallman and Watson. Senior members receiving medallions to wear during graduation included Baird, Hansen, Rawls, Tallman, Lucas Rattigan-Coe and Sydni Smith.
Kay Paris, PhD, professor of social work participated in the ceremony in addition to Buchanan. Kristy Lee, MSW, assistant professor of social work and field coordinator, was unable to attend the ceremony due to a family emergency.
Dr. Jay Stubblefield, executive vice president for academic affairs, Dr. Jody Goins, executive vice president for administration, and Dr. Aaron Thomas, special assistant to the president, spoke to honor the students. Another speaker for the event was Claiborne County Mayor Joe Brooks, who is a social worker. Brooks remarked on the increasing need for and importance of social workers in all sectors—private and public—and his hopes for more job placements in this region.   
The 2022-23 academic year represents a milestone as the 48th year that social work courses have been offered at LMU. Students who would like to be a member of a dynamic and challenging profession that focuses on improving the quality of life for individuals of all ages, families, and their communities, are right at home in the social work major.
The LMU Social Work program provides students with the academic preparation and practical experience needed to start work immediately after graduation as an entry-level generalist social worker or to enter graduate school. Most students complete this professional program in the four semesters of their junior and senior years. The program is accredited by the Council on Social Work Education (CSWE), the national accrediting organization for baccalaureate and master's social work programs in the United States. The program has an advisory council composed of social work practitioners who serve as guest speakers for classes and special events, admission committee members, field supervisors, and adjunct instructors.
For more information on the LMU Social Work program, contact Buchanan at [email protected]. Information can also be found at https://www.lmunet.edu/school-of-arts-humanities-and-social-sciences/undergraduate/social-work. A full album of photos from the Phi Alpha ceremony can be found at: https://flic.kr/s/aHBqjADPue.
Lincoln Memorial University is a values-based learning community dedicated to providing educational experiences in the liberal arts and professional studies.  The main campus is in Harrogate, Tennessee. For more information about the undergraduate and graduate programs available at LMU, contact the Office of Admissions at 423.869.6280 or email at [email protected].