Olivia Nichols Represents LMU at Kentucky Mountain Laurel Festival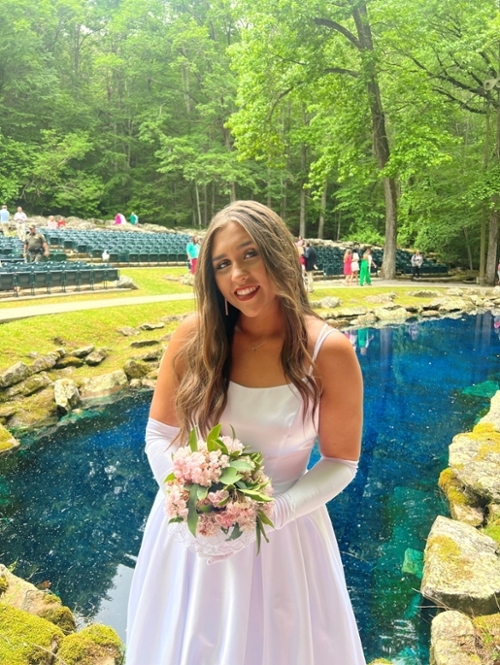 Lincoln Memorial University (LMU) student Olivia Nichols represented LMU as the University's queen candidate during the recent Kentucky Mountain Laurel Festival (KMLF). The KMLF is held annually over the Memorial Day weekend in Pineville, Kentucky.
Nichols, a native of Tazewell, Tennessee, is a rising senior majoring in pre-medicine psychology with a minor in chemistry.
The Kentucky Mountain Laurel Festival has been held each year since 1931. Colleges and universities from Kentucky select one representative to participate in the festival's pageant which is held over the holiday weekend. The participating candidates attend a variety of festival events held in Pineville. During the coronation ceremony, each candidate is expected to perform an original and elaborate 15-second curtsy to the current Kentucky governor, who later crowns the queen.
Nichols has been active in the University community for several years. She is a member of the LMU women's golf team, a YoungLife leader and a student government association representative. Nichols also serves as the vice-president of the psychology club, a member of the social media student team and on the Lincoln Activities Board. In the surrounding communities, she volunteers with the Guardians of the Gap and Levitt AMP organizations and as a Sunday school teacher.
"As a life-long resident of neighboring Claiborne County, I was honored to be part of this longstanding tradition that celebrates our vast heritage and individuality," Nichols said. "Being able to represent Lincoln Memorial University in such a manner was a privilege that I regard very highly."
Nichols is the daughter of Mark and Teresa Nichols of Tazewell. She was escorted by Nathan McBride, the son of Jimmy and Linda McBride of Bulls Gap, Tennessee.
For more information about the Kentucky Mountain Laurel Festival visit www.KMLF.org.
Lincoln Memorial University is a values-based learning community dedicated to providing educational experiences in the liberal arts and professional studies.  The main campus is in Harrogate, Tennessee. For more information about the undergraduate and graduate programs available at LMU, contact the Office of Admissions at 423.869.6280 or email at [email protected].