National Veterinary Associates Receives Clinical Affiliate Award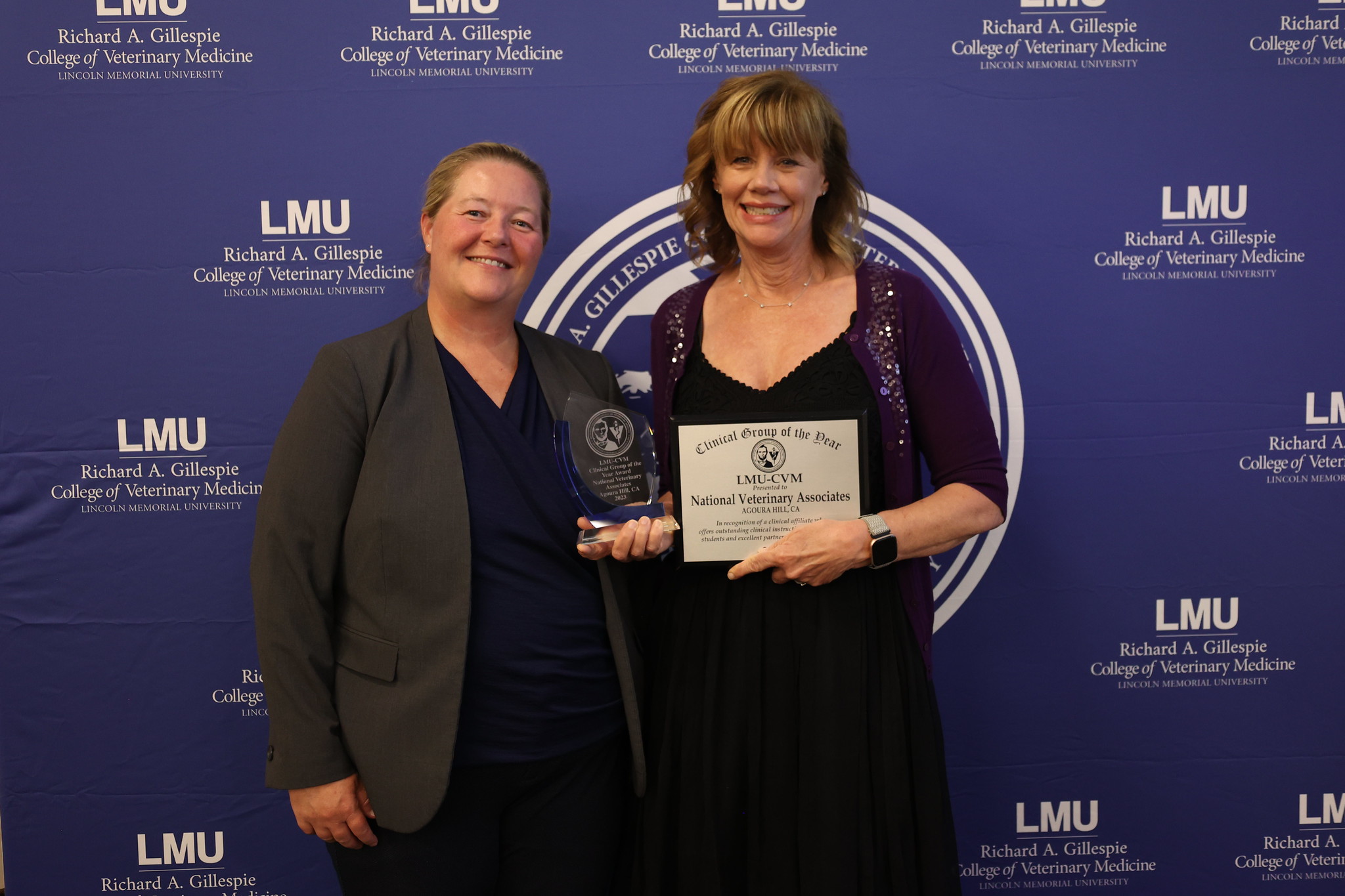 Lincoln Memorial University-College of Veterinary Medicine (LMU-CVM) recognized National Veterinary Associates (NVA) with the Distinguished Clinical Affiliate Award in recognition of the vital role they have had in preparing LMU-CVM graduates to be confident, competent, and career-ready veterinarians.
Dr. Mitchell Moses presented the award to Charlene Ross during LMU-CVM Class of 2023 Senior Banquet held May 18. The group was recognized again at the LMU-CVM Commencement Ceremony on May 20.
NVA was selected for its early and continued partnership, as demonstrated by the following: Thirty-one NVA practices in eight states currently serve as clinical affiliate sites; in the Clinical Year 2022-2023, those practices provided 100 clinical rotation slots, of which 52 were utilized; for the upcoming 2023-2024 Clinical Year, they offered 155 slots, and students will be taking advantage of 33 of those opportunities; NVA has a strong commitment to the experiences that students have at its practices.
In addition to the programs in place for its employed veterinarians, the organization is also committed to LMU-CVM students to help prevent high debt loads by providing a novel Travel Expense Stipend program to help offset some or all student travel costs for attending their sites. As the LMU-CVM clinical year program expands to its target of 225 students, even more of their 125 Specialty Hospitals and over 1400 General Practice hospitals will be used to provide meaningful clinical experiences for students.  
Lincoln Memorial University (LMU) is a values-based learning community dedicated to providing educational experiences in the liberal arts and professional studies. The LMU-Richard A. Gillespie College of Veterinary Medicine is located on LMU's main campus in Harrogate, Tennessee, with additional academic facilities in nearby Lee County, Virginia. LMU-CVM is an integral part of the University's medical programs and provides real-world, community-based education in a collaborative learning environment. For more information about LMU-CVM, call 1.800.325.0900, ext. 6600 or visit us online at vetmed.LMUnet.edu.