LMU Law Celebrates Commencement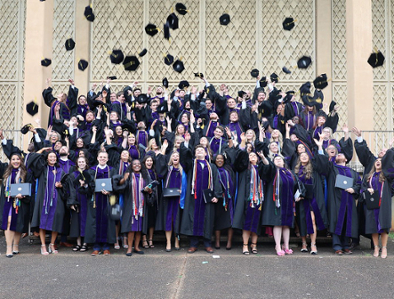 Lincoln Memorial University Duncan School of Law (LMU Law) celebrated the commencement of the Class of 2023 at the Knoxville Civic Auditorium on May 11. The 91 graduates in the Class of 2023 were honored for their many achievements in law school and joined the ranks of more than 600 LMU Law alumni.
LMU Law Vice President and Dean Matthew R. Lyon told the graduates that all the adversity they faced, particularly early in law school at the height of COVID-19, had made them stronger. "The spirit of community and fellowship that is a hallmark of LMU Law is alive and well in the Class of 2023," Dean Lyon said. "Maybe it was all that you went through together, but it is so clear that the Class of 2023 has bonded together incredibly closely. You have done something very special here at LMU Law, and you have done it together."
The 2023 Commencement Speaker was the Honorable Curtis L. Collier, Senior United States District Judge for the U.S. District Court for the Eastern District of Tennessee in Chattanooga. Judge Collier grew up in rural Arkansas. He earned his B.S. from Tennessee State University in 1971 and his J.D. from Duke University Law School in 1974. After law school, he served in the United States Air Force as a Captain in the Judge Advocate General's Department. He later served as an Assistant United States Attorney for sixteen years before being appointed to the bench by President Bill Clinton in 2005.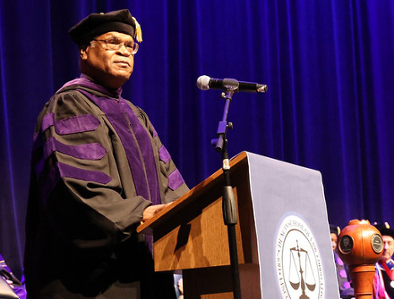 Judge Collier spoke to the graduates about understanding the law as a form of public service. "You are extremely fortunate to receive your law education at LMU Duncan School of Law. LMU Law instills in its students the noble idea of public service," said Judge Collier. "LMU Law prides itself on producing practice-ready attorneys."
Jordan Meddings, of Belfry, Kentucky, was selected by his classmates to deliver remarks on behalf of the graduating class. The tradition of having the members of the graduating class select one of their own to speak at Commencement started in 2021.
Meddings grew up in a holler on the border of Eastern Kentucky and Southern West Virginia. He is the son of a middle school English teacher and a paramedic and has four half-siblings.
After attending the University of Louisville and spending a year working as a paralegal for a civil defense firm in Louisville, Meddings enrolled at LMU Law in the Fall of 2020. At LMU, Jordan served as a Dean's Fellow, President of the Mock Trial Program, and as a teaching assistant for Professional Responsibility. He also competed in several interscholastic mock trial competitions, competed as a member of the Moot Court Board twice, was inducted into the local Inns of Court chapter, and has worked at a local law firm. He was one of only two members of the Class of 2023 to graduate summa cum laude, the law school's highest academic honor.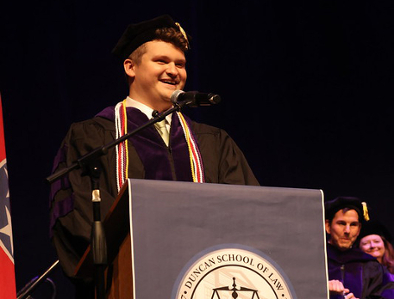 Meddings reminded his classmates to be true to themselves as they embark on their legal careers. "I hope you do everything in a way that will make the person staring back in the glass proud. Be happy with yourself and who you are no matter what challenges you face, and face each of life's challenges with integrity and humility."
The Lincoln Memorial University Duncan School of Law is located in Knoxville's Historic Old City Hall Building. LMU Law is an integral part of LMU's values-based learning community and is dedicated to preparing the next generation of lawyers to provide sound legal service in the often underserved region of Appalachia and beyond.