LMU-DCOM Confers Degrees of 320 Doctors of Osteopathic Medicine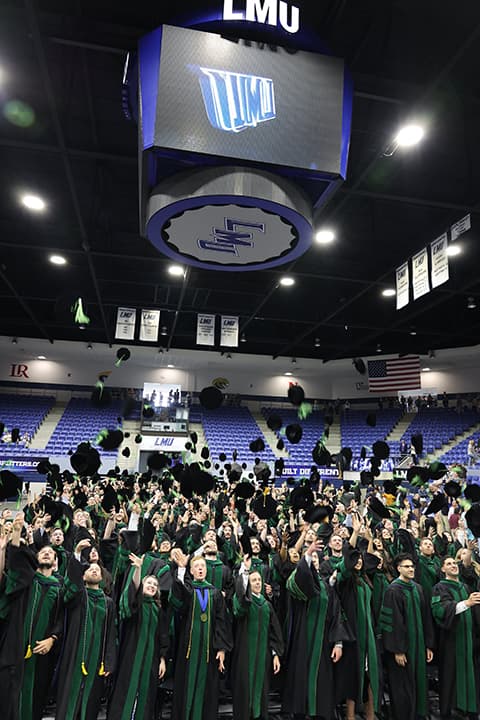 The 320 students of the Lincoln Memorial University-DeBusk College of Osteopathic Medicine (LMU-DCOM) Class of 2023 celebrated commencement Saturday, May 13, at Tex Turner Arena on the LMU main campus.
"Today is a historic day for the DeBusk College of Osteopathic Medicine as we celebrate the first cohort of graduates from the medical school's Knoxville campus joining their fellow graduates from Harrogate," said LMU President Clayton Hess in his welcome.
NASA Chief Health and Medical Officer J.D. Polk, DO, MS, MMM, CPE, FACOEP, FASMA, provided the commencement address.
Polk has served as dean of Medicine for Des Moines University's College of Osteopathic Medicine; assistant secretary (acting) for Health Affairs; chief medical officer of the U.S. Department of Homeland Security (DHS); and principal deputy assistant secretary for Health Affairs and Deputy Chief Medical Officer; chief of Space Medicine for NASA's Johnson Space Center in Houston, Texas, State Emergency Medical Services Medical Director for the State of Ohio; and former chief of Metro Life Flight in Cleveland, Ohio. Polk is a Fellow of the American College of Osteopathic Emergency Physicians and a Fellow of the Aerospace Medicine Association.
Polk listed for the graduates advice he has shared with his residents and students over the years: you always have the power to reinvent yourself; have a holistic, cosmic mindset; keep the flame of passion alive; don't stop learning; everything happens for a reason; be confident and wise; have humility and ambition; have gratitude; and learn to listen to the voice in the back of your consciousness.
"In your profession you are going to be intimate with life and intimate with death. Few other people get to be intimate with both. It will change your perspective," Polk said. "Life and time are short. Only worry about those things in your control. Have a very holistic and cosmic mindset. You are well trained. Be confident, but don't confuse confidence with arrogance."
Dean and Chief Academic Officer Christopher J. Loyke, DO, FACOFP was also joined on the platform by Senior Associate Dean and Professor of Physical Medicine and Rehabilitation/Osteopathic Manipulative Medicine J. Michael Wieting, DO, MEd, FAOCPMR-D, FAAOE; Chair and Associate Professor of Pathology Teresa Campbell, MD; Assistant Dean of Basic Medical Sciences and Associate Professor of Pharmacology Syed Siraj A. Quadri, PhD; and Chief Administrative Officer and Associate Dean of Preclinical Academic Affairs Jeffrey Martin, PhD.
"You are now physicians. You have chosen a profession of service and devotion," Loyke said in his closing remarks. "Every day you will have the opportunity to touch patients' lives in ways that you may not expect. I encourage you to approach your work with both the integrity and humility of a professional worthy of recognition. You have earned your degree from a university that places compassionate, patient-centered care at the heart of its mission. I hope you make this the hallmark of your medical practice. You will always be part of the LMU-DCOM family as you put the words of our mission into action."
View the LMU-DCOM Commencement program here: https://www.flipsnack.com/lmunet/dcom-commencement-program-may-2023.html
See candid photos of LMU-DCOM Commencement here:  https://flic.kr/s/aHBqjADz8T
Watch a recap video here:  https://youtu.be/6C3FSoZIMEA
An "on-demand" recording of the 2023 LMU -DCOM Commencement can be found here: https://portal.stretchinternet.com/lincolnmemorialevents/  
The DeBusk College of Osteopathic Medicine is located on the campus of Lincoln Memorial University in Harrogate, Tennessee and at LMU-Knoxville in Knoxville, Tennessee. LMU-DCOM is an integral part of LMU's values-based learning community and is dedicated to preparing the next generation of osteopathic physicians to provide health care in the often-underserved region of Appalachia and beyond. For more information about LMU-DCOM, call 1.800.325.0900, ext. 7082, email [email protected], or visit us online at http://med.LMUnet.edu.