LMU-CVM Graduates 118 Doctors of Veterinary Medicine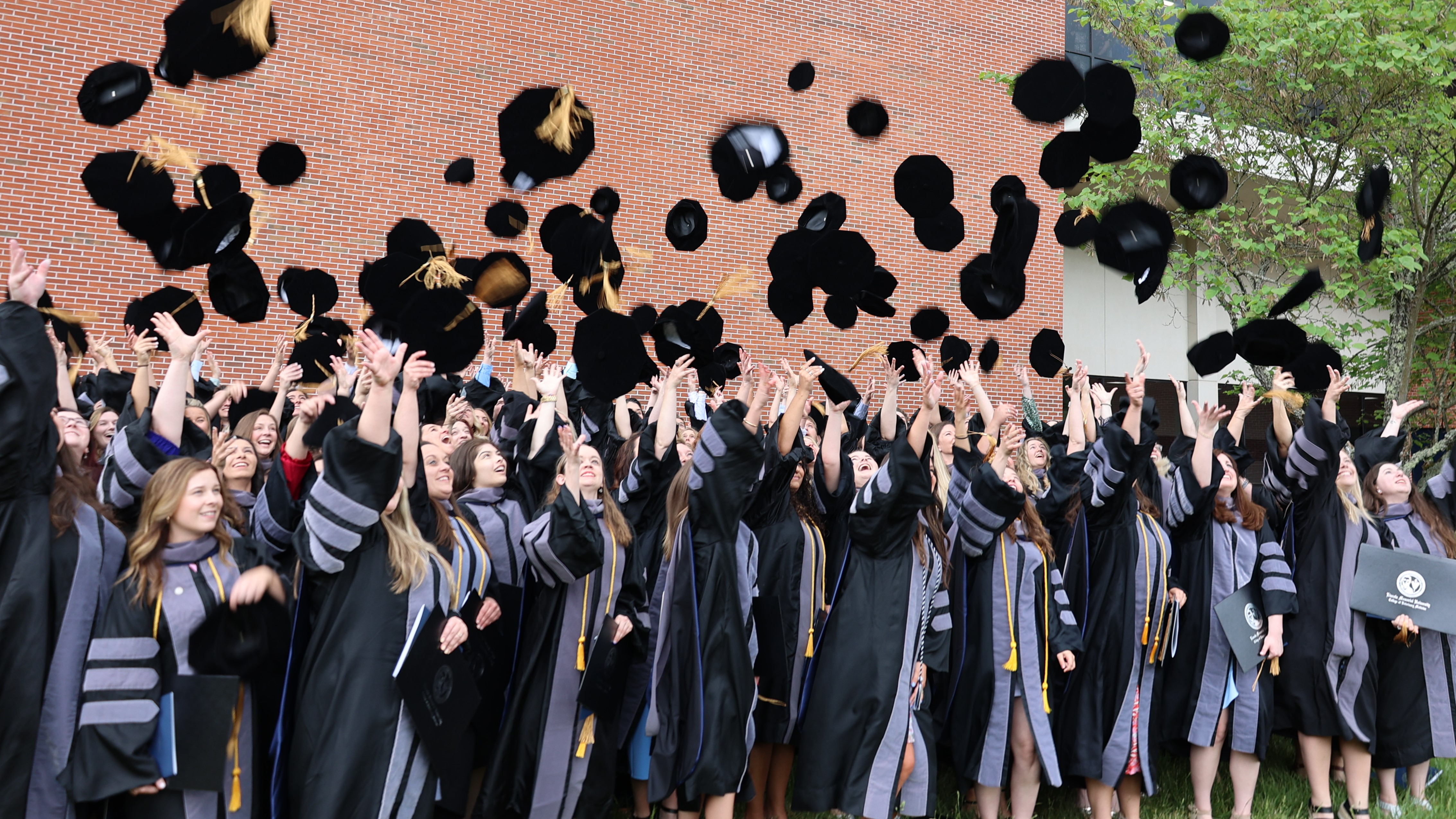 Lincoln Memorial University (LMU) President Clayton Hess conferred the degrees of the 118 members of the LMU-Richard A. Gillespie College of Veterinary Medicine's (LMU-CVM) Class of 2023 during spring commencement exercises at Tex Turner Arena May 20.
"Today as you proceed through commencement remember that you are not just receiving a piece of paper and letters behind your name. You are embarking on a mission to improve the health and wellbeing of all animals, big and small," said Dean Stacy Anderson, DVM, MVSc, PhD, DACVS-LA in her welcome address.
Andy Roark, DVM, MS, practicing veterinarian, international speaker, author, and media personality, delivered the commencement address.
"If you are ever lost and you don't know anybody and you need help, go to a vet clinic because you are going to find good people there who want to help," Roark said. "That's a responsibility that falls on our graduates to be those good people that we find when we go to vet clinics. I have no doubt that our graduates can live up to that."
Roark is the founder of the Uncharted Veterinary Conference and DrAndyRoark.com. He has been an award-winning columnist for DVM360 and his popular Facebook page, website, podcast and YouTube show reach millions of people every month. Roark has received the NAVC Practice Management Speaker of the Year Award three times, the WVC Practice Management Educator of the Year Award, the Outstanding Young Alumni Award from the University of Florida's College of Veterinary Medicine, and the Veterinarian of the Year Award from the South Carolina Association of Veterinarians.  
Randall Evans, DVM, CPCC, associate dean of Career Services and Professional Development, served as Macebearer. Kimberly Carney, DVM, MPH, DACVPM, associate dean for Student Affairs and Admissions read the names while Christopher Kelly, DVM, MS, NRP, medical director of DeBusk Veterinary Teaching Center, and Mitchell Moses, DVM, MBA, associate dean of Clinical Rotations, hooded the students who were then presented their diplomas. Julie Hunt, DVM, MS, FAMEE, associate dean of Clinical Sciences, led the Veterinary Oath.
Two special awards were presented during the ceremony. Anderson presented the Distinguished Service Award to Dr. Elizabeth Thompson, former dean of the LMU School of Allied Health Sciences, and Moses presented the Distinguished Clinical Group of the Year Award to National Veterinary Associates (NVA).
View the digital program here: https://www.flipsnack.com/lmunet/lmu-cvm-commencement-program-may-2023.html
See the recorded event here: https://portal.stretchinternet.com/lincolnmemorialevents/
Candid photos of the event can be viewed here:  https://flic.kr/s/aHBqjAEyYq
Lincoln Memorial University (LMU) is a values-based learning community dedicated to providing educational experiences in the liberal arts and professional studies. The LMU-College of Veterinary Medicine is located on LMU's main campus in Harrogate, Tennessee, with additional academic facilities in nearby Lee County, Virginia. LMU-CVM is an integral part of the University's medical programs and provides real-world, community-based education in a collaborative learning environment. For more information about LMU-CVM, call 1.800.325.0900, ext. 7150 or visit us online at vetmed.LMUnet.edu.