LMU-CDM Faculty Research Published in the British Journal of Pharmacology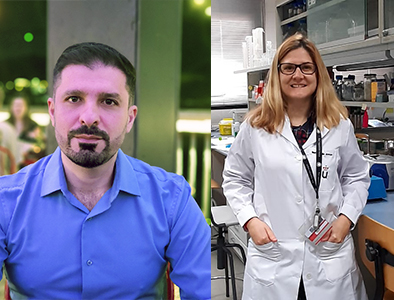 Lincoln Memorial University-College of Dental Medicine (LMU-CDM) Associate Professor of Physiology, Modar Kassan, Ph.D., in collaboration with the Associate Professor of Biochemistry and Molecular Biology, María Galán, Ph.D. at the University Rey Juan Carlos (URJC, Alcorcón campus), Madrid, Spain, authored a research paper which was accepted and published in the "British Journal of Pharmacology".
The "British Journal of Pharmacology" is the leading international general pharmacology journal published by the British Pharmacological Society. The journal has an impact factor (IF) of 9.473 which puts it among the top-notch journals in the field.
"Rupture of the aortic wall is the main complication of abdominal and thoracic aortic aneurysms. In the USA, more than 15000 people a year die from a ruptured aneurysm," said Dr. Galan. In our study, we used a preclinical model of aortic aneurysm to demonstrate that inhibition of mitochondrial stress in the aorta wall limits aortic aneurysm formation and increases survival."
Promising data from this study show that aortic aneurysm's pharmacological treatment with mitochondria-targeted tetrapeptide SS31 can slow down the rupture, therefore, emphasizing the implications of mitochondrial dysfunction in the pathophysiology of aortic aneurysm.
"Recent evidence showed that periodontitis increases the risk of aortic aneurysm. However, the mechanism by which periodontitis is involved in the development of aortic aneurysm is yet to be determined. This study, which is a collaboration between our lab at LMU and the lab of Dr. María Galán at the Department of Basic Sciences of Health, University Rey Juan Carlos (URJC, Madrid, Spain) will add to our medical knowledge and open the door to further explore the molecular mechanism by which oral health affects aortic aneurysm", said Dr. Kassan.
Read the full article here.
Lincoln Memorial University is a values-based learning community dedicated to providing educational experiences in the liberal arts and professional studies. Lincoln Memorial University-College of Dental Medicine (LMU-CDM) is home to the Doctor of Medicine in Dentistry (DMD) and Dental Hygiene (DH) programs. It is located in Knoxville at the newly renovated LMU Tower. For more information about LMU-CDM programs contact, [email protected]