JFWA to Join Tennessee Secondary School Athletic Association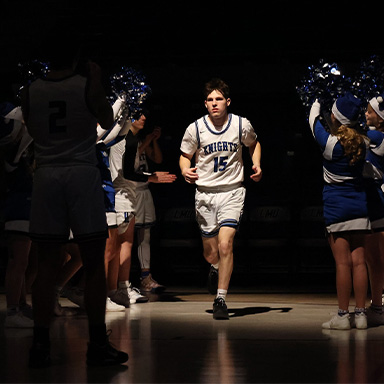 J. Frank White Academy (JFWA) is set to become a member of the Tennessee Secondary School Athletic Association (TSSAA) beginning the 2023-24 school year.
Lincoln Memorial University (LMU) Executive Vice President for Administration Jody Goins announced that the TSSAA Board of Control approved the request submitted by JFWA. The school will compete in Division II basketball, cross country, golf, soccer, tennis, and track and field.
"JFWA prioritizes academic and holistic student development, enhanced by comprehensive co-curricular opportunities," Goins said. "Providing JFWA students access to athletic competition in a statewide association against private school peers further exposes them to the following dispositions that encourage lifelong learning: discipline, teamwork, sportsmanship, tenacity, and fun."
JFWA will be placed in DII-A, East Region, District 1 which includes Apostolic Christian Academy (Maryville, TN), Berean Christian School (Knoxville, TN), Christian Academy of Knoxville (Knoxville, TN), Clayton-Bradley Academy (Maryville, TN), Concord Christian School (Knoxville, TN), First Baptist Academy (Powell, TN), Grace Christian Academy - Knoxville (Knoxville, TN), Lakeway Christian Academy (White Pine, TN), Providence Academy (Johnson City, TN), and The King's Academy (Seymour, TN).
JFWA athletics has competed independently in recent years and with the National Association of Christian Athletes (NACA) for post season competitions in basketball and cross country. JFWA's membership in TSSAA in the past had resulted in several district, regional and even state honors in basketball, tennis, golf and cross country.
"For the first fifteen years of my tenure at JFWA, we were TSSAA members, and our athletes and teams enjoyed considerable success," said Bobby Lockhart, principal at JFWA. "While our decision to become an independent athletic program fit the needs of the school and our athletes at that time, we are excited to return to the state association and look forward to the enhanced experiences this will deliver to our coaches, our teams, and most of all, our student-athletes."
TSSAA is an organization which administers junior and senior high school sporting events in Tennessee and is the only high school athletic organization in the United States to have a five-sport, Olympic-style spring sport championship tournament, known as Spring Fling, for baseball, softball, track and field, team and individual tennis, and soccer.
The J. Frank White Academy is a private, college preparatory day school serving grades Pre-K through 12 on the campus of Lincoln Memorial University. JFWA is fully accredited and STEM certified by Cognia, which is the first internationally recognized mark of quality for STEM (science, technology, engineering, and mathematics) schools and programs, signaling the growing emphasis on STEM education by educators, politicians, and business leaders around the world. For more information contact JFWA Director of Admissions James Melton at [email protected] or apply online at JFWA.LMUnet.edu.