LMU-DCOM Honors Anatomical Donors at Memorial Service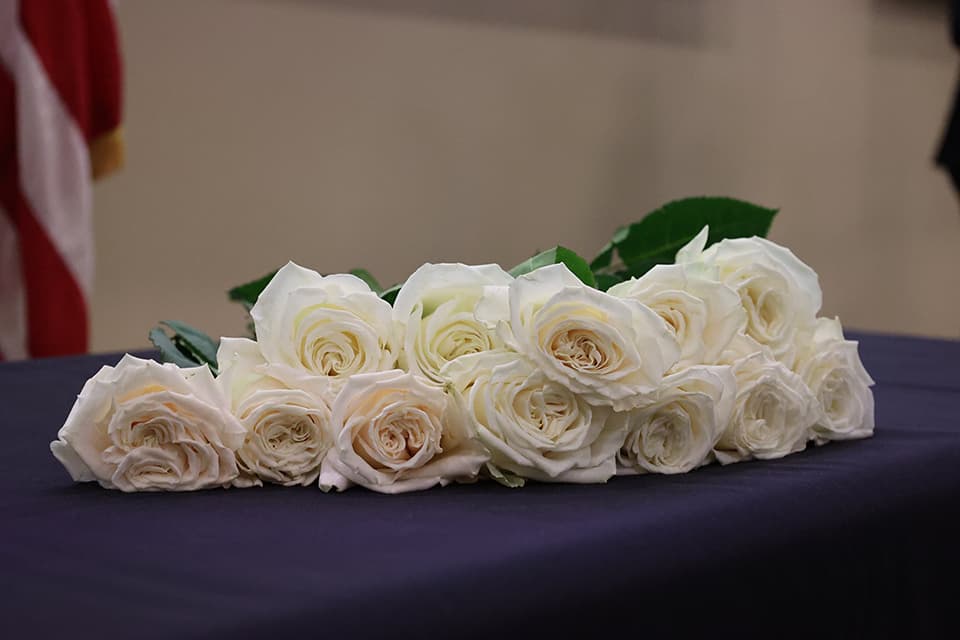 The Lincoln Memorial University-DeBusk College of Osteopathic Medicine (LMU-DCOM) held its annual Donor Memorial Service April 22 at both the Harrogate and Knoxville campuses. The service was held to honor those who had donated their bodies to the college for medical research and education.
"Lincoln Memorial University believes that one of the major cornerstones of meaningful existence is service to humanity and retains a commitment to enrich the lives of the people and communities of the Appalachian region and beyond," said Executive Director of the Anatomical Donation Program Adam Kolatorowicz, PhD. 
The program featured faculty, staff, students, and family members of the donors participating in a single service streamed between lecture halls.
"The many acts of service we do during life often live on long after we are gone," said Director of the Anatomical Donation Program Ron Wilde. "And each donor we are honoring today made a choice with their last act of service and that lead us all here today."
The mood was somber and respectful, as donor family members listened to speeches, music, and thank-you messages from students. They spoke of how their generosity had helped to advance the field of medicine and improve the lives of countless patients. Each family member received a rose placed on a table in front of a sign bearing the names of the donors. And military donor families were presented with flags from the Student Association of Military Osteopathic Physicians and Surgeons.
The event was a poignant reminder of the vital role that donors play in medical education and research. Without their contributions, medical students would not have the opportunity to learn and practice their skills in a hands-on setting. The event also served as a reminder of the importance of showing gratitude and respect to those who have made such selfless contributions.
In addition to LMU-DCOM, several other programs at LMU use the anatomy lab including Physician Assistant, Doctor of Occupational Therapy, Doctor of Physical Therapy, and Master of Science.
Randy Stanley and Betsy Grossman attended to honor their mother, Alberta, who passed away in 2015 and their father, James, who passed away in January 2023.
"She liked the idea of helping health professions and felt like she would be giving back as a donor. She was very insistent about it, and we thought it was a good idea too," Stanley said. "The students are so respectful, and they really do appreciate that people are willing to do this."
During the two years each donor is part of the anatomy lab LMU trains nearly 1,000 future physicians, 400 Physician Assistants, over 150 Doctors of Physical Therapy and 150 Doctors of Occupational Therapy, as well as PhDs, and Masters of Anatomy.
View event photographs: https://flic.kr/s/aHBqjAARbE
The DeBusk College of Osteopathic Medicine is located on the campus of Lincoln Memorial University in Harrogate, Tennessee, and at LMU-Knoxville in Knoxville, Tennessee. LMU-DCOM is an integral part of LMU's values-based learning community and is dedicated to preparing the next generation of osteopathic physicians to provide health care in the often-underserved region of Appalachia and beyond. For more information about LMU-DCOM, call 1.800.325.0900, ext. 7082, email [email protected], or visit us online at http://med.LMUnet.edu.