Doctor of Physical Therapy Program Hosts White Coat Ceremony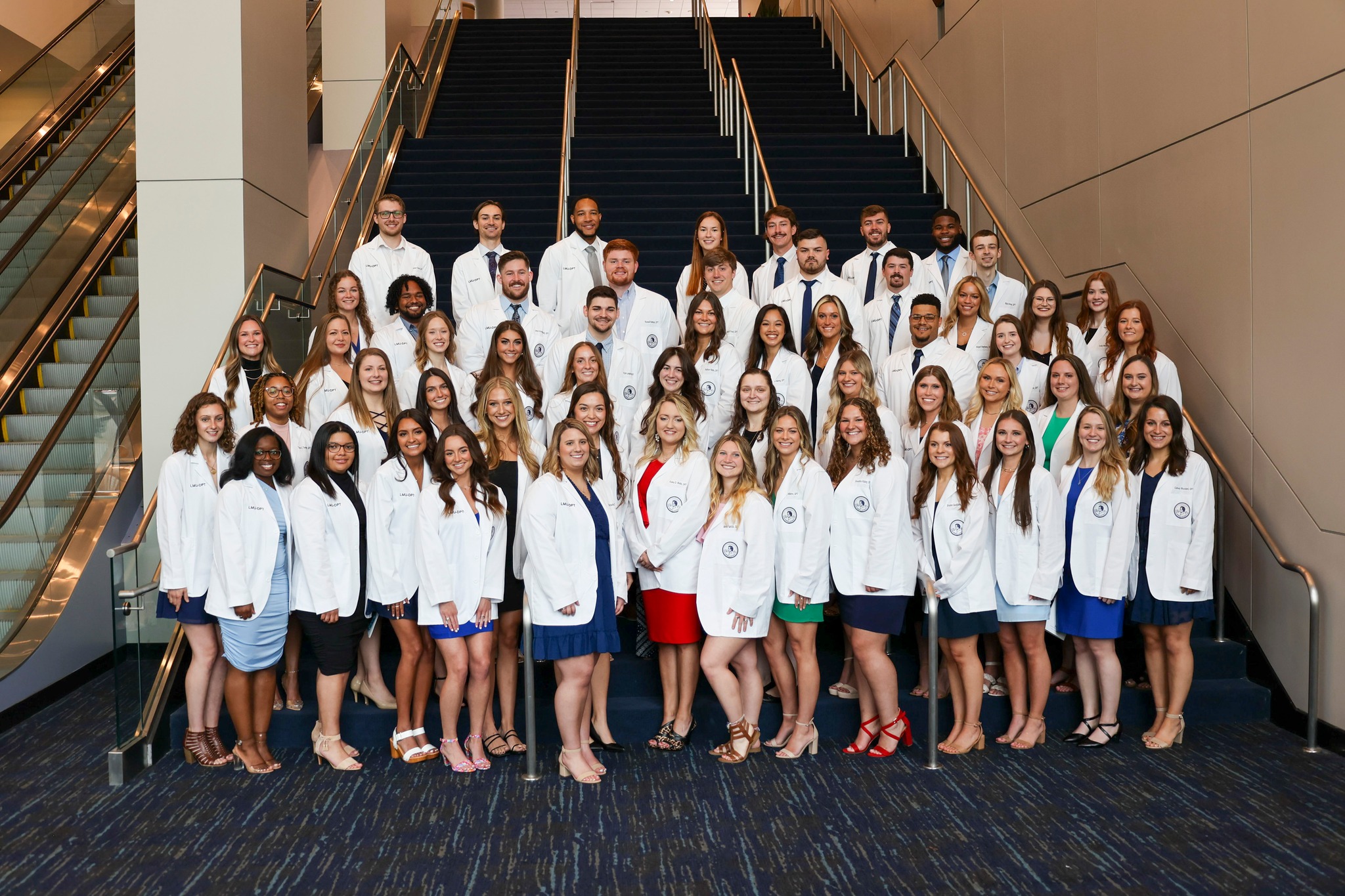 The Lincoln Memorial University Doctor of Physical Therapy (LMU-DPT) program hosted a White Coat Ceremony on April 15 at the Knoxville Convention Center.
The 56 students of the Class of 2025 were presented with a white laboratory coat to signify they have demonstrated the knowledge, skills, and attitudes to move on to the next phase of physical therapy training. This ritual provides an opportunity to reflect on the importance of humanism in physical therapy practice and patient-centered care.
"Your dedication to human health and well-being is admirable," LMU President Clayton Hess said in his welcome. "As you prepare to go out and provide health care in the communities you'll serve, please know that you honor the proud legacy of our university and its namesake."
The ceremony also featured remarks from Dr. Christopher J. Loyke, dean and chief academic officer for the LMU-DeBusk College of Osteopathic Medicine (LMU-DCOM); Dr. Tim Yost, DPT director of clinical education; Dr. Kellee Harper-Hanigan, DPT program director, class president Collin Stricklin; and reciting of the physical therapy oath from Dr. Brittney Gunterstockman, director of clinical education and assistant professor.
"There will be that expectation that you are going to be there treating people and that, I think, is the most exciting part of this phase of training is that you are actually going to be able to do some good for patients and their families," said Loyke. "And there is no greater blessing in my opinion than to be able to provide care for patients and their families."
Hanigan said the faculty and staff strived to serve as an extension of family in supporting the students.
"I want you to know that we are committed to their success in school as students, in life as an individual, and in the profession of physical therapy as a clinician," Hanigan said.  
Faculty advisors coated the students on stage during the ceremony. Program faculty include: Hanigan, Yost, Gunterstockman, Dr. Elizabeth Fonken, Dr. Mike Spadafora, Dr. Laura Gagnon, Dr. Kwaku Kankam, Dr. Lawrence Ramiscal, Dr. Ian Rheault, Dr. Wanli Lei, Dr. Elizabeth Fonken, Dr. Katie June, and Dr. Rosanne Thomas.
DPT_WhiteCoat2023 from webmaster on Vimeo.
View the ceremony live here:
 https://portal.stretchinternet.com/lincolnmemorialevents/portal.htm?eventId=731405&streamType=video&fbclid=IwAR1h_xw7j2SVzkDL3OBAegSRXP_o4PFFRR_Uwj9S7FW7RMToEHa5hPaCSFE
View candid photos here: https://flic.kr/s/aHBqjAzTqU
View the White Coat Ceremony Program here: https://www.flipsnack.com/lmunet/dpt-white-coat-2023.html
The Lincoln Memorial University Doctor of Physical Therapy Program is located in Knoxville, Tennessee on the campus of LMU-Knoxville (9731 Cogdill Road). DPT is an integral part of LMU's values-based learning community and is dedicated to advancing physical therapy practice through interprofessional and evidence-based educational opportunities that engage and support student in their development into knowledgeable, skilled, reflective, and collaborative practitioners. For more information visit www.LMUnet.edu/DPT, call the LMU-Knoxville at 865.338.5746 or email [email protected].