LMU Student Tristian Luna Honored in Washington, D.C.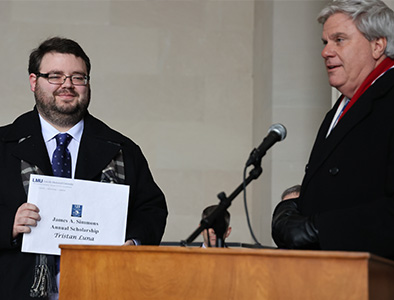 Lincoln Memorial University (LMU) student Tristan Luna, of Jacksboro, Tennessee, received The James Alan Simmons History Award given to an Outstanding History Student at LMU last month.
"Tristian Luna is a very good student whose curiosity drives him to ask important questions and assess the past in its own context," said Associate Professor of History Joanna Neilson, PhD. "He has particular interests in mid-nineteenth-century America and military history in general."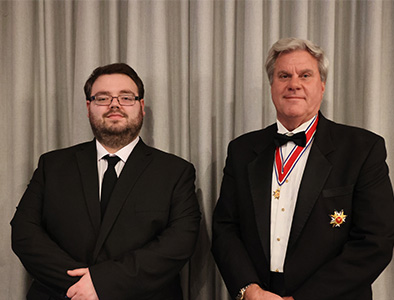 Established in 2020, The James Simmons Annual Scholarship is offered to an Outstanding History Student at LMU. This scholarship is presented at the Lincoln Birthday National Commemorative Ceremony on February 12th at the Lincoln Memorial in Washington, D.C. each year. Captain James A. Simmons (pictured with Tristian), who served as the 61st Commander-in-Chief of the Military Order of the Loyal Legions of the United States (MOLLUS) from 2015 to 2017, is the benefactor who supports the scholarship.
Luna transferred to LMU, having attended Roane State Community College and South College in the past. He is an advanced history student who aspires to teach at a university someday. The trip was his first to the nation's capital. He enjoyed exploring the historic sights.
"This award means a lot to me, as it shows that I have done well in my academic career," Luna said. "I feel lucky to be pursuing a career with something that I really enjoy. The staff from LMU that I traveled with were great and I enjoyed meeting Mr. Simmons."
Lincoln Memorial University is a values-based learning community dedicated to providing educational experiences in the liberal arts and professional studies. The main campus is located in Harrogate, Tennessee. For more information about the undergraduate and graduate programs available at LMU, contact the Office of Admissions at 423-869-6280 or email at [email protected].