Dr. Kelsey Metz Named Dean of LMU School of Business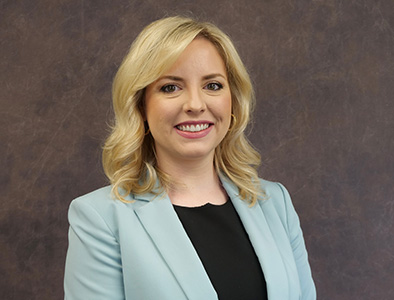 Lincoln Memorial University (LMU) Vice President for Academic Affairs Jay Stubblefield has appointed Dr. Kelsey R. Metz as the Dean of the LMU School of Business. Metz had served as interim dean since October of 2022 and has been a part of the LMU School of Business since 2017.
"On behalf of the entire team in Academic Affairs, I want to express our gratitude for the outstanding work Dr. Metz has done in the role of Interim Dean," Stubblefield said. "We look forward to working with her as she continues to provide practical and principled leadership in the School of Business focused on student success, academic excellence and growth."
Metz has a wealth of institutional knowledge as she first joined the staff as a graduate and professional programs recruiter in 2017. She also served as an assessment and accreditation coordinator for the School of Business before joining the faculty in 2020 as an assistant professor of business. From 2020 until 2022 she also served as the program director for the Master of Business Administration and chair of the graduate business programs. In 2022 she was promoted to assistant dean before being named the interim dean.
"As an alumna, the School of Business holds an extremely special place in my heart. Within this position, it is my foremost goal to foster quality business education programs," Metz said.  "I believe that quality business instruction provides students with limitless opportunities, both personally and professionally.  Quality business instruction has the power to influence economic outcomes at the societal level. In equipping students with the knowledge necessary to create businesses, foster innovation, and engage in strategic thinking and decision-making, the School of Business highly supports the economic prosperity of the Appalachian region and beyond. I hope to aid in the continuous advancement and improvement of the School of Business throughout my career."
Metz has played an integral role in growing and updating LMU School of Business program offerings. She has designed curriculums and integrated new concentrations across the graduate program landscape. She holds professional membership with the American Marketing Association and the Academy of Management.  Metz has presented at several national conferences, has authored an article for the American Journal of Management, and has other publications currently under review.
Metz earned a Bachelor of Business Administration degree from LMU and a Master of Business Administration from Carson-Newman University. She holds a PhD in Business from the University of the Cumberlands. Metz is a member of the Alpha Chi National College Honor Society, the Delta Mu Delta Honor Society, and the Sigma Beta Delta Honor Society. Metz and her husband, Garrett, reside in Alcoa, Tennessee and are parents to two children, Mack and Garrison.
Lincoln Memorial University is a values-based learning community dedicated to providing educational experiences in the liberal arts and professional studies. The main campus is located in Harrogate, Tennessee. For more information about the undergraduate and graduate programs available at LMU, contact the Office of Admissions at 423-869-6280 or email at [email protected].