LMU Hosts Clinch-Powell Science Fair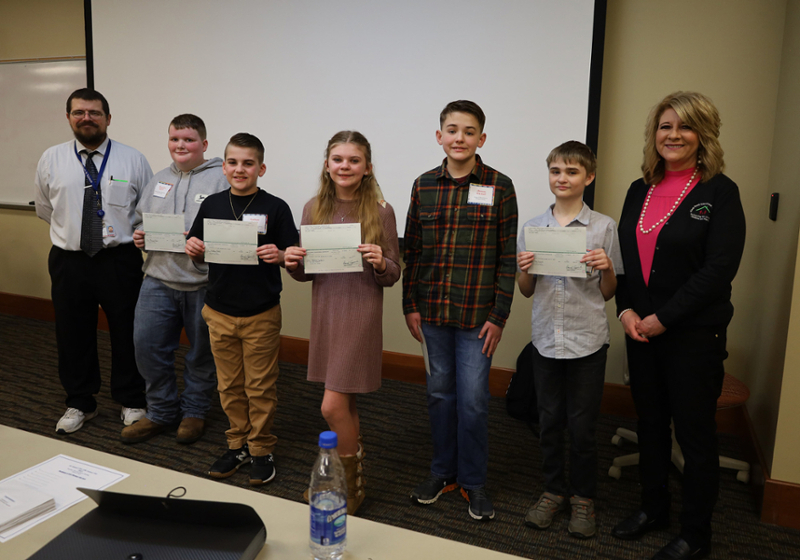 (Caption: Lincoln Memorial University School of Mathematics and Sciences recently hosted the 10th Annual Clinch-Powell Educational Cooperative Science Fair, where 21 sixth-grade students from six counties competed in a regional science competition with thousands of dollars in prizes. From left, Dr. Kevin Cooper, LMU assistant professor of physics, Brandon Baker, Nathan Jones, Addison VanHuss, Abram Hansel, Eli Sweet and Debbie Gibson, Clinch-Powell Educational Cooperative Executive and Head Start Director.)
Lincoln Memorial University (LMU) School of Mathematics and Sciences hosted the 10th Annual Clinch-Powell Educational Cooperative Science Fair Friday, March 3, where 21 sixth-grade students from six counties competed in a regional science competition with thousands of dollars in prizes.
Eli Sweet, a student at H.Y. Livesay Middle School in Claiborne County, won first place and $500 with his project, "Rethink That Drink? A mountainous spring question." Abram Hansel, from Joppa Elementary School in Grainger County, won second place and $400 with "Aerodynamics." Addison VanHuss, a student at Midway Elementary School in Claiborne County, earned third place honors and $300 for "Remember Me? Do you remember one font better than another?" Nathan Jones, representing Springdale Elementary School in Claiborne County, earned fourth place and $200 for "Spherification… It's Boba Baby," and Brandon Baker, representing Powell Valley Elementary School, won $100 for his fifth-place project, "Brand = Better?"
All other participants, who won their school contests, received a $25 gift card. School winners were Tanner Durham, representing Wynn-Habersham Elementary School in Campbell County; Lucas Hamblin, representing Clairfield Elementary School, Clara Oller, of Forge Ridge Elementary School and Bentley Brock, a student at Soldiers Memorial Middle School in Claiborne County; Alli Ramsey, a student at Bean Station Elementary School, Kannon Davidson, a student at Rutledge Elementary School, and Tenley Helms, of Washburn School in Grainger County; and Jackson McFarland, Braxton Fodor and Jacob Smith of Hancock County Middle School in Hancock County. Scott County's students participating included Quency Puno, a student at Burchfield Elementary School, Riley West, a student at Huntsville Middle School, Lindsie Carson of Robbins Elementary School and Tavern Sexton of Winfield Elementary School. Rounding out the participants were Kristin Dyer and Zander Stedam, students at Horace Maynard Middle School in Union County.
The judges included LMU mathematics and science faculty members and graduate students. The presentations were on display at the Hamilton Math and Science Building and students presented throughout the morning. LMU students Tabitha Roy, Juan Torres and Caitlyn Lindell also presented projects for the Science Fair participants. They highlighted chemical physics, biology and chemistry.
"The judges were all very impressed with the work done by the students," said Dr. Kevin Cooper, assistant professor of physics. "One could see that a good deal of time and effort had been put forth by all of the participants. It is nice to see the support from family and teachers for each of the students as they presented the findings of their science fair research."
The annual Science Fair at LMU was the culmination of a science contest among all Clinch-Powell Educational Cooperative schools. Sixth graders from Campbell, Claiborne, Hancock, Grainger, Scott and Union county school systems competed at the school level to qualify for the LMU event. A team of Clinch-Powell Educational Cooperative staff members traveled to the schools to judge the projects on a local level. Winners at each school received $150.  
"The science fair was a great opportunity for these students to develop their research and presentation skills by exploring their interests in science. The level of creativity and commitment they put into their projects demonstrated a passion for science as well as aspirations to develop a better understanding of the world around them," said Dr. Adam Rollins, dean of the School of Mathematics and Sciences. "It is exciting to think about the possibilities for their futures given the talent and dive they displayed at this science fair. These students are truly well-equipped to make a positive impact on our world in the years to come."
Clinch-Powell Educational Cooperative is a regional education service agency dedicated to comprehensive changes in access to quality education in the Clinch-Powell service area. It was formed to help individual boards of education overcome obstacles due to limited resources. The Cooperative consists of six counties in the rural, mountainous area of upper East Tennessee. The Cooperative operates with state and federal grant resources and programs.
Lincoln Memorial University is a values-based learning community dedicated to providing educational experiences in the liberal arts and professional studies. The main campus is in Harrogate, Tennessee. For more information about the undergraduate and graduate programs available at LMU, contact the Office of Admissions at 423.869.6280 or email at [email protected].