LMU-CDM Faculty Research Published in Prestigious Medical Journal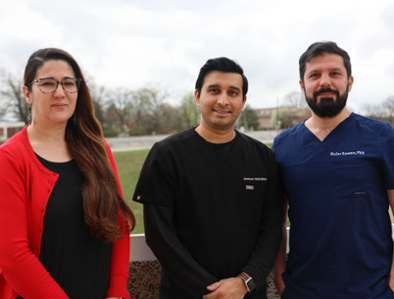 Lincoln Memorial University-College of Dental Medicine (LMU-CDM) Associate Professor of Physiology, Modar Kassan, Ph.D., Assistant Professor, Dr. Karima Ait-Aissa and Director of Biomedical Sciences & Associate Professor of Pharmacology Ammaar Abidi, DDS, Ph.D. authored a research paper which was accepted and published in the Antioxidant Journal.
The Antioxidants Journal is the leading peer-reviewed journal dedicated to understanding the vital impact of oxygen and oxidation-reduction (redox) processes on human health and disease. The Journal explores key issues in genetic, pharmaceutical, and nutritional redox-based therapeutics. The journal has an impact factor (IF) of 7.539 which puts it among the top-notch journals in the field.
"Several studies indicate that Short Chain Fatty acids (SCFAs) play an important role in regulating the gut-brain axis communication. Our group exhibits the effects of SCFAs, which are the main metabolites produced by the microbiota in the gut have anti-inflammatory and potential antioxidant effects by which they can potentially improve brain vasculature function (i.e., endothelial cells)," said Dr. Kassan.
The study highlights key findings that SCFAs can potentially regulate several neurological diseases such as Alzheimer's, Parkinsons diseases, and autism spectrum disorder (ASD). The importance of this study identified how SCFAs affect cells in the brain, which is not well known.
"The data from our paper is very important and it will open a new door for different research aspects to study the effect of gut-microbiota communication and neurological diseases," said Dr. Kassan.
Read the full publication here.
Dr. Abidi, Dr. Kassan and Dr. Ait-Aissa are currently working on additional research publications within the field of oral, cardiovascular and systemic health.
Lincoln Memorial University is a values-based learning community dedicated to providing educational experiences in the liberal arts and professional studies. Lincoln Memorial University-College of Dental Medicine (LMU-CDM) is home to the Doctor of Medicine in Dentistry (DMD) and Dental Hygiene (DH) programs. It is located in Knoxville at the newly renovated LMU Tower. For more information about LMU-CDM programs contact, [email protected]