LMU Honors Namesake in Ceremony in Washington, D.C.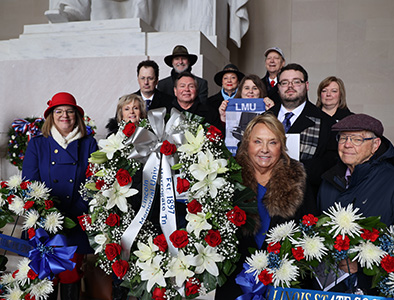 Representatives from Lincoln Memorial University (LMU) joined the Lincoln Birthday National Commemorative Committee and the National Park Service in commemorating the birth of President Abraham Lincoln on Sunday, Feb. 12, 2023, at the Lincoln Memorial in Washington, D.C.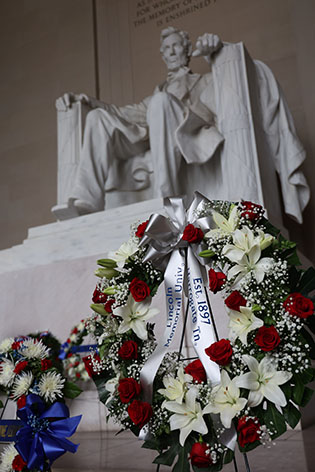 LMU is one of only a handful of institutions and organizations, and the only university, selected to participate in the National Wreath-Laying Ceremony. Vice President for University Advancement Cynthia Whitt laid a wreath at the base of the Lincoln Memorial on the University's behalf and Kristy Bay, executive director for administration, performed an a capella version of the Battle Hymn of the Republic during the ceremony. Senior Director of Alumni Services Sheliah Cosby and National Alumni Association President Wandaleen Adams presented the LMU banner banner during the ceremony while Director of Development Donnie Lipscomb and alumnus Frank Weiss presented the 125th Anniversary banner.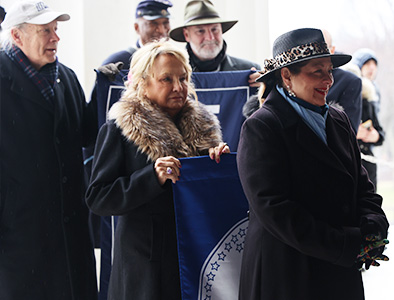 LMU takes part in the annual event, which also includes the reciting of the Gettysburg address and remarks from special guests. Other wreaths were placed by the Military Order of the Loyal Legion of the United States (MOLLUS), Sons of Union Veterans of the Civil War, the Ladies of the Grand Army Republic, Lincoln Group of the District of Columbia and others during the event. A wreath on behalf of the President of the United States was placed prior to the ceremony.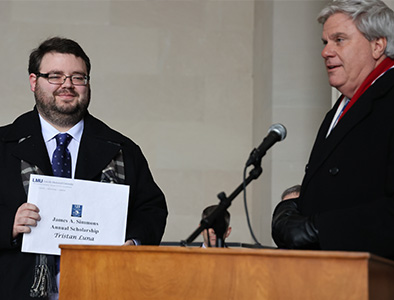 MOLLUS also recognized LMU student Tristan Luna, of Jacksboro, Tennessee, as the recipient of the James Simmons History Scholarship during the ceremony. Luna was recognized as an outstanding history student.
In addition to the Lincoln Memorial event, LMU representatives attended the MOLLUS Annual Dinner and Program and hosted an alumni chapter meeting over the weekend.
Lincoln Memorial University is a values-based learning community dedicated to providing educational experiences in the liberal arts and professional studies. The main campus is located in Harrogate, Tennessee. For more information about the undergraduate and graduate programs available at LMU, contact the Office of Admissions at 423-869-6280 or email at [email protected].