Long Promoted to Lincoln Memorial University Director of Academic Support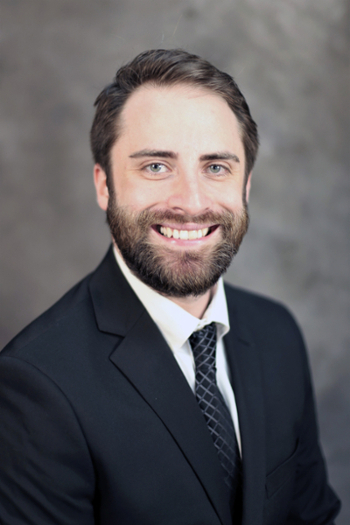 Lincoln Memorial University (LMU) Assistant Vice President for Academic and Student Support Services Blaze Bowers has announced the promotion of Director of Enrollment Analytics Sean Long to Director of Academic Support.
In his new position, Long's responsibilities will increase. As the new division leader for LMU Academic Support, he will oversee the Tagge Center's general academic support services, the Cornerstone program and the U.S. Department of Education grant-funded Student Support Services TRIO program for undergraduate students. Academic Support Services coordinates tutoring and academic assistance initiatives, and Long will also support the University's efforts in helping to coordinate undergraduate retention efforts.
"The future of LMU's Tagge Center for Academic Support is bright," said Bowers. "I am thrilled to welcome Mr. Sean Long to the Academic and Student Support Services team as he steps into his new role. His doctoral research, experience in data analytics and passion for student success uniquely position him for success in this role."
Because student success is vital to the University, Long will continually work to better academic support performance and outcomes. He will supervise supplemental instructional support services in a classroom environment to ensure support services meet the needs of groups of or individual students. He will schedule, evaluate and conduct courses, trainings and test review sessions.
"Student success and academic excellence exist at the core of LMU's mission," said Bowers. "LMU's academic support departments are geared toward empowering all students—those from Appalachia and our surrounding communities, from across the country, and from diverse backgrounds of an indescribable range."
"The Tagge Center for Academic Support is a crucial part of campus for undergraduate students to find their academic success here at LMU," added Long. "Whether students visit the Tagge Center for tutoring sessions, the computer lab space, or to create a success plan with a member of the talented staff, they will find the tools needed to achieve their goals. It is an honor and privilege to be chosen to lead such an important division that serves students from the Appalachian region and beyond."
The director of academic support serves as a collaborative division head in the division of Academic and Student Support Services along with the dean of students, the Title IX coordinator and institutional compliance officer and the director of mental health counseling. Long will collaborate with Academic Affairs to ensure academic success is integrated with faculty input and participation.
Long has extensive experience working with students, as he has been with LMU since 2012. He earned a Bachelor of Science in Communication Studies from East Tennessee State University in 2012 then joined LMU as an admissions counselor, gradually moving to director of undergraduate admissions then his most recent position. His roles have highlighted his leadership skills, as he earned a Master of Business Administration from LMU in 2016 and this year will complete the program for a Doctor of Education in Higher Education and Curriculum and Instruction.
Long and his wife Lindsey live in Morristown with their six-month-old daughter, Everly, and dogs Boone and Finn. They enjoy spending time outdoors while hiking and camping. They also enjoy spending quiet afternoons reading, watching movies or playing board games.
"I look forward to strengthening the relationship of the Academic Support division to the greater LMU community, and I am most excited to see students flourish as they strive to meet their academic goals," Long said. "For many of our students, access to an education completely changes the trajectory of their lives, and it is a blessing to serve in a role that will help students achieve the full measure of excellence they are capable of."
Lincoln Memorial University is a values-based learning community dedicated to providing educational experiences in the liberal arts and professional studies. The main campus is in Harrogate, Tennessee. For more information about the undergraduate and graduate programs available at LMU, contact the Office of Admissions at 423.869.6280 or email at [email protected].