Three LMU Law Students Nominated as Spring 2023 Fellows for ABA's Legal Education Police Practice Consortium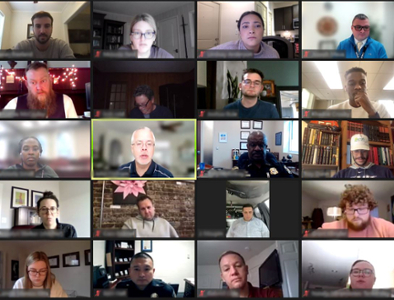 Consortium highlights innovative policy practices course at LMU Law
The Lincoln Memorial University Duncan School of Law (LMU Law) proudly announces three Spring 2023 Fellows nominated to work alongside the American Bar Association (ABA) Legal Education and Police Practices Consortium (Consortium). The three LMU Law Spring 2023 Fellows are Elizabeth Luminoso, Kimberly Trotter, and Dedra Brown, all third-year students. Trotter is the newest LMU Law addition to the fellowship, as Luminoso and Brown both participated as Fall 2022 Fellows.
The Consortium is a collaboration of approximately sixty law schools across the country. Its mission is to collaborate with law schools "to advance the practice of policing, promote racial equity in the criminal legal system, and eliminate policing tactics that are racially motivated or have a disparate impact based on race." The Fellows will help advance these goals by forming connections in the Knoxville law enforcement community, gathering information on local police practices, and assisting in the research efforts of the Consortium. The overall goal for each semester is to identify a community problem and research how to best assist both the community and the police to bring about effective lasting change. 
In its last newsletter, the ABA Consortium highlighted the launch of the Police Practices course currently being taught at LMU Law by Associate Dean Melanie Reid. Dean Reid invites members of law enforcement and other stakeholders from across the country to join in with students each class session for discussions on a range of topics including police culture, policing strategies, and community policing. As a final product, students either participate in a mock civil rights trial or produce a unique piece of scholarly research on a topic related to policing and record an accompanying podcast.
"The goal of the course is to inform students about the realities of policing, which can be much more complex than what they can learn from reading a book or talking solely among other lawyers. I am grateful the students have this opportunity to talk about these important issues with our various law enforcement partners," Dean Reid said.
One of the LMU Law Consortium Fellows, Elizabeth Luminoso, is participating in the Police Practices course this spring, allowing her to assist in research and analyze the class's impact on its participants. Her research will help replicate the class for other interested law school members of the Consortium. Luminoso, who will graduate in May 2023, has long held an interest in civil rights law. She interned for The Baker Law Firm, a local criminal defense firm focused on plaintiff's civil rights litigation, which was founded by LMU Law alumnus Lance Baker '13. Her work at the firm has furthered her interest in the civil rights area.
"I look forward to watching how this class and the Consortium positively impact the community in years to come," said Luminoso.
Kimberly Trotter, the newest fellow, will be graduating in December 2023 with a Juris Doctorate (JD) /Master of Public Administration (MPA) dual degree. Trotter currently works full-time as an officer in the Knox County Sheriff's Office Forensics Unit in Knox County, Tennessee. She has had the pleasure of working with many attorneys in her community throughout her career in law enforcement through testimony and investigations. Trotter was drawn to the Consortium to bridge a divide she has seen between the legal community and law enforcement.
"I wholeheartedly believe we are on the same team and can work together for the betterment of our communities with the citizens and clients we serve," said Trotter. "With open and honest conversations between law enforcement and the legal community, I can see a positive reform in the future."
Her project as a Consortium fellow will allow her to research the relevant laws surrounding an officer's duty to intervene when he or she has an opportunity to prevent another officer from using unlawful force.
Dedra Brown is a dual-degree JD/MPA student at LMU Law graduating in May 2023. Her fields of concentration at the law school are immigration and criminal law, to which she affectionately refers as "Crimmigration Law".  Brown has externed at the Knox County Public Defender's Community Law Office, Catholic Charities of East Tennessee, and Adelante. According to Brown, these externships brought her to the Consortium because they provided a unique opportunity to assist the public with their personal and familial interactions with state and local law enforcement.
"I feel privileged to work for and with communities that need to navigate challenges within America's legal framework that are often initiated by interactions with law enforcement," said Brown. "The Consortium is a great way to continue to work toward solutions."
Brown will be working closely with the Consortium to review and update the Consortium Police Database Mapping for the Knoxville community.
More information on the Consortium, including a list of participating law schools, can be found on the ABA's website at Home - ABA Consortium (abalegaledpoliceconsortium.org).
The Lincoln Memorial University Duncan School of Law is in Knoxville's Historic Old City Hall Building. LMU Law is an integral part of LMU's values-based learning community and is dedicated to preparing the next generation of lawyers to provide sound legal services in the often underserved region of Appalachia and beyond.