LMU-CDM Hosts 66th Annual Southern Conference Of Dental Deans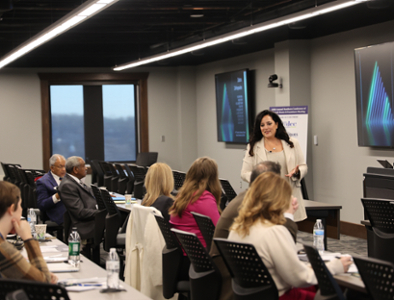 The Lincoln Memorial University-College of Dental Medicine (LMU-CDM) hosted the 66th Southern Conference of Dental Deans and Examiners on January 27-29, 2023.
The Southern Conference of Dental Deans and Examiners meeting is an annual meeting allowing dental deans, state board examiners, and other dental professionals to gather and discuss important issues and challenges shared by leaders within the dental community.
"We were honored to host this year's meeting and showcase the premier learning experience and facilities that LMU-CDM has to offer as the newest dental school in the area," said LMU-CDM Dean and Chief Academic Officer Dr. Denise Terese-Koch.
Located in Knoxville, Tennessee, the brand-new facilities allowed more than a dozen deans from colleges and universities across the south to tour and learn about the newly renovated LMU Tower. Occupying the top six floors, the LMU-CDM facilities include faculty offices and lecture classroom space on two floors as well as a student break area, the administrative suite, a library, and small group study areas. One floor has a bench lab, simulation lab, digital workflow lab and a wet/dry lab. LMU-CDM is also home to the Performance Institute, which was developed by Promethean Dental Systems and consists of a full, comprehensive-care training module program where students use simulation, virtual reality, and artificial intelligence to mimic real-life situations, enabling students to create comprehensive treatment plans and perform procedures.
Additionally, LMU-CDM partnered with The Center for Research and Education in Technology, Inc. (CRET) to design, build and equip a digital technology Innovation Center at the LMU Tower. Located on the sixth floor, the LMU CRET Innovation Center is designed as a private practice dental office with treatment rooms, a dental laboratory, a sterilization area, reception area, records area and all the associated technology. LMU's IC includes dental equipment from Dentsply Sirona, Midmark, A-dec, the Royal Dental Group, Planmeca, DCI and DentalEZ. The diversity of equipment will provide students the opportunity to work with tools from many different manufacturers so they have experience with the various equipment they may encounter once they are practicing dental professionals.
Meeting attendees listened to oral health speakers such as keynote speaker Debra Zafiropoulos and Executive Director of the American Dental Association (ADA) Dr. Raymond Cohlmia, Dr. Gina Pritchard, Lora Hooper, Rachelle Beattie, Anne Rice, and Deb Bridges.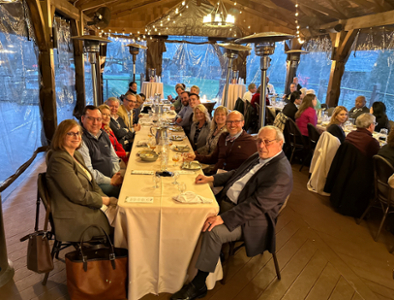 Towards the end of their visit, the visiting deans traveled to Dancing Bear Lodge in the Great Smoky Mountains National Park for dinner and to experience the breathtaking beauty East Tennessee has to offer. 
Lincoln Memorial University is a values-based learning community dedicated to providing educational experiences in the liberal arts and professional studies. Lincoln Memorial University-College of Dental Medicine (LMU-CDM) is home to the Doctor of Medicine in Dentistry (DMD) and Dental Hygiene (DH) programs. It is located in Knoxville at the newly renovated LMU Tower. For more information about LMU-CDM programs contact [email protected]