LMU-CVM Hosts Class of 2026 White Coat Ceremony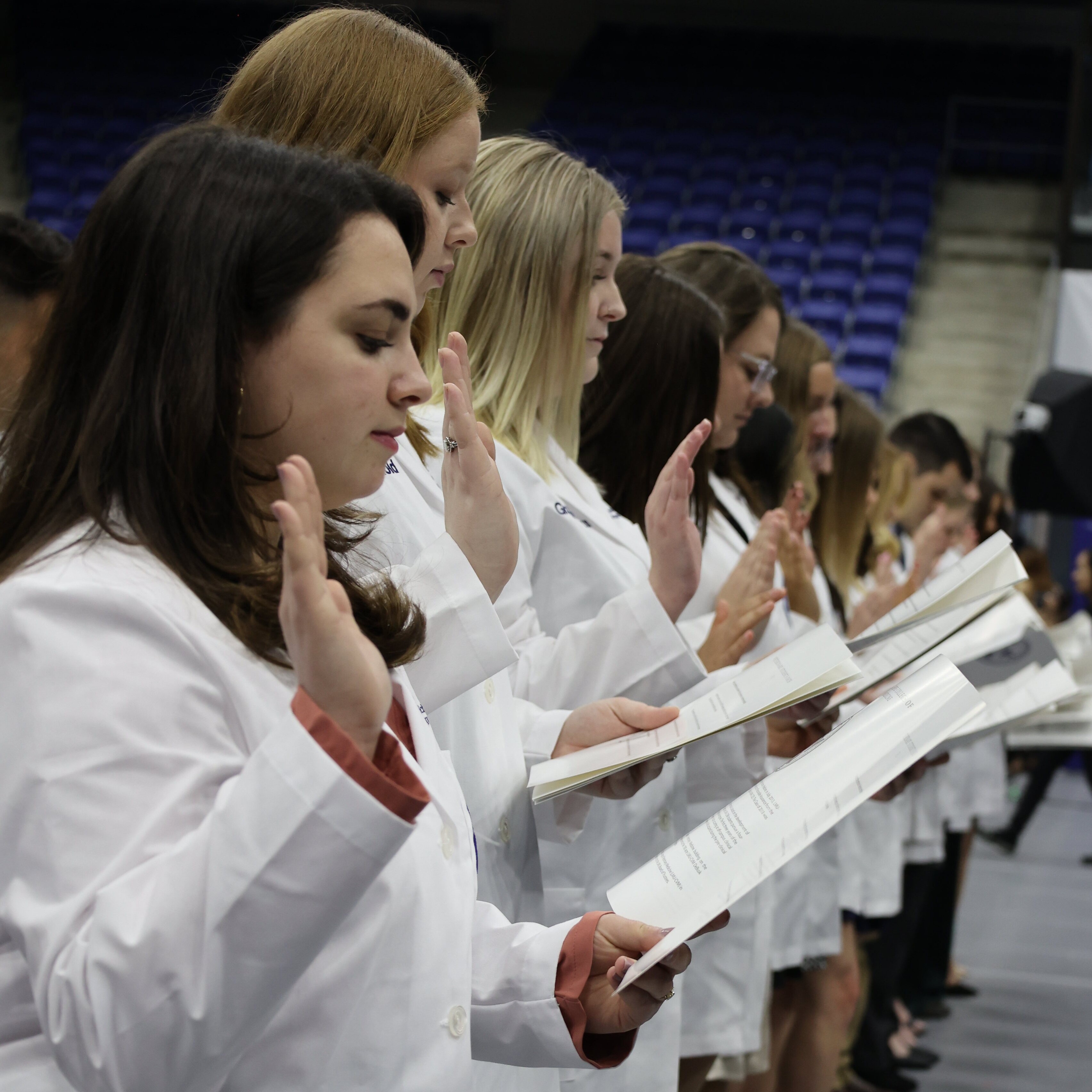 The Lincoln Memorial University-Richard A. Gillespie College of Veterinary Medicine (LMU-CVM) hosted the 127 students of the Class of 2026 for a White Coat Ceremony January 20 at Tex Turner Arena on the LMU main campus in Harrogate, Tennessee. 
"We are gathered here today to welcome the Class of 2026 into the profession. The veterinary profession is one of the most noble and diverse that anyone could pursue," said LMU-CVM Dean Stacy Anderson, DVM, PhD, DACVS-LA, in her welcome. "Class of 2026, your responsibility is to conduct yourself and your academic affairs in an honorable fashion befitting the professional you are working to become. Your responsibility is also to take care of yourself and each other along this journey called veterinary school."
Class of 2019 graduate Rachel DeLoatch, DVM, in her address to students, talked about being on the LMU-CVM admissions board and the search for "grit" among the applicants, referencing a 2013 Ted Talk by Angela Duckworth called "Grit: The Power of Passion and Perseverance."
"Angela describes grit as passion and perseverance for very long-term goals, having stamina, sticking with your future goals, day in and day out," Deloatch said. "Scientist have found that the best predictor of long-term success is not your ability to learn quickly, IQ, social intelligence, good looks or physical health. It's grit."
During the ceremony, the incoming class is cloaked with a white laboratory coat, a traditional symbol of the medical sciences. Through this ritual, student-veterinarians become more aware of their professional responsibilities. Assistant Professor of Veterinary Clinical Skills and Anatomy Michael Center, DVM; Associate Professor of Veterinary Anatomy Ismael Concha, DVM, MVSc; and Assistant Professor of Veterinary Anatomy Lucinda Dixon, DVM, were the designated coaters. Associate Dean of Student Affairs and Admissions Kimberly Carney, DVM, MPH, DACVPM, read the names of each student being presented and Associate Dean of Clinical Sciences Julie Hunt, DVM, MS led the recitation of the Veterinary Oath and Honor Code.
View the ceremony live here: https://portal.stretchinternet.com/lincolnmemorialevents/portal.htm?eventId=721962&streamType=video
View candid photos here: https://flic.kr/s/aHBqjAp1xd
View the White Coat Ceremony Program here:
https://www.flipsnack.com/lmunet/cvm-white-coat-program-jan-2023.html
Lincoln Memorial University (LMU) is a values-based learning community dedicated to providing educational experiences in the liberal arts and professional studies. The LMU-Richard A. Gillespie College of Veterinary Medicine is located on LMU's main campus in Harrogate, Tennessee, with additional academic facilities in nearby Lee County, Virginia. LMU-CVM is an integral part of the University's medical programs and provides real-world, community-based education in a collaborative learning environment. For more information about LMU-CVM, call 1.800.325.0900, ext. 7150 or visit us online at vetmed.LMUnet.edu.