LMU Law Announces Dean's List for Fall 2022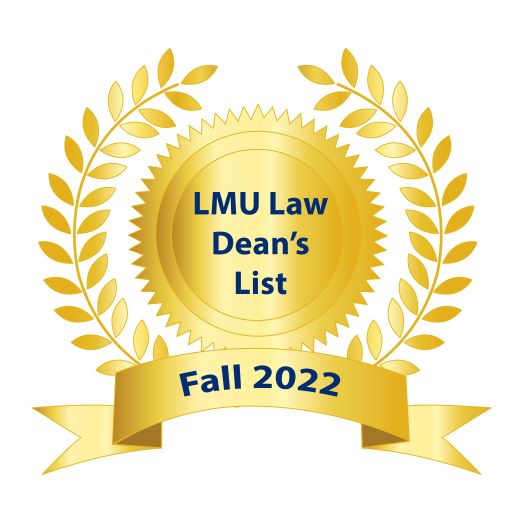 Lincoln Memorial University Duncan School of Law (LMU Law) Vice President and Dean Matt Lyon is pleased to announce the Dean's List for the fall 2022 semester. A total of 90 students were honored for achieving a grade point average of 3.400 or above while carrying at least a nine-credit-hour course load.
CALIFORNIA
GILROY: Kiersten Ginkel
RIVERSIDE: Cameron Zahn
KENTUCKY
FLORENCE: Rachel Schworer
FRANKLIN: McKenzie Wilson
HARLAN: David Turner
SCIENCE HILL: Tyra Brown
WINCHESTER: Carson Kovalic
MISSOURI
NEW MADRID: Jordan Allen
NORTH CAROLINA
SYLVA: Pratista Patel
TENNESSEE
ALCOA: Mitchell McClurg
BRENTWOOD: William Whitmer
COSBY: Meganne Lee
CUMBERLAND GAP: Alana Siock
DANDRIDGE: Hannah Clyde, Kaylee Holloway
DUCK RIVER: Dalton Parks
ENGLEWOOD: Dylan Gilbert
FAYETTEVILLE: Ryan Eldridge
FRANKLIN: Luke Johnson
GEORGETOWN: Radonna Gaddis
GREENEVILLE: Adam Musgrove
JEFFERSON CITY: Shelby Beal
KNOXVILLE: Lindsay Anderson, Kyle Ayers, Nadean Azzam, Jackson Barton, Jonathan Baumgartner, Heather Brewer, Gabriel Cole, Bree Conner, Peyton Cross, Travis Dorman, Brice Easton, Tiffany Estes, Sophie Fielder, Emily Ford, Neva Foust, Dylan Gahagan, Caitlin Hodges, Mariah Holtz, Bethany Jervis, Lois Johnson, Cameron Kirkland, Landie Kitts, Grant Klingler, Ella Kostecki, Nicholas Lima, Thomas Martin, Jordan Meddings, Geran Minor, Matalie Miramontes-Tankersley, Kaitlin Moran, Andrea Morgan Hancock, Mollye O'Rourke, Daryl Peterson, Nicholas Poe-Jones, Lee Poff, Nolan Renfro, Jason Repath, Matty Roth, Allison Ruiz, Heidi Timmerman
KODAK: Sydney McKay
LENOIR CITY: Trinity Bledsoe
MADISONVILLE: Leah Spradlin
MANCHESTER: Grant Sadler
MARYVILLE: Angela Gianino-Book, Evan Miller, Willow Van Skyhawk
MAYNARDVILLE: Anna Black
MORRISTOWN: Blake Lee
MURFREESBORO: Andrew Huff
NASHVILLE: Rowan Jordan
NEWPORT: Sandra Kelley
NEW TAZEWLL: Christopher Parker
OAK RIDGE: Caleb Stuber
OOLTEWAH: Mark Warren
POWELL: Aaron Deaver
PORTLAND: Carly White
ROGERSVILLE: William Jenkins
SEYMOUR: Nathan Dowdy
SIGNAL MOUNTAIN: Zachary Atchley
SPRING HILL: Hannah Highland
STRAWBERRY PLAINS: William McCarty
TULLAHOMA: Jocelyn Mercado
WALLAND: Jenna Henderson
TEXAS
COLLEGE STATION: Shelby Brackin
U.S. VIRGIN ISLANDS
FREDERIKSTED: Sonsirez Robles
VIRGINIA
GATE CITY: Presley Overbey
ROCKY MOUNT: Hunter Barbour
The Lincoln Memorial University Duncan School of Law is located in Knoxville's Historic Old City Hall Building. LMU Law is an integral part of LMU's values-based learning community and is dedicated to preparing the next generation of lawyers to provide sound legal service in the underserved region of Appalachia and beyond.