LMU-CVM Welcomes Silver Cohort Class of 2027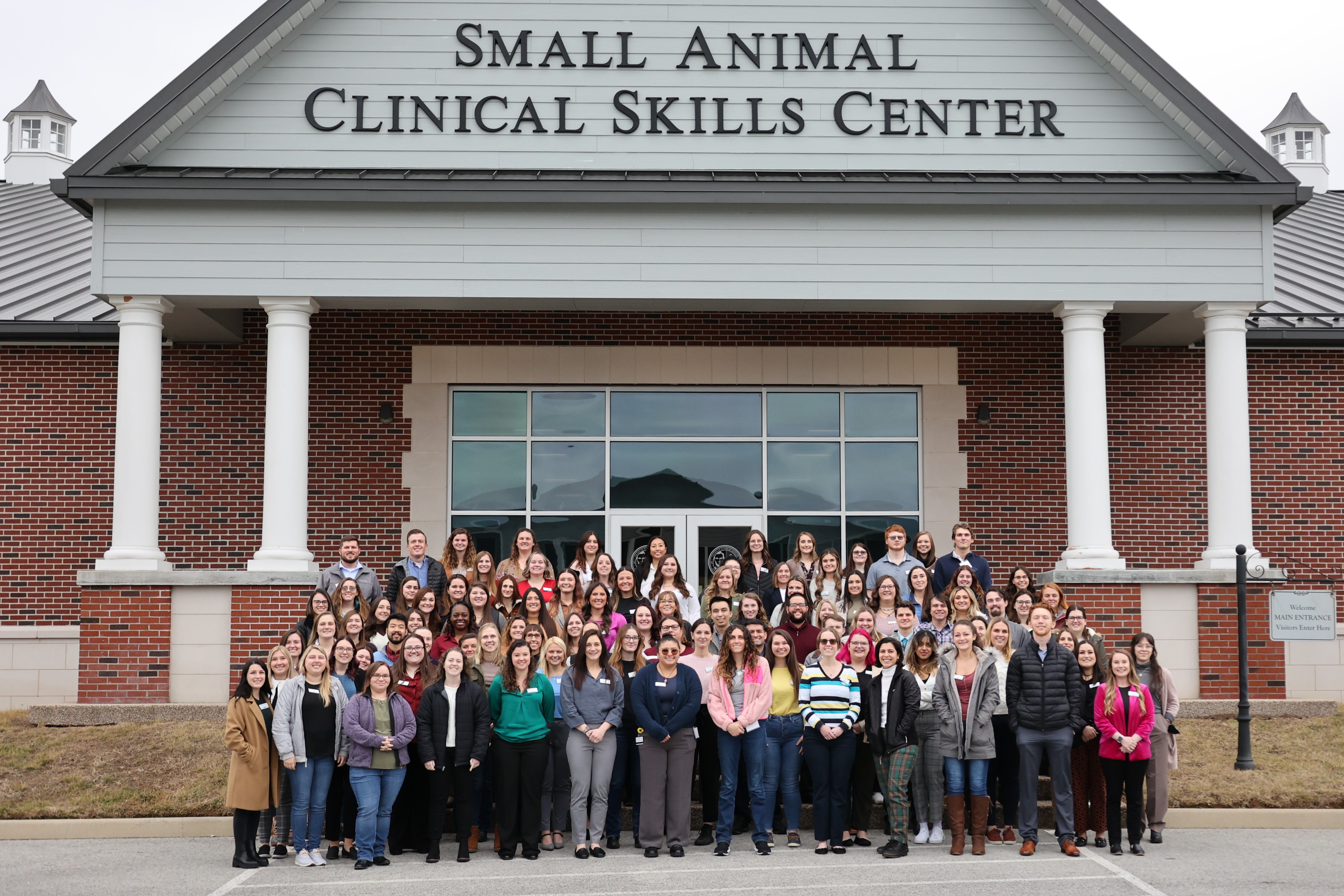 The Lincoln Memorial University-Richard A. Gillespie College of Veterinary Medicine (LMU-CVM) welcomed 97 new students January 17 to support a new initiative to grow the number of practice-ready veterinarians educated at LMU.   
LMU-CVM received the news late last fall that the American Veterinary Medical Association (AVMA) Council on Education (Council) had approved the LMU-CVM substantive change request to add a second entering class. Since its founding in 2014, LMU-CVM has welcomed one cohort each year in August to begin classes. This additional cohort is the first to begin in January.
The Silver Cohort Class of 2027 is made up of 85% females and 14% males. These students average 24 years of age and 31% are first-generation college students. One of the CVM's missions is to serve the Appalachian region, and 31% of the incoming silver cohort also came from the Appalachian region.
"There is a veterinary shortage that is not only impacting Appalachia, but also the entire nation," said LMU-CVM Dean Stacy Anderson, DVM, PhD, DACVS-LA. "LMU-CVM was uniquely positioned to expand class size due to the foresight of its Board of Trustees. LMU built spaces to accommodate class expansion and engaged hundreds of veterinary practices to train our students in the distributive clinical year. We stand ready to produce more confident, competent, career-ready veterinarians."
LMU's growth in veterinary medicine continues to be a trend for LMU – developing health science programs to train career-ready practitioners and expanding them to meet the needs of underserved communities in Appalachia and beyond. LMU-CVM set itself apart from other veterinary schools with its hybrid distributive learning model – one of only a few of its kind in veterinary education. LMU-CVM's curriculum provides students with real-world, hands-on experience at veterinary practices around the country. Fourth-year students have extensive options for their training as the LMU-CVM list of nearly 300 clinical partners continues to grow.
LMU-CVM students spend three years studying on the University's main campus in Harrogate, Tennessee, with clinical skills and anatomy classes taking place at the DeBusk Veterinary Teaching Center in Ewing, Virginia. The new state-of-the-art facilities were constructed with growth in mind and will easily accommodate the additional cohort. The Richard A. Gillespie CVM building is a three-story, 85,000-square-foot facility which includes two large lecture halls, 24 communication laboratories, simulation suites, basic and clinical sciences classrooms, study rooms, faculty offices and flexible space. The DVTC includes six buildings housing over 93,000 square feet of facilities for veterinary skills curriculum, including a surgery suite, anatomy lab and clinical skills simulation center.
Lincoln Memorial University (LMU) is a values-based learning community dedicated to providing educational experiences in the liberal arts and professional studies. The LMU-Richard A. Gillespie College of Veterinary Medicine is located on LMU's main campus in Harrogate, Tennessee, with additional academic facilities in nearby Lee County, Virginia. LMU-CVM is an integral part of the University's medical programs and provides real-world, community-based education in a collaborative learning environment. For more information about LMU-CVM, call 1.800.325.0900, ext. 7150 or visit us online at vetmed.LMUnet.edu.