Lincoln Memorial University Announces Fall 2022 Dean's List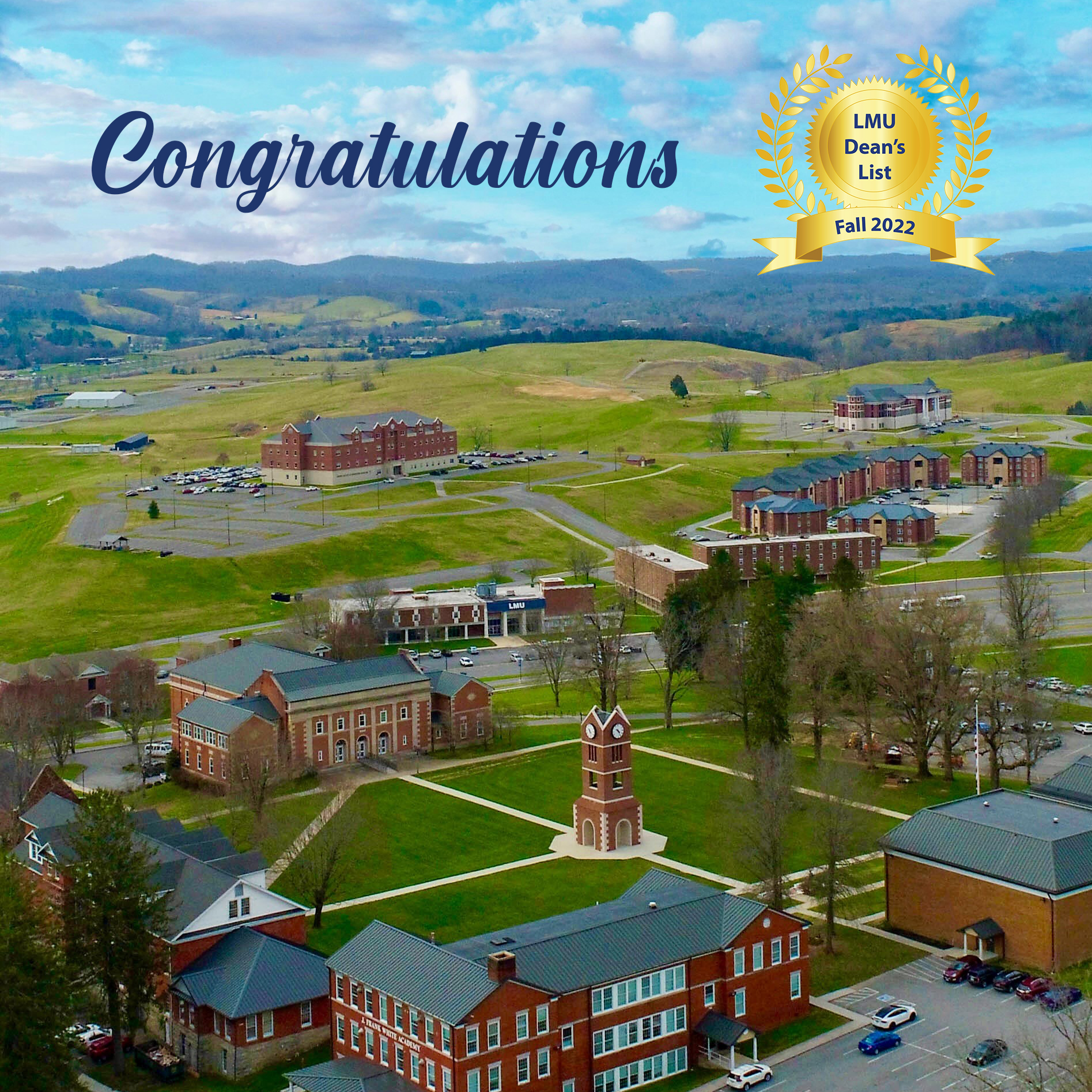 Lincoln Memorial University (LMU) has announced that the following students were placed on the Dean's List for the fall semester of 2022.  To be placed on the Dean's List, the student must be a full-time undergraduate and have a 3.5 or higher, grade-point-average for the semester.
ALABAMA
CAMP HILL: Kiley Bowins
HOMEWOOD: Gage Estep
ARIZONA
CHANDLER: Annika Lagos
ARKANSAS
HOLIDAY ISLAND: Spencer Baldwin
CALIFORNIA
COTTONWOOD: Madison Steele
REDONDO BEACH: Ethan Morgan
TEMECULA: Brooke Foster
TORRANCE: Kohl Kutsch
COLORADO
ARVADA: Lydia Thurman
COLORADO SPRINGS: Jaedyn Ryba
PARKER: Makayla Fox
CONNECTICUT
BURLINGTON: Isabella Czepiel
STERLING: Jennifer Fillie
WALLINGFORD: Dannielle Geary
FLORIDA
APOPKA: Ansley Ottati
BRADENTON: Collin Goda, Hunter Stroble and Emily Wilson
BRANDON: Rachel Denham and Bailey Roger
DAVIE: Angelina Palermo
DEERFIELD BEACH: Francesca Mendieta
FORT LAUDERDALE: Chandler Bell
LAKELAND: Diego Platas Ivan
LAND O' LAKES:Emily Sullivan
LUTZ: Alexis Leighty
NAPLES: Quinn Hepler
OXFORD: Alexa Soltis Hall
RIVERVIEW: Stephanie Rains
PETERSBURG: Ilda Gjonaj
TAMPA: Dachnaica Alcius, Carly Palus, Shelby Rogers and Victoria Valdes
TEMPLE TERRACE: Taylor Barreto
WESLEY CHAPEL: Mariah Schaffner
VERO BEACH: Bria Clarke
WINTER SPRINGS: Carter Craig and Ryan Kurth
GEORGIA
ATLANTA: Quinn Wall
DALLAS: Aubrey Bachtel
ELLAVILLE: Faith Brown
LAWRENCEVILLE: Micah Sells
MARIETTA: Harris Bryson, Jaeger Keeline and Cameron Powser
NORCROSS: Jonathan Hallock
POWDER SPRINGS: Ajani Henley
ROCKY FACE: Kaley Long
ROSWELL: Andrew Vislusky
SAVANNAH: Megan Snider
STOCKBRIDGE: Jordan Maney
SUWANEE: Thomas Allard
ILLINOIS
OAK FOREST: Victoria Conely
WAUCONDA: Amanda Lisi
INDIANA
FLOYDS KNOBS: Dylan Hogan
INDIANAPOLIS: Alan Johnson
MUNCIE: Abigail Kesler
OLDENBURG: Katherine Bedel
WEST LAFAYETTE: Jordan Walters
KENTUCKY
AGES: Caleb Brock
BARBOURVILLE:Ailee Bargo, Ashley Hensley, Kaelyn Hobbs and Jerilyn Payne
BIMBLE: Paige Brooks and Crystal Mills
CAMPBELLSVILLE: Layndon Carter
COLDIRON: Madison Hall
CORBIN: Alexis Hammons and Sierra Taylor
EVARTS: Angela Wynn
HARLAN: Maleah Doss, Makenna Doss and Wilson McCarthy
LA GRANGE: Jack Harris
LANCASTER: Katy Pozzuto
LILY: Carlie McArthur
LONDON: Emily Catron, Eli Fischer, Kelley Hill, Lakeisha Snyder, Mallory Teeter and Taryn Winberry
LOUISVILLE: Cole Campisano and Cash Porter
LOYALL: Rhileigh Alred
MAYSVILLE: Haley White
MIDDLESBORO:  Harley Brooks, Isabella Cagnana,Olivia Coe, Jayden Fisher, Madison Keaton, Grecia Lasley, Timothy Perkins and James Rose
NICHOLASVILLE: Morgan Simpson
PINEVILLE: Cameron Burnett, Allison Caldwell, Jenah Helton, Madison Ramey and Rylee Smith
PROSPECT: Kameron Diehlman
SOMERSET: Alexa Smiddy
SOUTHGATE: Mekell Burries
STINNETT: Gage Mason
STONEY FORK: Erica Brock
WILLIAMSBIRG: Cameron Bowen and Lukas Halcomb
LOUISIANA
METAIRIE: Sarah Rubi
MICHIGAN
BLOOMFIELD HILLS: Mary Kostus
MONROE: Erin Achauer
NEW BOSTON: Megan Holloway
NEW JERSEY
WESTAMPTON: Olivia Falzone
NEW YORK
BALLSTON LAKE: Kylie Sisto
EAST AMHERST: Keegan Gillman
SMITHTOWN: Christian Amoruso
NORTH CAROLINA
HENDERSONVILLE: Elizabeth Bowen
HICKORY: Madeline Mosteller and Benjamin Trimm
HUNTERSVILLE: Kevin Jendrasik
MOCKSVILLE: Adam Szewczyk
RALEIGH: Matthew Wood
ROBBINSVILLE: Elijah-Kade Millsaps
WEAVERVILLE: Tyler McKinney
WEST JEFFERSON: Hallie Treva
WHISPERING PINES: Savannah Telemeco
OHIO
BEAVERCREEK: Daniel Pearl
BELLBROOK: Alicia Bevins
CANTON: Liandra Watson
CINCINNATI: Meghan Gaviglia
COLUMBUS: Curtis Schriner and Josephine Tinnerello
GRAND RAPIDS: Amber Underwood
LEBANON: John Luers
LEXINGTON: Abigail Dawson
LIBERTY TOWNSHIP: Ethan Hubbard
LIMA: Belle Blake
MIDDLETOWN: William Eiken
TOLEDO: Courtney Brown
TROY: Kayleigh McMullen
WEST CHESTER: Iason O'Neal
OREGON
SPRINGGIELD: Holly Bonomo
PENNSYLVANIA
LAKE ARIEL: Jadyn Turner
MARS: Caleb Raydo
PHOENIXVILLE: Raven Wellington
SOUTH CAROLINA
BLUFFTON: Jantai Malataev
CAMPOBELLO: Lynzie Hulle D'errico
EASLEY: Kasten Harvey
SUMMERVILLE: Madison Littell
TENNESSEE
ALCOA: Tyler Boyd, Olivia Caudle, Thailand Love and James Shelton
ANDERSONVILLE: Kylee Alvis, Sadie Alvis, Kelsey Carroll and Johnson Meldrum
APISON: Olivia Truelove
BEAN STATION: Mackenzie Brown and Stephanie Harp
BLAINE: Jaci Smith
BRENTWOOD: Meredith Sams
BRISTOL: Eli Tate
BULLS GAP: Nathan McBride
BYRDSTOWN: Jada Lee
CARYVILLE: Madison Brassfield and McKinley Jones
CHATTANOOGA: William Ingell
CHURCH HILL: Ashtyn Gibson and Alexis Moore
CLAIRFIELD: Carly Mozingo
CLARKSVILLE: Madison Amstutz
CLEVELAND: Jenna Scoggins and Colin Wilson
CLINTON:Lara Gunter,Tina Hutson,Jordan Jacobik,Rachel Newport andEmilie Phillips
COLUMBIA: Katherine Cross
COOKEVILLE: Tori Hinds and Chloe Savage
CORRYTON: Hannah Hudson and Ella Johnson
CUMBERLAND GAP: Caelyn Asher, Keira Eaton, Emily Hoskins, Madison Irvin, Cameron Schultz and George Smith
ENGLEWOOD: Jasmine Vestal
EVENSVILLE: Madison Carter
FRANKLIN: Andrew Reid
GALLATIN: Connor Mesler
GRAY: Maria Chellah
GREENBACK: Kayla Lee
HARROGATE: Deborah Akins, Hannah Blevins, Micah Blevins, John Bradley, Barry Brooks, Freddie Chumley, Gabrielle Chumley, Alayna Collins, Elizabeth Cooper, Christian Crumley, Sarah Crumley, Gabriel Crumley, Dustin Daniels, Camille Davison, Brady Dunn, Anna Ellison, Janice Finch, Alexis Fultz, Lauren Fultz, Trevor Fuson, Raegan Gulley, Hunter Hard, Brandon Helton, Breanna Hubbard, Jeremiah Irvin, Nicholas Irvin, Kirsten Keith, Jordyn Martin, Madison McClelland, Brennan Murphy, Tabitha Roy, Victoria Rucinski, Cassidy Smith, Lillian Stubblefield, Ashlyn Thomas and Arkin Ulusoy
HELENWOOD: Kelcee Griffith, Kaitlyn Griffith and Molly Queener
HENDERSONVILLE: Dylan Tran
HUNTSVILLE: Pernie Morrell
JACKSBORO: Samantha Allred, Tristan Luna, Brenna Rutherford, Caden Shouse and Aaron Watson
JEFFERSON CITY: Justice Courtney, Madison Criswell and Mckenzie Taylor
JOHNSON CITY: MaryAlice Baldwin and Amber Hanson
JONESBOROUGH: Sierra Wallace
KINGSPORT: Elizabeth Anderson, Caleb Burleson, Bethany Duncan, Sarah Gail, Kassidy Miller, William Schulz and Nicole Stidham
KNOXVILLE:  Cayla Abbey, Isabelle Atkins,Macy Barnes,Ryan Branson, Katherine Browning, Madeline Brillhart, Megan Callejas, Carolyn Cantrell, Brooklyn Capps, Amber Cardwell, Macy Chambers,Abigail Chrisman, Rachel Crabtree,Sarah Crum, Elizabeth Doty, Kara Dula, Michelle Edwards, Skylar Floyd, Victoria Hammer, Jordan Hellman, Pablo Herrera Garcia, Antonia Hilmer, Zachary Holcombe, Courtney Hopson, Carmen Huffaker,Caroline Jacokes, William Johnson, Kailee King, Alexandria Kirby, Nicholas Krauss,Mariah Lane, Mckenna Long, Brittney Maxey, Madelyn McNew, Kelly Newby, Tahlia O'neil, Lillyanna Palmer, Selena Patel, Alexa Reins, Megan Rios, Emily Roark, Ashleigh Spencer, Tytiaira Spikes, Natalie Stacy, Arsheen Surani, Katie Tuggle, Kelsie Tuggle, Chloe Turner, Jamie Varnell, Jackelyn Whitson, Lauren Williams, Alexandra Williams, Sydney Wolfenbarger, Grace Yarnell, Sarah Young and Trevor Young
KODAK: Rebecca Cates
LAFOLLETTE: Addison Carson, Katrina Oldham, Martha Overbey, Kayla Petro, Laura Vera and Abigail Zapien
LEBANON: Steven Stone
LENOIR CITY: Emily Lowe, Haylie Richardson and Brooke Whitehead
LOUDON: Taylor Gaubatz, Kaylen Lindsey, Rolando Mendoza and Addison Townsend
LOUISVILLE: Madison Henry and McKenzie Henry
MADISONVILLE: Camryn Cecil, Kassidy Kenny and Samuel Peters
MARRIOTTSVILLE: Dillon Ricketts
MARYVILLE: Alexia Bearden, Emily Boring, Sarahann Croley, Megan King, Autumn McCarter, Sydney Millsaps, Maggie Sanderson and Kara Twiner
MAYNARDVILLE: Chloe Bowman, Ethan Dyer, Neilea Hansen, Faith Hughett, Alyssa Long and Cristel Jay Pinkard
MEMPHIS: Gabriel Croom
MOORESBURG:Madison Carpenter
MORRISTOWN: Zachariah Baker, Emily Cook, Adrianna Gentry, McKenna Korody, Laken Phillips, Jordon Rodriguez and Juan Torres
MURFREESBORO: Kayla Taylor
NEW MARKET: William Bolton and Edmond Drake
NEWPORT: Emma Talley
NEW TAZEWELL:  Mackenzie Amoureux, Paul Bailey, Jaden Brock, Presley Cole, Tenley Jackson, Anna Palazzolo, Christian Piercy, Baleigh Rawls, Wynston Seal, Hailey Sexton and Rayleigh Tolliver
OAK RIDGE: Miranda Bailey, Rachel Brewer and Jessica McClanahan
OLIVER SPRINGS: Sadie Duggins, Michelle French and Rose Marie Orange
ONEIDA: Madison Marcum
PIKEVILLE: Erika Hale
PIONEER: Madison Baird, Callie Carson and Chelsie Lowe
POWELL: Mason King, Madison Lambert, Brianna Rowe, Amanda Singleton and Keana Way
RICKMAN: William Sells
ROCKWOOD: Kelsee Neely and Courtney Strickland
ROCKY TOP: Danielle McGhee
ROGERSVILLE: Kaitlyn Luster, Carter Rice, Harper Russell and Lauren Smith
RUTLEDGE: Kaden Kinser and John Lenz
SEVIERVILLE: Samantha Billingsley, Bryce Effler, Autumn Fraley, Samuel Fulton, Holt Hensley, Halle Hensley and Meghan Laing
SEYMOUR: Allison Dalton, Jolee Davis, Delaney Duck and Tyler Smarzinski
SHARPS CHAPEL: Cayden Brown, Emma Moyers and Elizabeth Pursel
SIGNAL MOUNTAIN: Sydney London
SMYRNA: Luke Dymond
SNEEDVILLE: Gloria Ferguson, Sarah Hopkins and Payton Neeley
SODDY DAISY: Madison Bean, Katilee Croft and Sierrah Lemons
SPEEDWELL: Brittany Black, Kayli Hinckley, Ethan Lesser, Stephen Long, Madison Mullins, Hannah Murphy, David Owens, Catherine Owings, Traci Tallman, Peyton Wilder and Elijah Wilson
SPRING HILL: Abigail Patey and Phillip Pressotto
STRAWBERRY PLAINS: Stormie Ferguson
SURGOINSVILLE: Sadie Conley
SWEETWATER: Kiley Spradlin
TALBOTT: Rebecca Freetage and Ashley Parker
TAZEWELL: Isabella Baumgardner, Dallas Boger, Madison Everett, Wesley Fisher, Sarah Fultz, Shelby Herrell, Shelby Kumle, Olivia Nichols, Kayle Perry, Bailey Poore, Emma Reed, Jennifer Rowland, Ricky Rowland, Mary Russell, Makayla Surber, Eva Wilmoth and Victoria Yeoman
THORN HILL: Trevor Holt
WARTBURG: Lillijan Hunter
WASHBURN: Sarah Whitney
WATAUGA: Reaghan Curde
WESTMORELAND: Symphony Jones and Rylea Wischmeier
WHITE PINE: Abbey Rooker
WHITESBURG: Carly Holt
TEXAS
FRISCO: Elle Miller
GRAND PRAIRIE: Caitlyn Lindell
NEVADA: Emma Winford
SPRING: Ashley Morris
VIRGINIA
ABINGDON: Samantha Johnson
BIG STONE GAP: Kendyll Frye and Brandon Kelly
BLAND: Rachel Penley
CASTLEWOOD: Emily Slemp
CHANTILLY: Kushi Khandoji
CLEVELAND: Eden Mcglothlin
EWING: Jo Anna Hudson, Sarah Long, Lillian Parks, Courtney Roberts, Sarah Rose, Valoree Rouse and Jasmyne Thomas
HONAKER: Katelynn Stevens
JONESVILLE: Chloe Dean, Cody Lane and Sydni Smith
MIDLOTHIAN: Lucas Chazo
NEWPORT NEWS: Nicole Landers
NICKELSVILLE: Lakin Castle, Kaitlyn Wallace and Hunter White
PENNINGTON GAP: Angie Zhang and Maggie Zhang
POUND: Alexander Belcher
ROSE HILL: Jacey Grabeeland and Gracie Moles
ROWE: Lakota Helton
TAZEWELL: Cloie Mcghee
WASHINGTON
SPOKANE: Graham Rocha
WEST VIRGINIA
PHILIPPI: Abagayle Auvil
MORGANTOWN: Jameson Walters
INTERNATIONAL
ARGENTINA: Olivia Rosini, and Anella Rossi
AUSTRALIA: Corrine Denton
AUSTRIA: Jakob Hinterholzer
BOLIVIA: Valentina Ascarrunz and Sandro Pacheco Perez
BRAZIL: Luigi Pacini
CANADA: Connor Blondin, Rosalie Carrier-Dulac, Jayden Herman, Jenson Jones, Akhil Malik, Cade Preston, Hunter Preston, Kaelyn Preston, Mathias Roy and Ashton Wilson
COSTA RICA: Josue Camacho
FRANCE: Loic Naas
GERMANY: Feliz Piller, Andreas Weigert and Patrick Zuralski
HUNGARY: Peter Majer,
ITALY: Franco Battaglino
MEXICO: Sergio Aranzeta Boneta and Yoshiya Haraguchi
NETHERLANDS: Sterre Den Duijn, Thom Hermans, Indy Meerding, Mimi Neijens and Elke Mimi
PERU: Mateo Rivera Carbajal
PHILIPPINES: Shanden Vergara
PUERTO RICO: Sofia Colon
ROMANIA: Alexandru Giuera
RUSSIA: Alexei Butchart
SERBIA: Lidija Dokic
SOUTH AFRICA: Katherine Brislin
SPAIN: Daniel Cruz Lopez, Ronan O'Mahony,Hugo Ruiz Espejo, Aimar Samaniego and Paula Sanleon
SWEDEN: William Jonsson
UNITED KINGDOM: Jamie Dean, George Durkan, Alex James, Rachel Mathieson, Alex McNally, Harper Mills, Ian Taggart, Caitlin Thomas, Thomas Turner
URUGUAY: Francisco Faggi
VENEZUELA: Sophia Array
VIETNAM: Minh Nguyen
Lincoln Memorial University is a values-based learning community dedicated to providing educational experiences in the liberal arts and professional studies.  The main campus is located in Harrogate, Tennessee. For more information about the undergraduate and graduate programs available at LMU, contact the Office of Admissions at 423-869-6280 or email at [email protected].