LMU Celebrating 2023 CRNA Week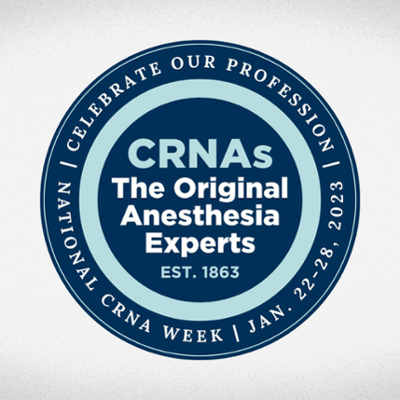 The Lincoln Memorial University-Caylor School of Nursing (LMU-CSON) joins the nationwide celebration of the critical role of Certified Registered Nurse Anesthetists (CRNAs) during National CRNA Week, January 22-28, 2023. The theme for this year's celebration is "CRNAs: The Original Anesthesia Experts."
Since 2000, National CRNA Week has been the annual celebration of the nation's CRNAs and nurse anesthesia students. The highly respected profession of nurse anesthesiology traces its origins to the 1860s, when nurses eased the suffering of wounded soldiers in the Civil War. Today, there are nearly 66,000 CRNAs and nurse anesthesia students nationwide.  
LMU recognizes and celebrates CRNA Week, and last year marked a milestone in the program by moving to the doctoral level from a master's degree level.
"The LMU-CSON has excellent CRNA alumni who are highly qualified and competent as clinical providers serving across the region," said Dr. Tammy Dean, dean of the LMU-CSON. "These CRNAs are delivering patient care to individuals and their families, not just in the LMU service areas, but beyond in many other regions. I commend the faculty commitment to educating both these past outstanding graduate alumni and the current students, especially with the additional challenges nurses face due to COVID-19."
Nurse anesthetists have been providing anesthesia care to patients in the United States for more than 150 years. The CRNA credential came into existence in 1956. CRNAs are anesthesia professionals who safely administer more than 49 million anesthetics to patients each year in the United States, according to the American Association of Nurse Anesthetists (AANA) member profile survey. In rural areas the service of CRNAs is even more prolific with CRNAs serving as primary providers of anesthesia care, enabling health care facilities in these medically underserved areas to offer obstetrical, surgical, pain management, and trauma stabilization services.
The LMU-CSON nurse anesthesia concentration began as a Master of Science in Nursing (MSN) in 2008 and evolved into a Doctor of Nursing Practice (DNP) in Nurse Anesthesia in January 2022. LMU has graduated over 200 nurse anesthetists since the program's inception. The nurse anesthesia concentration prepares nurses in an advanced practice role with competencies in nurse anesthesia across the life span.
The DNP Nurse Anesthesia curriculum is a nine-semester program, requiring 109 semester hours of graduate course work, including extensive clinical practicum, a comprehensive exam, and a completed directed scholarly project. The didactic portion of the program is delivered at the LMU main campus in Harrogate, Tennessee. Students are required to travel for clinical rotations in hospitals/affiliates in Tennessee, Kentucky, Virginia, and Georgia.
Enrollment in the LMU-CSON has increased exponentially over the last decade with the addition of new programs and concentrations. The LMU-CSON offers a variety of degree options to meet nurses' career goals. Undergraduate degrees include the Licensed Practical Nurse-Associate of Science in Nursing (LPN-ASN), Associate of Science in Nursing (ASN), Bachelor of Science in Nursing (BSN), and Registered Nurse-Bachelor of Science in Nursing (RN-BSN). Graduate options offered are the MSN with concentrations including Family Nurse Practitioner (FNP), Family Psychiatric Mental Health Nurse Practitioner (FPMHNP), and Nursing Administration; the DNP Nurse Anesthesia (BSN-DNP); and the post-master's general DNP. The general DNP is entirely online and prepares nurses as professional scholars in practice-oriented, community-based roles that reflect translation of research into practice.
Students interested in applying to the DNP Nurse Anesthesia program are not required to hold a master's degree. For more information or to apply to any LMU-CSON program, visit nursing.LMUnet.edu. The priority deadline for admission to the January 2024 cohort is October 31, 2023.
Lincoln Memorial University is a values-based learning community dedicated to providing educational experiences in the liberal arts and professional studies. The main campus is in Harrogate, Tennessee. For more information about the undergraduate and graduate programs available at LMU, contact the Office of Admissions at 423.869.6280 or email at [email protected].