J. Frank White Academy Wins Scholars Bowl Championship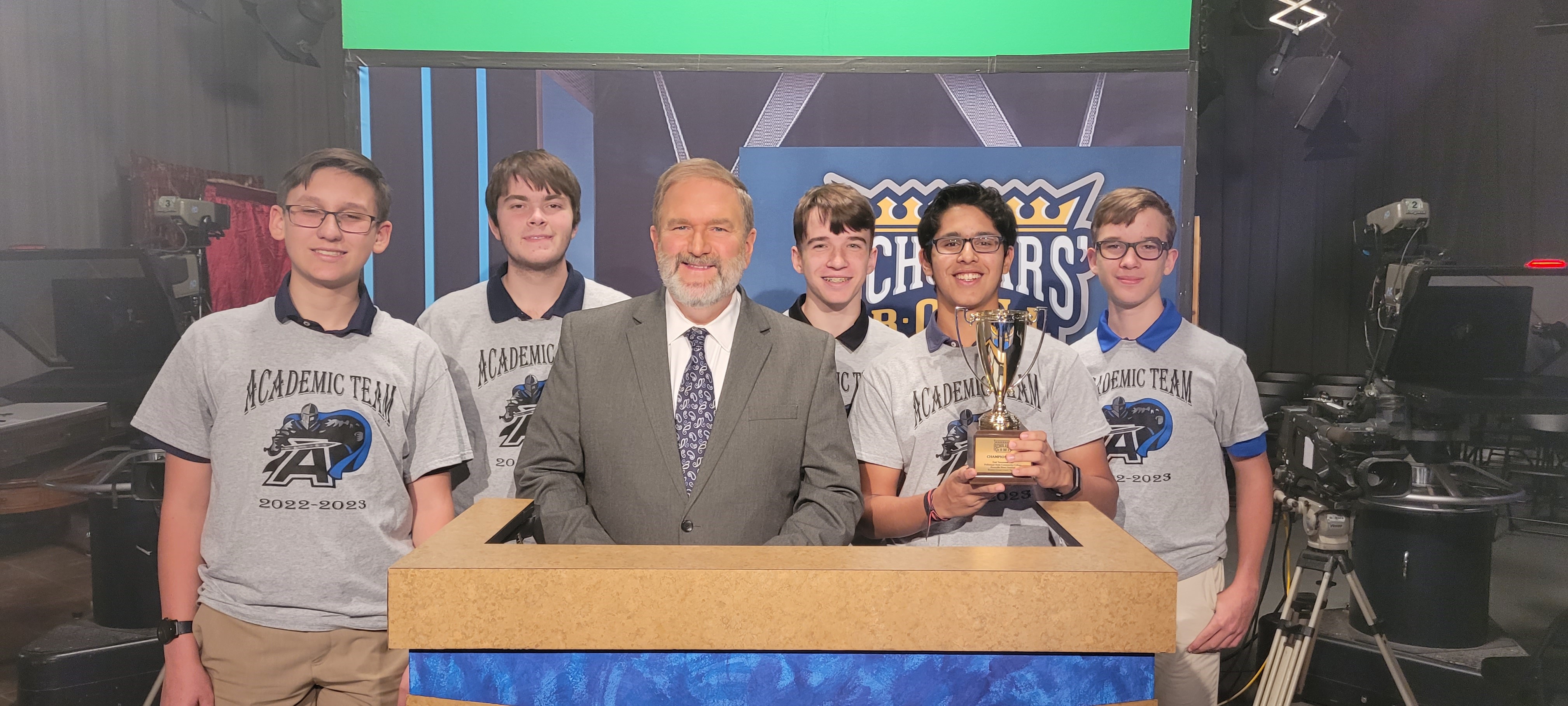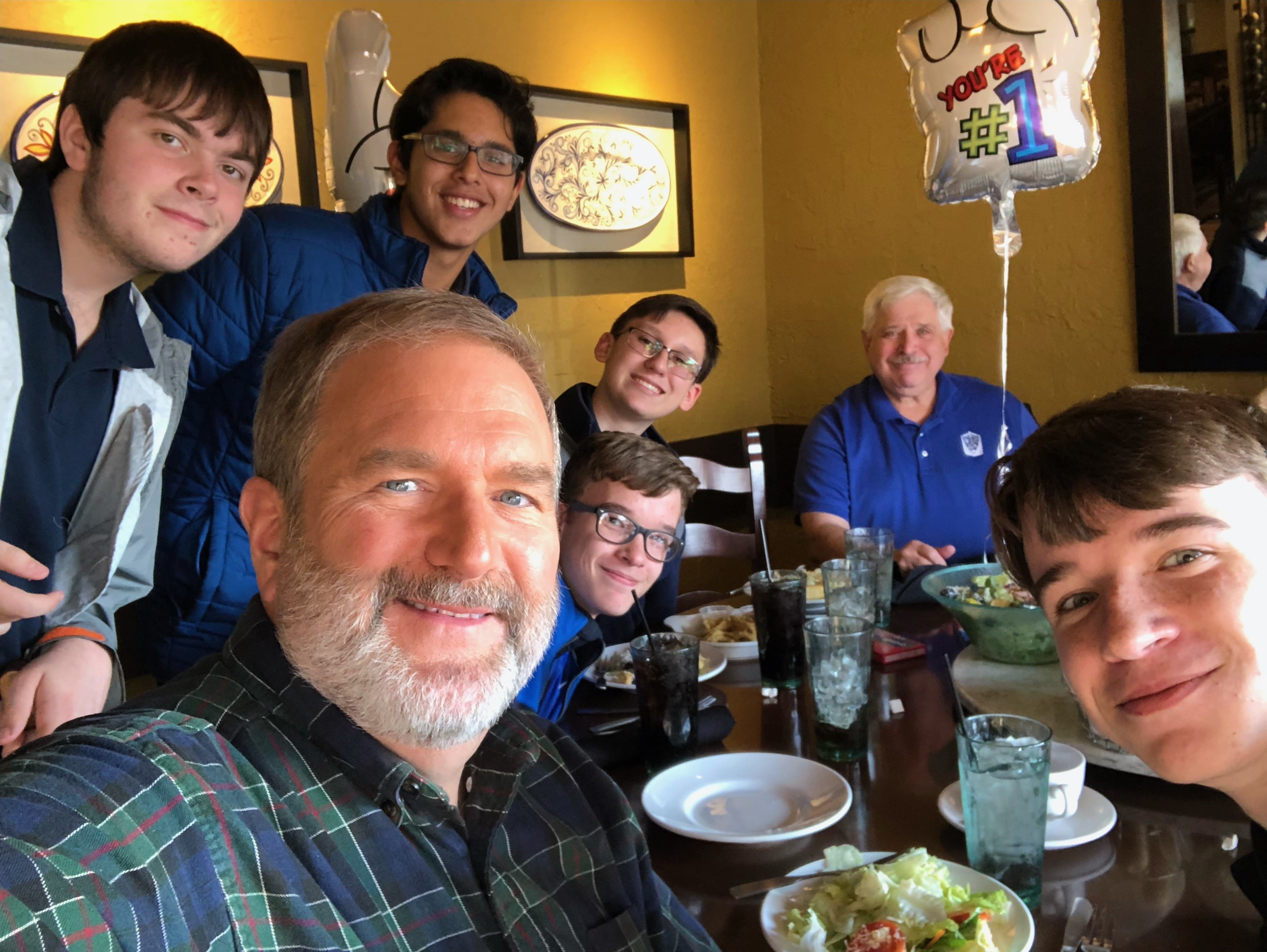 The J. Frank White Academy Scholars Bowl Team competed in a tournament with 64 other high school teams from East Tennessee and came away with the championship trophy Nov. 16.
JFWA Academic Team, under the direction of club sponsor William Kobus, entered two teams in this year's Scholar's Bowl which will air on PBS. Team A (Van Nickerson, Troy Ellison, Shashi Verma, and Grayson DeBusk) began by defeating Oneida 500-130 and Bell County 560-110, advancing to the round of 16.
Team B (Amos Tyler, Hope Hargis, Tyler Nickerson, and Logan Hudson) jumped out to an early lead, only to see Unicoi County rally and take the round 320-165.
In the third round (Smart 16) of the Scholar's Bowl hosted by East Tennessee PBS stations, the Academy team defeated Temple Baptist 610-200, and in the quarterfinals (Elite Eight), they defeated Gatlinburg-Pittman 560-105. In the semi-final, they defeated Maryville High School 550-220.
After three trips to Knoxville and multiple matches, they claimed the victory, defeating Hardin Valley in the finals with a score of 470 to 380.
"It was especially rewarding to see the students answers difficult math questions with little effort while I was just trying to understand them," Kobus said. "It made me feel good to see that they were getting value from their JFWA education."
They spent hours practicing after school in intra team contests, along with watching previous Scholars' Bowl matches to better understand the competition.  As a team, they also agreed to be subject matter experts to ensure they covered as much material as possible. 
"It was always good to hear them discuss an answer and then say 'I remembered when we discussed this in class,'" Kobus added.
The team won $1,000 for the school for their efforts. These contests will be broadcast in 2023.
Now in its 36th year, Scholars' Bowl brings the area's brightest and best high school students to a single-elimination competition of academic abilities. Only one team can take home the Scholars Bowl Championship trophy and cash prize, plus bragging rights for their school. A longstanding tradition for high school students from around East Tennessee and Kentucky, Scholars' Bowl is an important part of the legacy of East Tennessee PBS. Each season, the list of competitors grows, often including 60+ school teams participating. The winning school receives $1000 and the "Frank Miller Memorial Trophy" in honor of the game's founder, with an additional cash prize for the team's coach.
The J. Frank White Academy is a private, college preparatory day school serving grades K-12, located on the campus of Lincoln Memorial University. JFWA is fully accredited and STEM certified by Cognia, which is the first internationally recognized mark of quality for STEM (science, technology, engineering, and mathematics) schools and programs, signaling the growing emphasis on STEM education by educators, politicians, and business leaders around the world. For more information contact JFWA Director of Admissions James Melton at Ja[email protected] or apply online at JFWA.LMUnet.edu.