Sherrie Claiborne Inducted into TICUA Hall of Fame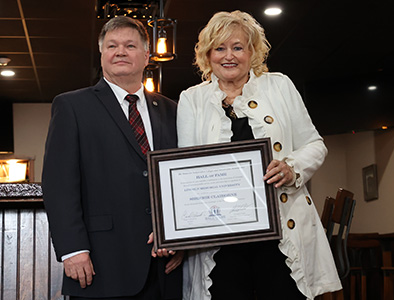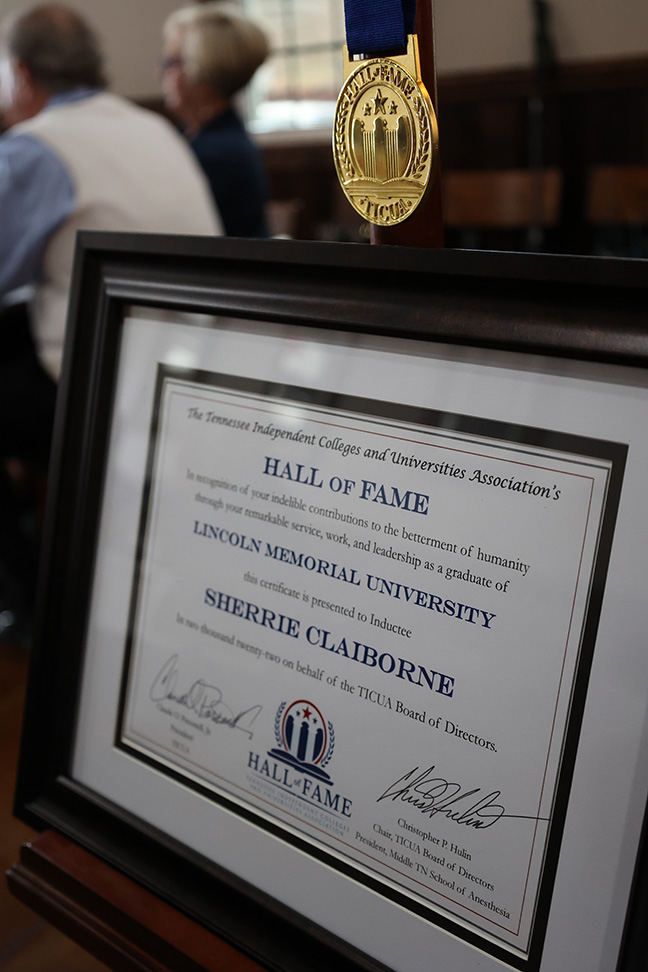 The Tennessee Independent Colleges and Universities Association (TICUA) announced its third class of Hall of Fame inductees in October. TICUA and its member institutions proudly selected the 24 alumni, highlighting their contributions to the state, country, and world in a variety of disciplines.
Lincoln Memorial University (LMU) nominated educator and philanthropist Sherrie Claiborne, of Harrogate, Tennessee, for the honor. Claiborne was joined by friends, family and LMU administration earlier this month to celebrate her induction. During the luncheon LMU President Clayton Hess presented her with a certificate and medallion, formally enshrining Claiborne as a member of the 2022 Class of TICUA Hall of Fame inductees. The class also includes civil rights pioneer W.E.B DuBois, former Tennessee Governor Frank G. Clement, creator of the first Neonatal Intensive Care Unit Dr. Mildred Stahlman and more.
"The impact of an educator can be felt for generations. Sherrie Claiborne is a perfect example of how much good can be done by a champion of learning. She has lived and served within a small radius of the LMU campus her entire life and yet her reach can be felt throughout the state of Tennessee," LMU President Clayton Hess said. "Where others see limitations and pitfalls of rural impoverished communities, Sherrie has always seen unlimited potential and new opportunities through access to education."
Claiborne is a lifelong educator. She spent the first half of her career in public school classrooms. She dedicated the second half of her career to educating adult learners. She and Roger Hansard, also a LMU grad, developed a national award-winning program that includes a Mobile GED Testing Center, serving more than 1,000 students each year. Her work led to the creation of the Adult High School Diploma Program which is now in all Tennessee counties and is used as a model in other states. The adult education program received the National Secretary Award for Outstanding Service.
"It is a tremendous honor to be recognized in the company of my fellow inductees and to represent LMU, a school I dearly love, in the TICUA Hall of Fame," Claiborne said. "I really look at this honor as recognition not only for me, but for all of my students and fellow educators I have had the privilege to work with over the years."
Throughout her 20 years of service in adult education, Claiborne served as the president of the Tennessee Association of Adult and Continuing Education (TAACE), president of the Commission on Adult Basic Education (COABE), and president of the National Coalition for Literacy (NCL). While serving as a member of the National Commission on Adult Literacy, Claiborne and others published Reach Higher, America: Overcoming Crisis in the US Workforce.
Claiborne has been involved with LMU since Kindergarten and her support continues today. She graduated with a Bachelor of Arts in English and Sociology in 1969 and earned a Master of Education in 1992. Throughout her career, she has mentored LMU education students and worked closely with faculty and administration to participate in and provide professional development opportunities to LMU alumni. She was inducted into LMU's Educators' Hall of Fame and 2008 and was honored as the LMU Alumnus of the Year in 2015.Claiborne has served on the National Alumni Board as well as serving as the alumni representative to the LMU Board of Trustees and is an active member of the LMU Women of Service (WOS) organization. Claiborne has been instrumental in establishing an endowed WOS scholarship, establishing five food pantries and clothes closets for LMU students.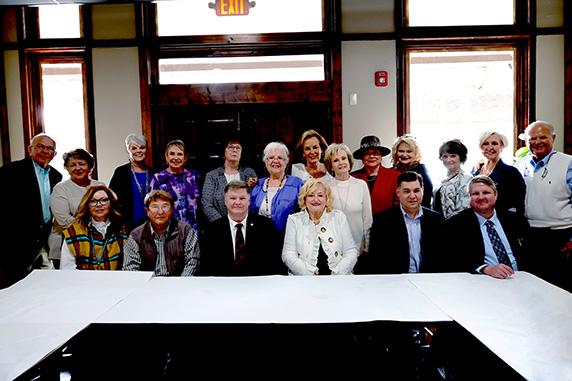 Tennessee's Independent Colleges and University have helped shape some of the nation's most distinguished and impressive citizens – from Nobel laureates and Pulitzer Prize winners to faith leaders, entrepreneurs, and elected officials.
TICUA engages Tennessee's private colleges and universities to work collaboratively in areas of public policy, cost containment, and professional development to better serve the state and its citizens. The association counts among its membership each independent, non-profit, accredited college and university in Tennessee with a traditional arts and science curriculum. In addition, there are several non-profit, accredited members that specialize in such fields of medicine, dentistry, optometry, and technology.
Lincoln Memorial University is a values-based learning community dedicated to providing educational experiences in the liberal arts and professional studies. The main campus is in Harrogate, Tennessee. For more information about the undergraduate and graduate programs available at LMU, contact the Office of Admissions at 423-869-6280 or email at [email protected].