LMU-Tampa Celebrates Fall Commencement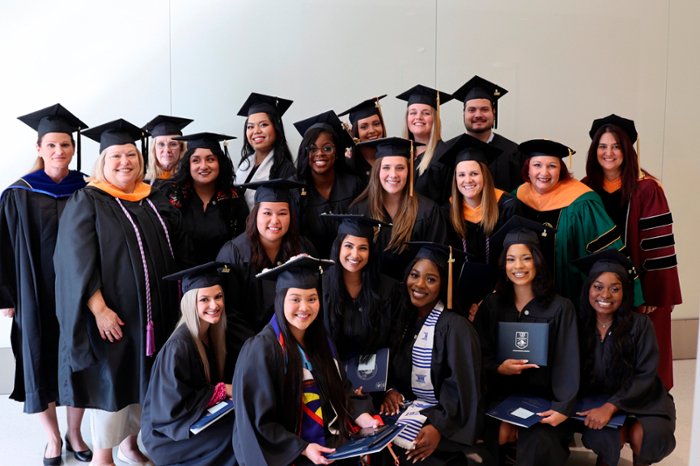 Lincoln Memorial University (LMU) President Clayton Hess conferred the degrees of 17 Bachelor of Science in Nursing (BSN) graduates at LMU's Fall Commencement Exercises in Tampa, Florida. The LMU Caylor School of Nursing (LMU-CSON) held the ceremony at the AdventHealth Tampa Taneja Auditorium on Wednesday, December 14, 2022.
Several members of the LMU community were in attendance, with Dr. R. Jay Stubblefield, executive vice president for academic affairs, giving the invocation. Hess welcomed the graduates and their supporters. Dr. Lea Dodge, executive director for LMU-Tampa, introduced the commencement speaker. Robin Jones, executive director of clinical excellence for AdventHealth, West Florida Division, delivered the commencement address.
Jones oversees all the clinical initiatives by creating an infrastructure for recruiting and retaining clinical teams members.
"Where will nursing take you? It's completely up to you," Jones said, adding that numerous opportunities await the graduates. "As you begin to think about your journey, remember you are also on an educational journey…The wonderful thing about nursing is that the sky is the limit. There are so many options."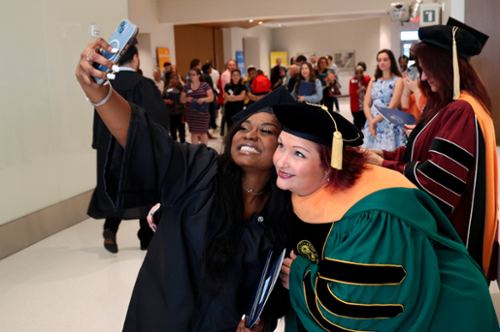 Dr. Tammy Dean, dean of the LMU-CSON, and Hess presented diplomas to the graduates. BSN degrees were presented to Jaynie Naomi Jimenez Castro, Orange Park, Florida; Roey-Rose Panganiban Diego, Tampa, Florida; Helyn Dunn, Wesley Chapel, Florida; Ilda Gjonaj, St. Petersburg, Florida; Josh Santos Guevarra, Land O'Lakes, Florida; Tresa Maria John, Tampa, Florida; Brandon Robert Lopez, Lakeland, Florida; Diana Araceli Munoz, Sarasota, Florida; Carly Dyane Palus, Tampa, Florida; Ashley Samantha Portilus, Vero Beach, Florida; Stephanie Lauren Rains, Riverview, Florida; Nicole Enza Marie T. Remedio, Brooksville, Florida; Sarah Streater, Flagler Beach, Florida; Emily Katherine Sullivan, Land O'Lakes, Florida; Moesha Ruth Tadeus, Delray, Beach, Florida; Shaianne Willis-Brown, Milwaukie, Oklahoma; and LaMaria Paige Wilson, Davenport, Florida.
Students with a cumulative grade point average of at least 3.50 were recognized. Those Cum Laude honorees were Gjonaj, Palus, Rains, Sullivan and Tadeus.
The full ceremony is available on the University's streaming page, which can be found here: https://youtu.be/OQnupxMVfIc.
Lincoln Memorial University is a values-based learning community dedicated to providing educational experiences in the liberal arts and professional studies. The main campus is located in Harrogate, Tennessee. For more information about the undergraduate and graduate programs available at LMU, contact the Office of Admissions at 423.869.6280 or email at [email protected].