LMU Law Mock Trial Team Hosts 2022 Kimsey Cup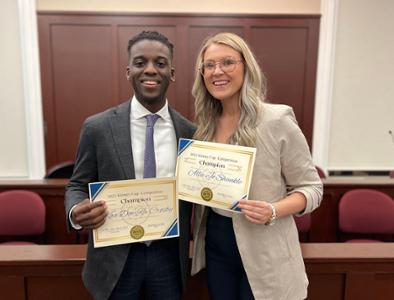 The Lincoln Memorial University Duncan School of Law (LMU Law) Mock Trial team recently hosted the fourth annual Kimsey Cup Mock Trial Competition. The internal competition provides students an opportunity to practice trial skills in a friendly competition with fellow students while receiving valuable feedback from local attorneys. The competition also serves as a try-out for upper-level students for membership in the Mock Trial Program.
Ten teams of student attorneys competed, while other students served as lay and expert witnesses. The competition was held at the law school over the weekend of November 11-13. Local attorneys, including several LMU Law alumni and LMU Law full-time and adjunct faculty judged each round, and additional students served as jurors.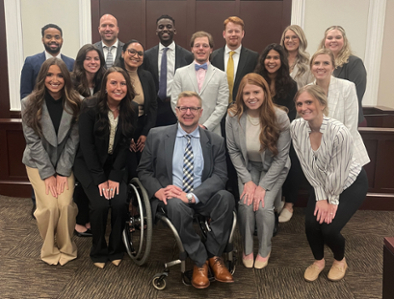 In the final round, the team made up of second-year students McKenzie Wilson and Leah Spradlin, and the team made up of third-year student Kha'Doe Crosby and second-year student Allie Jo Shankle faced off, with Crosby and Shankle winning the 2022 Kimsey Cup. The championship round was extremely close, with a one-point difference between the teams. In addition, first-year law student Michael Fields was awarded best witness, and McKenzie Wilson was recognized as best advocate.
"Our Mock Trial Program did an excellent job putting on a successful tournament this year, which had a great turnout of student participants and participation from local attorneys and alumni. I was impressed with the skill and preparation displayed both by the students competing as well as the students who organized the program," said Professor Maha Ayesh, LMU Law Director of Experiential Learning and one of the Mock Trial faculty advisors. "Many of our guest judges commented on the great level of talent they saw from the student advocates."     
The internal competition bears the name of Aaron Kimsey, a member of the LMU Law class of 2015. Kimsey has supported LMU Law's Mock Trial organization and supplied the trophy that is awarded every year.
The Lincoln Memorial University Duncan School of Law is located in Knoxville's Historic Old City Hall Building. LMU Law is an integral part of LMU's values-based learning community and is dedicated to preparing the next generation of lawyers to provide sound legal service in the often underserved region of Appalachia and beyond. For more information about LMU Law, call 865.545.5303 or visit us online at Law.LMUnet.edu.