LMU Women of Service Named Outstanding Volunteer Fundraiser of the Year by AFP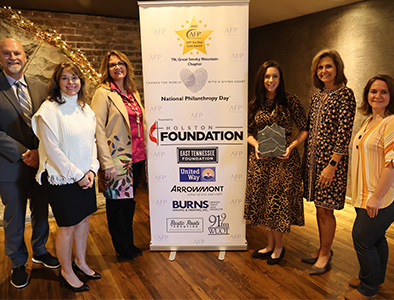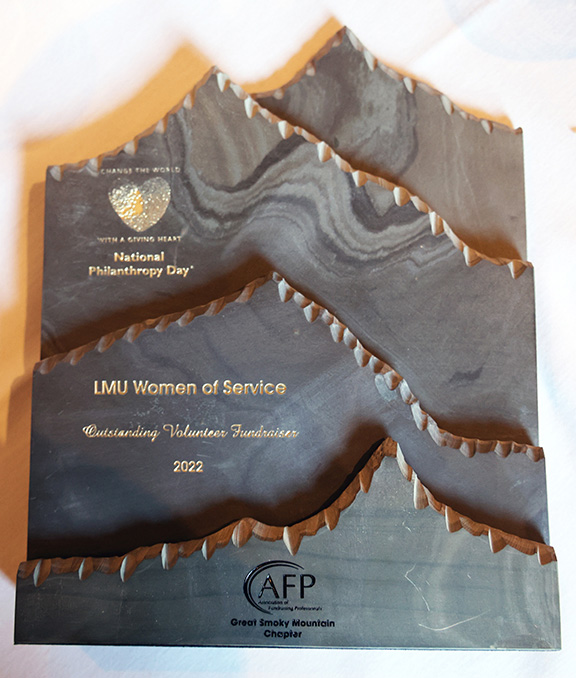 The Tennessee Greater Smoky Mountain Chapter of the Association of Fundraising Professionals (AFP) gathered for the organization's annual National Philanthropy Day Celebration on Thursday, November 3. During the event AFP recognized Lincoln Memorial University's Women of Service (WOS) with the 2022 Award for Outstanding Volunteer Fundraiser.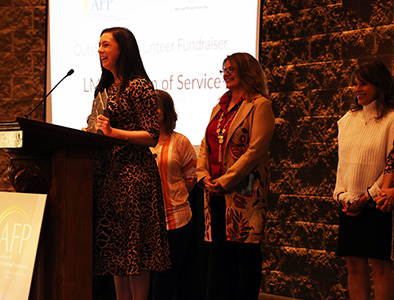 WOS President Carissa Carver accepted the honor on the organization's behalf. Also in attendance were WOS leadership including Vice President Sherry Jimenez, Secretary Melissa Day, Treasurer Regina Burns and Bridgette Welch. LMU Director of Development Donnie Lipscomb, who is a past member of the AFP Board, presented the award and nominated Women of Service for the honor.
The Greater Smoky Mountain chapter of AFP celebrates contributions by individuals, corporations, and organization who have enriched the communities they serve through their time, talent, or treasure. The awards are presented during the annual National Philanthropy Day luncheon hosted by the organization. In 1986 President Ronald Reagan officially sanctioned National Philanthropy Day through his Presidential proclamation in which he declared, "Our tradition of voluntarism embodies a great deal of caring, initiative, and ingenuity in solving problems and improving our communities, It is one of our greatest strengths as a people."
Founded by LMU Vice President for University Advancement Cynthia Whitt and the late Lynn Duncan in 2011, the organization is open to all women who want to help students at LMU. By living as an example of service, WOS members teach LMU students about the incredibly important mission of service to humanity. The group holds annual fundraising activities to fund student scholarships and provide family aid and cultural enrichment opportunities to LMU students. They were instrumental in establishing the University's first food pantry on campus and now operate five Lincoln Cupboards at various LMU sites. Additionally, the group opened Lincoln's Closet in the town of Cumberland Gap, which provides career clothes for students.
Each year the WOS organize multiple fundraising projects including a Christmas festival and fashion show. Funds raised from these projects support many LMU campus and community services projects. To date, the LMU Women of Service Endowed Scholarship fund is worth over $100,000 and awards scholarships annually to deserving LMU students.
In addition to LMU WOS, AFP recognized University of Tennessee Department of Housing resident assistants with 2022 Award for Youth in Philanthropy; the Helen Ross McNabb Foundation with the 2022 Award for Outstanding Foundation; FirstBank as the 2022 Corporate Philanthropist; James and Patricia Wilson with the 2022 Award for Outstanding Philanthropist; Angie Hatcher Sledge with the 2022 Award for Fundraising Professional of the Year and Jerry Askew with the 2022 Legacy Award for Outstanding Philanthropic Leadership.
AFP exists to foster the development and growth of fundraising professionals and the profession, to preserve and enhance philanthropy, volunteerism, and to promote high ethical standards in the fundraising profession. The Great Smoky Mountain Chapter of AFP meets regularly to network, share ideas, and learn from guest speakers. For more information go to afpknox.org.
Lincoln Memorial University is a values-based learning community dedicated to providing educational experiences in the liberal arts and professional studies. The main campus is in Harrogate, Tennessee. For more information about the undergraduate and graduate programs available at LMU, contact the Office of Admissions at 423-869-6280 or email at [email protected].