House Returning to Lincoln Memorial University for Book Reading, Signing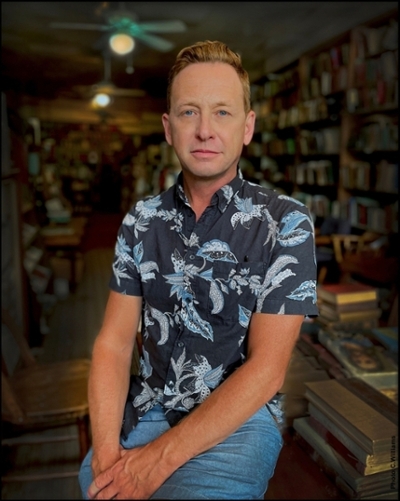 Award-winning author Silas House will visit Lincoln Memorial University (LMU) for a special event Tuesday, November 15, 2022, at 7 p.m. House will be reading from his new novel, "Lark Ascending," answering questions and signing books. Some copies of the book and other items will be given away as well. The event will be held in the Duke Hall of Citizenship, Sam & Sue Mars Performing Arts Center.
House is a familiar face to the LMU community. He served as LMU's writer in residence from 2005-2010. While at LMU, he also created and directed the Mountain Heritage Literary Festival (MHLF) and the Appalachian Reading Series. The MHLF just completed its 16th year.
"The five years I spent at LMU are among my most cherished," House said. "I am still in touch with many of my students from that time and I have always missed that incredibly beautiful campus. It's my honor and pleasure to be returning." 
"Lark Ascending" has been called "a post-apocalyptic epic" by "Booklist" and "a fiercely visceral reading experience" by Publisher's Weekly. It is a story of survival and hope, set in the not-too-distant future, about a young man forced to flee the United States and seek refuge across the Atlantic. As fires devastate most of the U.S., Lark and his family secure a place on a refugee boat headed to Ireland, the last country not yet overrun by extremists and rumored to be accepting American refugees. He doesn't find the safe haven he'd hoped for. "Lark Ascending" is a moving and unforgettable story of friendship, family and healing.
"We are honored to welcome Silas back to LMU," said Patrick Wensink, assistant professor of English and current MHLF director. "I'm excited to hear him discuss his new novel, which is a heartbreaking and uplifting departure from what many fans of his work may expect."  
House hails from Laurel and Leslie counties in Kentucky and has degrees from Eastern Kentucky University (EKU) and Spalding University as well as three honorary doctorates. He has served as writer in residence for EKU and as the National Endowment for the Humanities Chair in Appalachian Studies at Berea College in Berea, Kentucky. 
His first novel, "Clay's Quilt," was published in 2001. It appeared on the "New York Times" Best Seller List and became a word-of-mouth success throughout the South. It was a finalist for two prestigious awards. He followed with "A Parchment of Leaves" in 2003, which became a national bestseller and was nominated for several major awards. He has authored and co-authored both fiction and nonfiction books as well as three plays. House is a former commentator for National Public Radio's (NPR) "All Things Considered," and his writing has appeared in several magazines. He is a music journalist, writing features and biographies for numerous artists.
House has been a visible activist fighting against mountaintop removal mining, writing statements and articles about its environmentally devastating effects. He has also been outspoken about bullying and equality. 
"I tell all my students who haven't yet had the pleasure of reading Silas' work, that he is not just an Appalachian author, he is an institution," said Wensink. "Few living writers have portrayed our area with such heart and honesty. I predict that when we look back, not just on Appalachian literature, but on American literature as a whole, he will be considered one of the most important authors of the 21st century."
Everyone is welcome to attend. The event is free and open to the public.
Lincoln Memorial University is a values-based learning community dedicated to providing educational experiences in the liberal arts and professional studies. The main campus is in Harrogate, Tennessee. For more information about the undergraduate and graduate programs available at LMU, contact the Office of Admissions at 423.869.6280 or email at [email protected].