LMU Players To Perform 'The Odd Couple'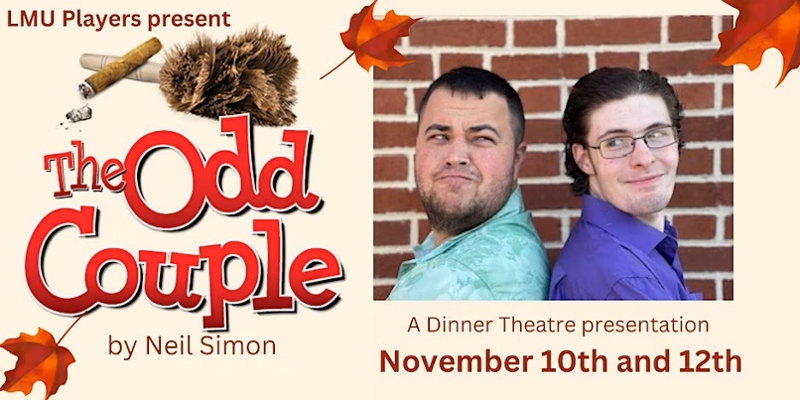 The Lincoln Memorial University (LMU) Paul V. Hamilton School of Arts, Humanities and Social Sciences and The LMU Players will present a dinner theatre production of "The Odd Couple," November 10 and November 12, in the Cumberland Gap Convention Center (601 Colwyn Street).
Assistant Professor of Theater Joe Gill will direct the production of the Tony Award-winning classic comedy by Neil Simon. The play is about two newly-divorced friends, who are polar opposites, living together as roommates while trying to find their way through life without their wives.  
Felix Ungar is a neurotic, neat freak news writer who is thrown out by his wife and moves in with his friend Oscar Madison, a slovenly sportswriter. Despite Madison's problems – careless spending, excessive gambling, a poorly kept house filled with spoiled food – he seems to enjoy life. Ungar, however, seems utterly incapable of enjoying anything and only finds purpose in pointing out his own and other people's mistakes and foibles.     
The cast consists of people who are LMU faculty, staff and students as well as community members. Cast members include Clayton Baker as Oscar, Briar Jeffers as Felix, Tom Bragg as Roy, Aaron Phillips as Speed, Armand Mahieu as Vinnie, Sam Lancaster as Murry, Theo Czepiel as Gwendolyn and Hannah Murphy as Cecily.
"The Odd Couple" premiered on Broadway in 1965 and gained several Tony Awards. It has been revived many times on stage, on film, and as a TV series.
Limited tickets are available through Eventbrite. The dinner will begin each night at 6 p.m. and the show at 7:30 p.m. Tickets for Thursday can be purchased at https://www.eventbrite.com/e/the-odd-couple-opening-night-thursday-tickets-454127606897 and tickets for Saturday can be purchased here: https://www.eventbrite.com/e/the-odd-couple-closing-night-saturday-tickets-453529548087.
The play contains adult themes and may not be suitable for children. Advance tickets must be purchased for dinner and the show, and reserved seating is available. No dinner seating will be available without advance purchase. Tickets for dinner and the show are $22 per person plus a service fee. Tickets for the show only are $10 in advance, free for LMU students, faculty and staff with an ID. Tickets for the show only will be available at the door on a first-come, first-served basis for $10 cash.
For more information, contact Gill at 423.869.6265 or by email at [email protected]. Order tickets online at Eventbrite here: https://www.eventbrite.com/d/tn--harrogate/the-glass-menagerie/.
Lincoln Memorial University is a values-based learning community dedicated to providing educational experiences in the liberal arts and professional studies.  The main campus is located in Harrogate, Tennessee. For more information about the undergraduate and graduate programs available at LMU, contact the Office of Admissions at 423.869.6280 or email at [email protected].