LMU Student Dion Dykes Shares Grow Your Own Experience with VIPs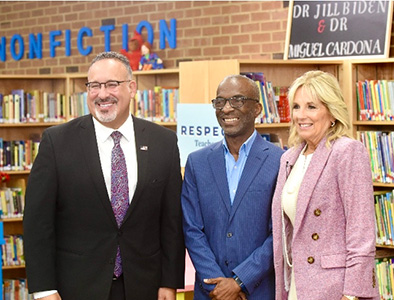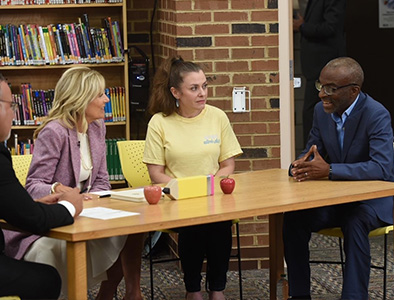 Last month the national spotlight shined on Knox County Schools when First Lady Jill Biden and Secretary of Education Miguel Cardona visited Sarah Moore Greene Magnet Academy to kick off the administration's "Road to Success Back to School Bus Tour." Lincoln Memorial University (LMU) student Maurice "Dion" Dykes, Sr., got to share the spotlight as one of the Sarah Moore Green employees participating in Tennessee's Grow Your Own Initiative (GYO).
Dykes met with Biden and Cardona in a small group meeting, where he shared his experience in the program designed to strengthen Tennessee's educator pipeline. The First Lady and Secretary of Education applauded the program as a model for innovative teacher recruitment and preparation.
"Never, in my lifetime, would I have dreamt of meeting the First Lady of the United Sates, and the Secretary of Education," Dykes said. "It has been the most rewarding experience to be able to share my Grow Your Own story. This program reduces the barriers to education while also providing job embedding supports to help purpose-driven professionals transition into a new career in teaching. I am grateful to have this opportunity."
Since 2020, the Tennessee Department of Education has awarded nearly $1 million in Grow Your Own grants to LMU Carter and Moyers School of Education students in the Master of Education Initial Teacher Licensure (MEdITL) program. Through these nine grant awards, LMU is serving Title I schools, urban, suburban and rural schools. Dykes has been in the MEdITL program for eight months and continues to work as a teaching assistant and technology instructor for Knox County Schools.
When visiting with Biden and Cardona, Dykes shared his unique path to teaching. After earning a Bachelor of Arts degree from the University of Tennessee, Knoxville, in 1985, Dykes spent the first 30 years of his career in graphic arts, designing newspapers, posters, publications and websites. He has worked in education for the past 14 years.
"I have had the opportunity to witness different teaching strategies and approaches to learning from many talented and experienced teachers. This has allowed me to form my own opinion on how best students learn and the best way to teach," Dykes said. "When I started the program, I had just turned 60 years old. Going back to college to earn a degree in this stage of life has been daunting. I have questioned myself often. But, I can see personal self-growth and improvement. I believe I am better equipped to become an effective and efficient elementary teacher."
Dykes is excited to complete the MEdITL program and continue to motivate students and inspire them to continue building upon their learning experiences. He said his most challenging experiences in the classroom are keeping students engaged in the learning process and showing students how the curriculum is relevant to their lives. It's a challenge that isn't limited to students.
In remarks delivered at the University of Tennessee following her Sarah Moore Green visit, Biden said, "Teaching isn't just what we do. It's who we are. But for all of us who have answered this calling, there is someone who didn't. Or someone who walked away."
"It's not because they don't want to teach," she continued. "It's because so many obstacles have stood in their way. If we want to add more bright, talented people into this field -- if we want educators to be able to do what they do best – we have to give them the support they deserve. We've all heard of the so-called three "Rs" of learning – reading, writing, and arithmetic. Well, now it's time for the three "R's" of teaching – recruit, respect and retain."
In January, Tennessee's Grow Your Own model became the first permanent teacher apprenticeship model approved by the U.S. Department of Labor. This opens up federal funding. Coupled with the Grow Your Own Grants, it could allow prospective teachers to earn their degree and license for free. LMU has applied for apprenticeship grants to supplement the Grow Your Own opportunities.
To learn more about the LMU MEdITL program and Grow Your Own grants at LMU, contact Susan Long at 865.531.4116 or by email at [email protected]
Lincoln Memorial University is a values-based learning community dedicated to providing educational experiences in the liberal arts and professional studies. The main campus is located in Harrogate, Tennessee. For more information about the undergraduate and graduate programs available at LMU, contact the Office of Admissions at 423-869-6280 or email at
[email protected]