Allison Starnes-Anglea Recognized in Knox News 40 Under 40 class of 2022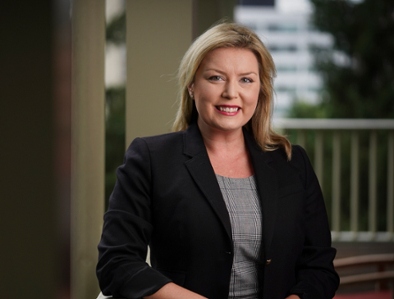 Lincoln Memorial University Director of Career Services and Recruiting Allison Starnes-Anglea has been recognized in the Knox.biz 40 Under 40 class of 2022. Knox.biz 40 Under 40 recognizes outstanding professionals in the Knoxville area and East Tennessee. Individuals recognized have made a difference through their professional careers and philanthropic efforts.
"What an honor to be selected as an emerging leader in our community," said Starnes-Anglea. "When I look at the list of my fellow honorees, I feel a sense of confidence for the future of our region. We are leaders, innovators, and achievers. Professionally and philanthropically, we are a deep bench!"
After serving as an attorney in both the public and private sectors, Starnes-Anglea joined the LMU Law team in 2017. Starnes-Anglea provides forward-facing advising and document revising services to LMU Law students, presents on experiential learning and academic success courses, and manages employer relationships.
Starnes-Anglea was nominated by fellow LMU Law professor Bianca White.
"I nominated Allison for this award because when I think of someone who has made a huge difference both in their professional career and philanthropic efforts, Allison always comes to mind," said White. "From helping to shape our law students' professional identities, developing their career and networking skills, and being instrumental in their job placement, Allison always does this with efficiency, kindness, and a funny quip to make everyone's day better. Philanthropically, Allison is always advocating for others. She has amazing ideas for causes that matter to her, and then goes about making those ideas happen. She is a gem, and we are so lucky to have her."
The 2022 class will be featured in the January 2023 edition of Knox.biz magazine. 
The Lincoln Memorial University Duncan School of Law is located in Knoxville's Historic Old City Hall Building. LMU Law is an integral part of LMU's values-based learning community and is dedicated to preparing the next generation of lawyers to provide sound legal service in the often underserved region of Appalachia and beyond. For more information about LMU Law, call 865.545.5303 or visit us online at Law.LMUnet.edu.