Dr. Nancy Moody Inducted Into LMU Professional Hall of Fame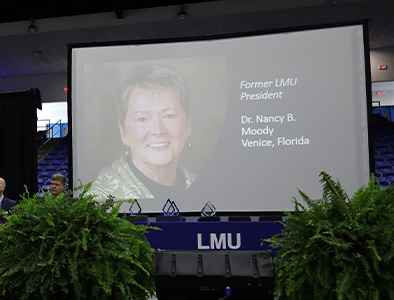 Lincoln Memorial University (LMU) inducted the Class of 2022 into its Educators', Literary and Professional Halls of Fame during Homecoming celebrations earlier this month. Former LMU President Nancy Moody, DNP, MSN, RN, was enshrined into the Professional Hall of Fame on Saturday, October 8.
Moody is known as a trailblazer for women in educational leadership. She has served as the first female president at LMU and Tusculum University. Moody also served as the first female executive chair of the Tennessee Independent Colleges and Universities Association (TICUA) Board of Directors and first woman to chair the Southern Association of Colleges and Schools (SACSCOC).
A native of Middlesboro, Kentucky, Moody earned her associate of science in nursing and bachelor of science in nursing from Eastern Kentucky University, a master of science nursing from Texas Women's University Institute of Health Sciences-Houston Center and a doctor of nursing practice from the University of Alabama at Birmingham. She began her education career at LMU in 1974 as an instructor of nursing. Moody left LMU in 1994 to pursue a position at East Tennessee State University and was an associate professor of nursing at the University of Tennessee, before returning to LMU. She served as LMU president from 2002 through February 2009.
During Moody's presidency, LMU's enrollment increased by 90% and the University was granted SACSCOC Level V accreditation. During her tenure the University expanded the Caylor School of Nursing to include a Master of Science in Nursing (MSN) degree program with family nurse practitioner and nurse anesthesia concentrations; developed the Doctorate of Education Degree Program and opened five new extended site learning centers. Under her leadership the university initiated the DeBusk College of Osteopathic Medicine, Duncan School of Law and developed the physician assistant studies program.
Moody served as president of Tusculum from 2009 until 2017 with similar achievements. During her first full year at the helm, the University had a successful review by SACSCOC. Several new academic and athletic programs were added at Tusculum under Moody's watch.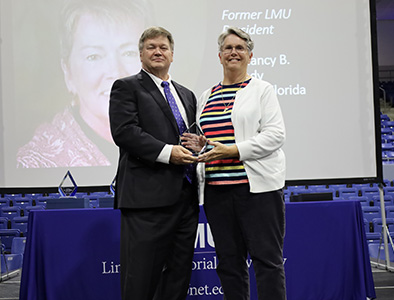 Moody has been awarded the Alma E. Gault Leadership Award from the Tennessee Nurses Association and the Texas Woman's University Chancellor's Alumni Excellence Award. She and her husband, Tom, are the parents of two adult children. Moody's health kept her from the induction ceremony. Dr. Robin Wilson, a longtime colleague of Moody's from the LMU-Caylor School of Nursing accepted on her behalf.
Lincoln Memorial University is a values-based learning community dedicated to providing educational experiences in the liberal arts and professional studies. The main campus is in Harrogate, Tennessee. For more information about the undergraduate and graduate programs available at LMU, contact the Office of Admissions at 423-869-6280 or email at [email protected].