LMU-CVM Named in Honor of Gillespie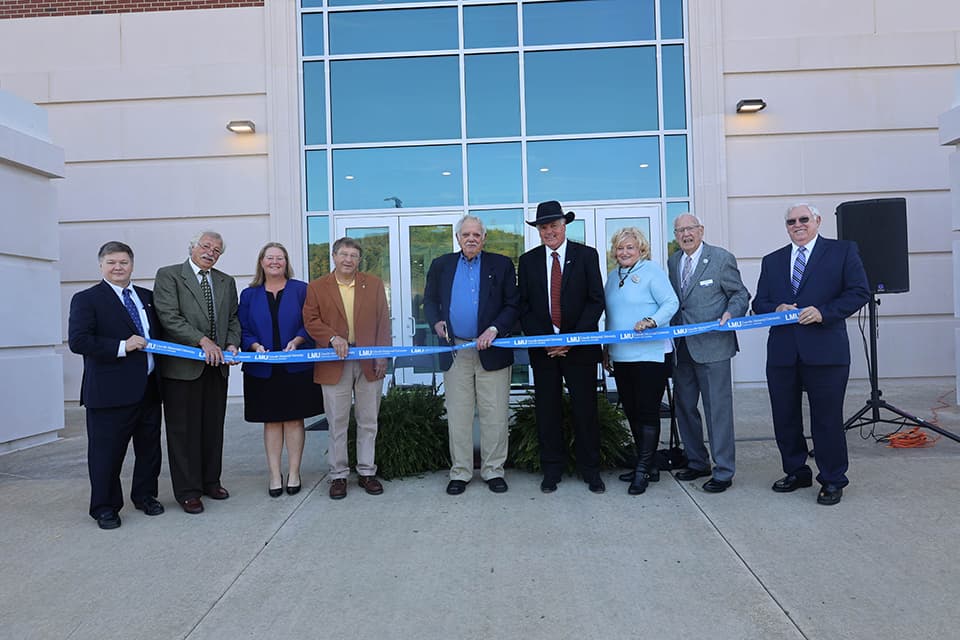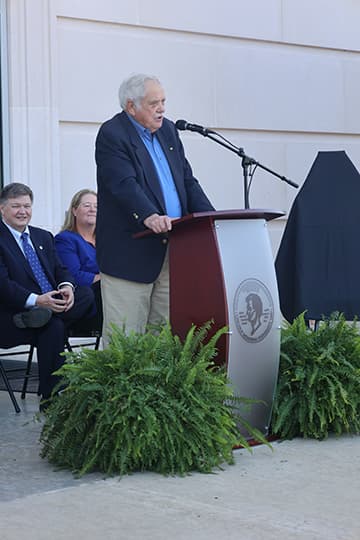 Lincoln Memorial University (LMU) rededicated its College of Veterinary Medicine to honor long-serving trustee Dr. Richard A. Gillespie during the University's annual Homecoming celebrations on Friday, October 7. Christening the school the LMU-Richard A. Gillespie College of Veterinary Medicine (LMU-CVM), a ribbon was cut during the ceremony on the LMU main campus in Harrogate, Tennessee.
LMU Board Chairman O.V. Autry "Pete" DeBusk announced plans to honor Gillespie with the naming earlier this fall. Naming the nation's 30th college of veterinary medicine after an anesthesiologist who pioneered stand-alone surgery centers may not seem like the most obvious choice. However, DeBusk points to Gillespie's vision, tenacity and innovation as traits that LMU needed when opening LMU-CVM.
"A lot of people had doubts about our ability to build this program. They saw us as outsiders and weren't sure about our plans for a distributive model of education," DeBusk said. "When Dr. Gillespie was opening his surgery centers he had to fight every step of the way and convince Washington and the medical establishment that his new vision was good for medicine and especially patients."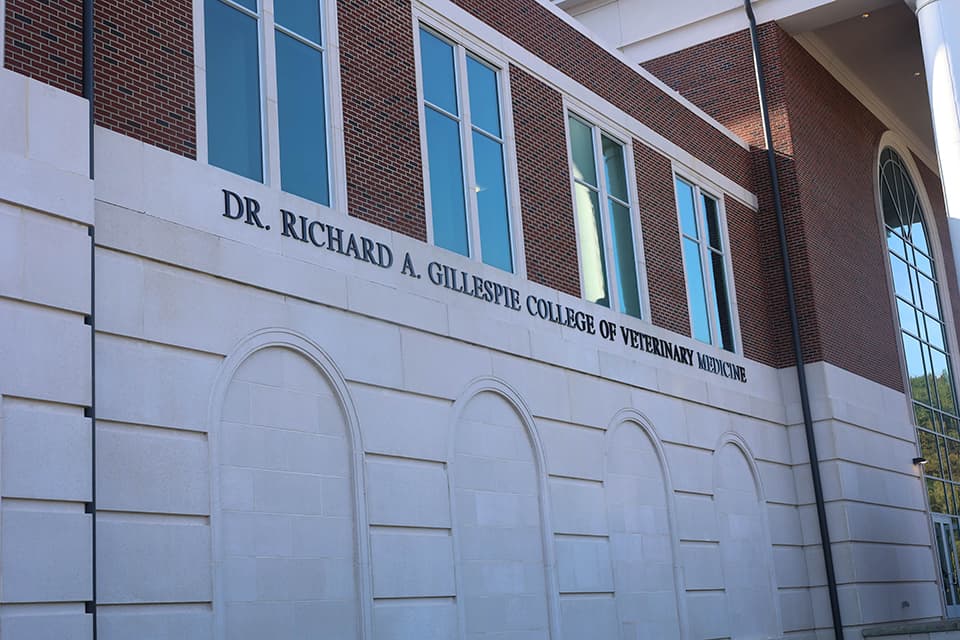 LMU first announced plans to open a college of veterinary medicine in 2011. In 2014, LMU-CVM welcomed the members of its inaugural class. Four years later, in May 2018, the LMU-CVM graduated its inaugural class. Today, LMU-CVM-trained veterinarians practice in Appalachia and around the nation.
"Dr. Gillespie was a huge part of building this school. He spent many hours on the team working on the development and really helped to get the school off the ground," DeBusk said. "He has been a guiding light on the board contributing to the establishment of all of our professional programs and helping us recruit students. It is a fitting honor that one of these programs will carry his name."
LMU-CVM set itself apart from other veterinary schools with its hybrid distributive learning model – one of only a few of its kind in veterinary education. LMU-CVM's curriculum provides students with real-world, hands-on experience at over 240 veterinary practices around the country. One of the challenges of this model is assisting students with securing housing throughout their clinical experiences. Gillespie worked hard, especially with the inaugural class, to assist with housing, even going as far as hosting students at his home while they rotated at Knoxville-area preceptors.
"When I became dean just over two years ago, Dr. Gillespie was the first board of trustees member to reach out and make me feel welcome in my new role," said LMU-CVM Dean Stacy Anderson. "He has been a friend and strong supporter of our program even when it was just an idea. Thanks to leaders like Dr. Gillespie and our board of trustees we are no longer looked at as a new school, rather an innovative trailblazer that is taking a different approach to veterinary education."
Gillespie received his Bachelor of Science from LMU in 1955, moving on to the University of Tennessee College of Medicine in Memphis, where he earned his Doctor of Medicine in 1959. Gillespie completed a rotating internship at Mobile General Hospital in Mobile, Alabama, and then a residency in anesthesia at Duke University Medical School in Durham, North Carolina. He served as an associate in anesthesia at Duke University from 1963-64 and assistant chief in the division of anesthesiology at the Veterans Affairs Hospital in Durham, North Carolina, from 1963-64.
Following his training in North Carolina, Gillespie moved to Knoxville, Tennessee, and operated a successful private practice serving Fort Sanders Hospital and East Tennessee Children's Hospital from 1964 until 1981. In 1981, he opened the Sullins Surgical Center, the first free-standing surgery center in the area and one of the first in the country. At the time the new endeavor faced many obstacles and was seen as a threat to hospitals.
Gillespie served as the medical director and president of Sullins Surgical Center, Inc., from 1981-1983. The surgery center accommodated day surgery for things like dental procedures, tonsillectomies, hernias and cosmetic procedures. Gillespie would go on to found and serve as a member of the board of directors of Alternacare Corporation in Los Angeles, California. Later this corporation was merged with Hospital Corporation of America.
Gillespie is a member of the American Board of Anesthesiology, American College of Anesthesiology-Fellow, American Medical Association, Tennessee Medical Association, Tennessee Society of Anesthesiology, American Society of Anesthesiology, Knoxville Academy of Medicine as well as the Second Presbyterian Church of Knoxville. As a member of the LMU Board of Trustees, Gillespie has been a sounding board for DeBusk throughout the development of various professional schools, especially the medical program, and serves on the Board's Development Committee.
"I have told Dean Stacy Anderson many times that I don't know much about the veterinary field or animal medicine," Gillespie said. "I am honored to leave any legacy with this institution which helped shape my life."
LMU-CVM facilities include the three-story Richard A. Gillespie College of Veterinary Medicine building and the DeBusk Veterinary Teaching Center in Ewing, Virginia. The Gillespie CVM building is a three-story, 85,000 square foot facility which includes two large lecture halls, 24 state-of-the-art communication laboratories, simulation suites, basic and clinical sciences classrooms, study rooms, faculty offices and flexible space. The DVTC includes six buildings housing over 93,000 square feet of facilities for veterinary skills curriculum.
Lincoln Memorial University is a values-based learning community dedicated to providing educational experiences in the liberal arts and professional studies. The main campus is in Harrogate, Tennessee. For more information about the undergraduate and graduate programs available at LMU, contact the Office of Admissions at 423-869-6280 or email at [email protected].