International Folk Band Calan to Perform at Lincoln Memorial University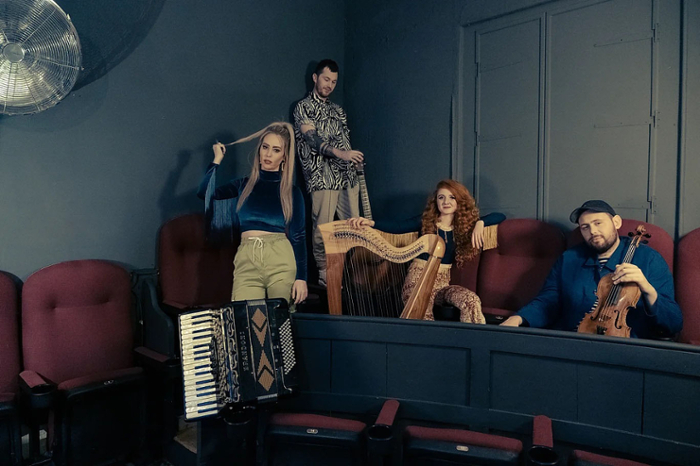 The Lincoln Memorial University (LMU) Paul V. Hamilton School of Arts, Humanities and Social Sciences will host multi-award winning Welsh folk band Calan in performance. The concert will be Thursday, October 13, 2022, at 7 p.m. in the Duke Hall of Citizenship, Sam & Sue Mars Performing Arts Center. It is free and open to the public.
Calan is comprised of five virtuoso musicians who met at a folk music course in Sweden. They won international acclaim at the world-renowned Inter-Celtic Festival in Lorient, France, where they would eventually become the first Welsh ensemble to win the coveted International Band Trophy. In April 2019, they were voted Best Band at the inaugural Wales Folk Awards.
Members of Calan are: Bethan Rhiannon (accordion, vocals, clog dancing); Patrick Rimes (fiddle, Welsh bagpipes); Angharad Jenkins (fiddle); Sam Humphreys (guitar); and Shelley Musker-Turner (harp). Jenkins will not be performing with the band.
Since its formation the band has played to audiences numbering from 40 at a garden fete to 26,000 at Fairport Convention's Cropredy Festival in Oxfordshire. Their most visible performance, however, was their televised appearance at a packed Royal Albert Hall alongside Sir Bryn Terfel and Sting. Calan has released six albums and an EP.
"Calan's on a mission to prove that traditional Welsh music, based on folklore and taught and performed through the generations, actually does rock," stated a review in Elmore magazine. "They've got us convinced."
Folk Wales magazine called Calan "a storming juggernaut of cool-Cymru-with-attitude power-folk with a jaw-dropping repertoire…you can't help but marvel at their astounding musicianship." The respected American quarterly music review Magnet stated, "Calan (are) a new generation of ambassadors…raising the international profile of traditional Welsh music."
Lincoln Memorial University is a values-based learning community dedicated to providing educational experiences in the liberal arts and professional studies. The main campus is in Harrogate, Tennessee. For more information about the undergraduate and graduate programs available at LMU, contact the Office of Admissions at 423.869.6280 or email at [email protected].