LMU Law Welcomes 126 First-Year Law Students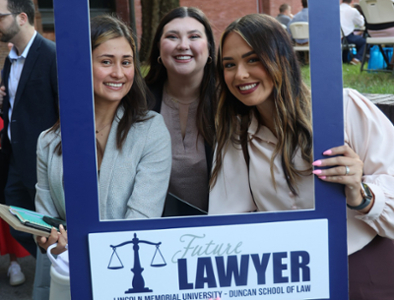 The Lincoln Memorial University Duncan School of Law (LMU Law) welcomed 126 incoming law students for orientation and the first day of classes last month. With returning students, LMU Law's total enrollment stands at 338.
"We are thrilled to welcome our first-year students as the newest members of our LMU Law community," said Vice President and Dean Matthew R. Lyon. "The increased quality and diversity of our applicant pool is a testament to the hard work of our faculty, staff, students, and alumni."
Of the 126 new students, 65 percent are female, and 34 percent are male. Thirty-one states and a total of 81 colleges and universities are represented. This includes 15 Tennessee institutions, 65 outside of Tennessee, and one attending an institution outside of the United States. The first-year class represents one of the most racially and ethnically diverse classes to attend LMU Law since the law school's opening in 2009. Moreover, nearly one-third of first-year students are first-generation college graduates, and over half are from Appalachia.
The first-year law students were sworn into the study of law by Dean Lyon on Monday, August 9, and attended their first full day of classes on Thursday, August 11.
The Lincoln Memorial University Duncan School of Law is located in Knoxville's Historic Old City Hall Building. LMU Law is an integral part of LMU's values-based learning community and is dedicated to preparing the next generation of lawyers to provide sound legal service in the often underserved region of Appalachia and beyond. For more information about LMU Law, call 865.545.5303 or visit us online at Law.LMUnet.edu.