LMU Circle of ODK Welcomes New Members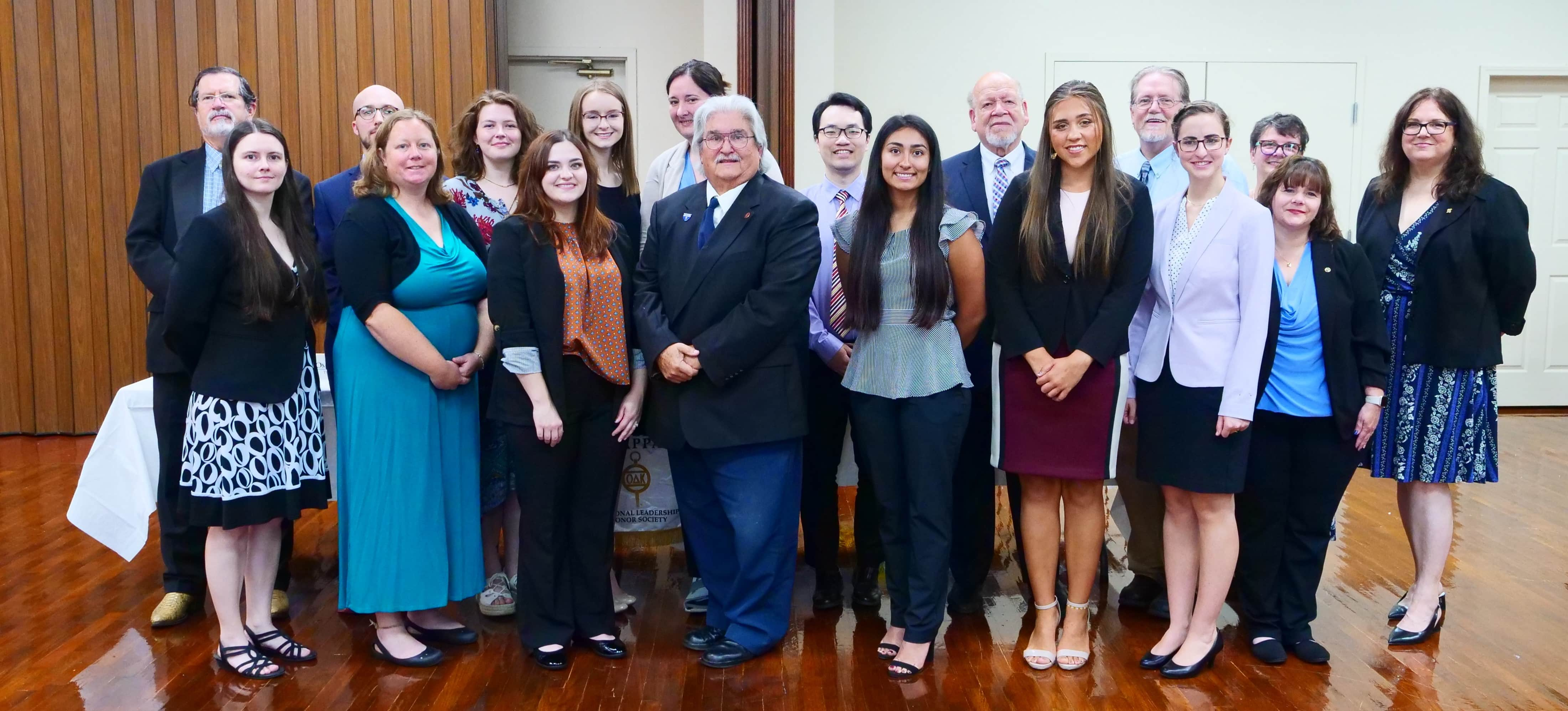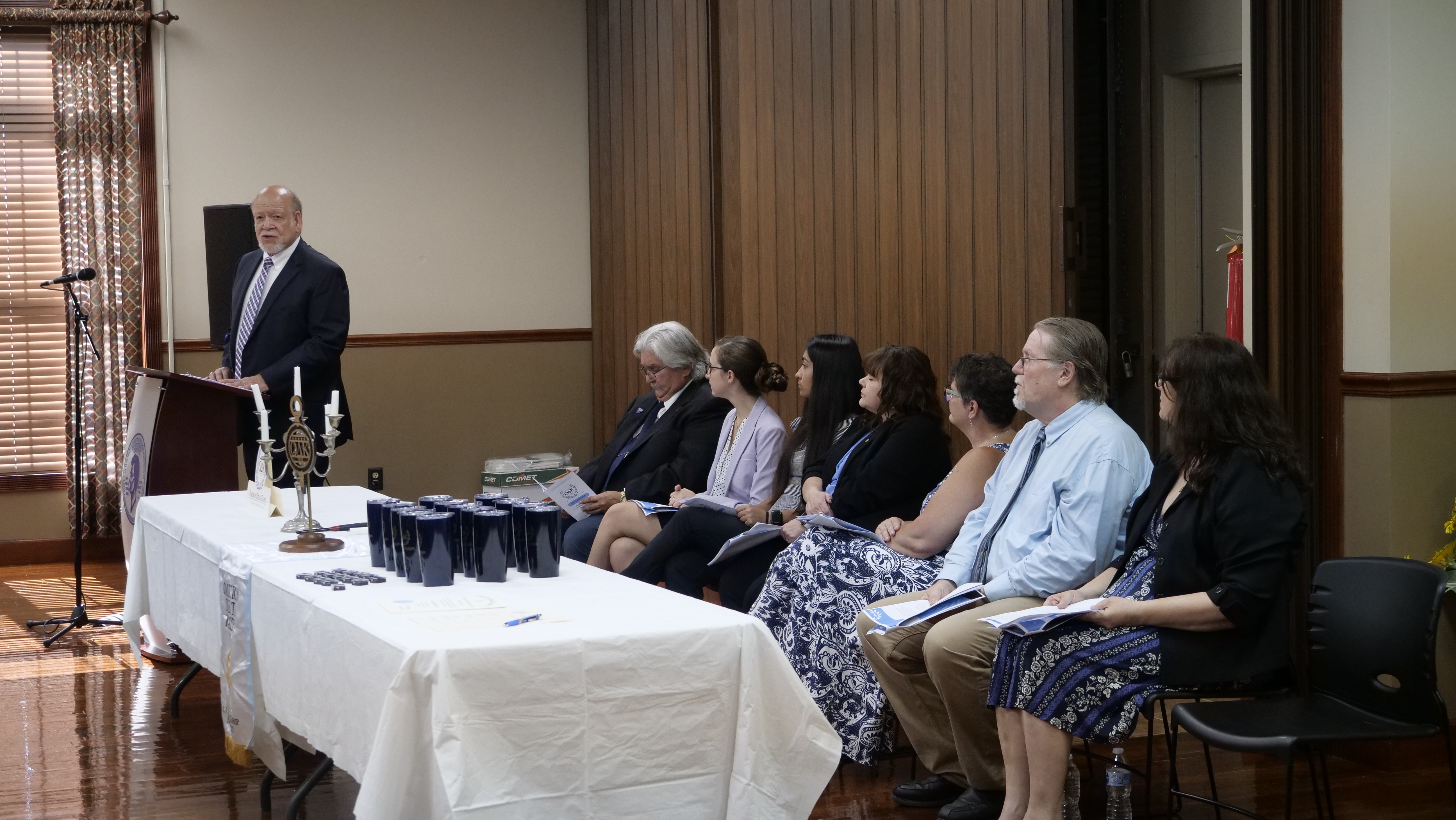 The Lincoln Memorial University (LMU) Circle of Omicron Delta Kappa (ODK) leadership honor society welcomed 15 new members during the Membership Initiation held Aug. 27 at the LMU Convention Center in Cumberland Gap.
New members include Emily Rebekah Boring (conservation biology), Makayla Reanna Fox (business administration, marketing, management), Sarah Hopkins (pre-health biology), Jada Rose Lee (biology), Emily Nicole Mears (veterinary health science), Olivia Grace Nichols (psychology, pre-med), Linley Dunn (Master of Science in Biomedical Sciences), Kaiming Tan (DCOM OMS-III), Nicholas Toma (DCOM OMS-III), Barrie W. Whisenant (DCOM OMS-II), Alannah Brunk (LMU School of Mathematics and Sciences administrative assistant), Aaron William Berger (LMU-DCOM assistant professor of anatomy), Ann-Marie Buchanan (chair of the LMU department of social work, associate professor of social work), and Julie Ann Hall (chair of the LMU department of biology, associate professor of molecular biology).
U.S. Ambassador George M. Staples delivered the keynote address. In acknowledgement of his lifetime of leadership, the Ambassador was inducted as an Honoris Causa member of the LMU Circle of ODK. Staples, who holds the rank of Career Minister, was born in Knoxville, Tennessee, in 1947. He was a career member of the Foreign Service for 25 years and was both Director General of the Foreign Service and Director of the Bureau of Human Resources at the US Department of State. He was also the political advisor to the Supreme Allied Commander Europe (SACEUR) at NATO in Belgium. From 1998-2001 he served as U.S. Ambassador to the Republic of Rwanda, followed by his service from 2001-2004 as U.S. Ambassador to Cameroon and Equatorial Guinea. He and his family now live in Pineville, Kentucky.
The platform party included ODK Student President Emma Cummings (DCOM OMS-I), Dr. LaRoy Brandt (associate professor of conservation biology and director of the Cumberland Mountain Research Center), Kimberly Kertis (LMU-DCOM research specialist and instructor of health sciences), Dr. Stan Kunigelis (professor of physiology and director of the Imaging and Analysis Center at LMU-DCOM), Sheri Schatz (director of LMU Career Services), Dr. Sandra Weems (associate professor of English and director of the LMU Honors Scholars Program).
View event photos at: https://flic.kr/s/aHBqjA4UAa
ODK is the National Leadership Honor Society, recognizing and encouraging superior leadership and exemplary character. Membership in ODK is regarded as one of the highest collegiate honors that can be awarded, in the tradition of Phi Kappa Phi and Phi Beta Kappa, and celebrates excellence in academics and integrity of character. The LMU Circle of ODK began in 2013 through the efforts of Amy Drittler, Robert Sabatini, and Stan Kunigelis, with the full support of then-LMU President B. James Dawson. The society recognizes achievement in five areas: scholarship; athletics; campus and community service, social or religious activities, and campus government; journalism, speech and the mass media; and creative and performing arts.
Lincoln Memorial University is a values-based learning community dedicated to providing educational experiences in the liberal arts and professional studies.  The main campus is in Harrogate, Tennessee. For more information about the undergraduate and graduate programs available at LMU, contact the Office of Admissions at 423-869-6280 or email at [email protected].