Neely Recognized for Years of Service to Lincoln Memorial University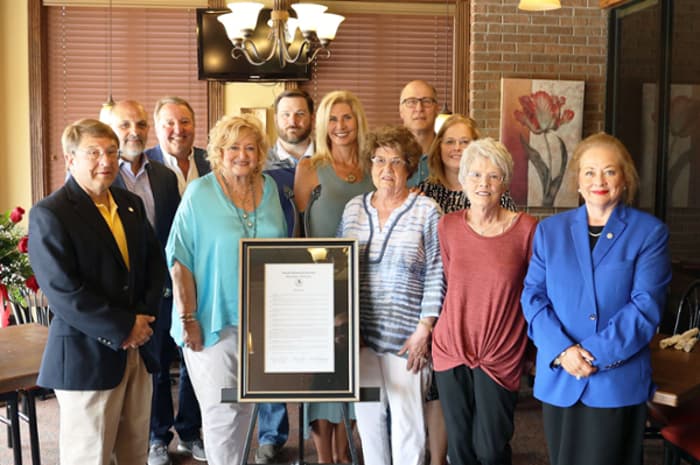 (Photo: Dorothy Neely was celebrated recently for her 40-plus years of service on the LMU Board of Trustees. Helping to honor Neely were, from left: Board of Trustees Secretary Sam A. Mars III, Eddie Jones, LMU trustee Jay Shoffner, LMU trustee Sherrie Claiborne, Jared Zanet, Lori Neely Thompson, Dorothy Neely, Chris Whitaker, Michelle Huddleston, Nancy Neely Whitaker, Cindy Whitt.)
Lincoln Memorial University (LMU) President Clayton Hess and the LMU Board of Trustees has recognized Dorothy Neely for over 40 years of service as an LMU Trustee.
Neely reached the 40-year milestone in 2020, as she was elected to the Board in 1980; however, due to the coronavirus pandemic a luncheon in her honor was postponed until recently. For a portion of her time as a trustee, Neely has served alongside her son Alan.
"Even before Dorothy joined the board, she was making a big impact on Lincoln Memorial University," said Hess. "She and her late husband, Ray, were integral to the fundraising drive that resulted in the building of the Abraham Lincoln Library and Museum (ALLM) in 1977. Her wise counsel has shaped a lot of the University's work for over four decades. Her service is appreciated and celebrated."
Several representatives of LMU, the community and Neely's family were on hand to formally present her with a framed proclamation. Board of Trustees Secretary Sam A. Mars III read the proclamation after trustee Jay Shoffner spoke about Neely's service.
Neely "not only gives of her time but also her resources, and has supported numerous campus projects," the proclamation reads.
Neely, her late husband Ray, also a trustee, and her parents Mr. and Mrs. R.O. Giles, were primary benefactors of the ALLM. She supported the recent major renovation project as well.
The LMU softball field bears her name and she continues to support that program as well as other athletic programs, specifically women's basketball. She established the Dorothy G. Neely Endowed Scholarship in 2013, supports the LMU Women of Service and numerous other projects around campus.
She is considered "a pillar of the community, always doing for others, and an active member of First Baptist Church of New Tazewell, Tennessee," states the proclamation. It concludes, "…the members of the Board of Trustees, faculty, staff and students recognize the significant impact of Dorothy Neely's service on the LMU Board of Trustees and offer genuine and profound appreciation for 40 years of service to Lincoln Memorial University."
Lincoln Memorial University is a values-based learning community dedicated to providing educational experiences in the liberal arts and professional studies. The main campus is in Harrogate, Tennessee. For more information about the undergraduate and graduate programs available at LMU, contact the Office of Admissions at 423.869.6280 or email at [email protected].