LMU Law Promotes Professor Bianca White to Associate Director of the Law Library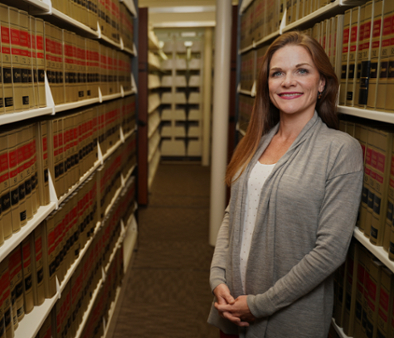 Lincoln Memorial University Duncan School of Law (LMU Law) Vice President and Dean Matt Lyon has announced the promotion of Bianca White to Associate Director of the Law Library and Assistant Professor of Law.
White joined the faculty of LMU Law in 2019, and since that time has served as LMU Law's Assessment Librarian, serving on various faculty committees and teaching courses as varied as Legal Research, MEE Skills I, and Employment Law. In her new role, White will continue to teach but will work closely with Associate Dean and Director of the Law Library Gordon Russell to oversee planning, developing, and evaluating reference activities and initiatives, including liaison programs, outreach, and library-related teaching and other initiatives and programs. She will also supervise other law librarians, including the LMU law library's new diversity fellow.
"In just a few short years, Bianca White has become an indispensable member of our faculty," Lyon said. "She is already a leader here at the law school, so asking her to serve as Associate Director of the Law Library was a natural next step. We are thrilled that she has agreed to serve our law school and our students in this new role."
Prior to joining the faculty of LMU Law, White graduated cum laude and with honors from the University of Memphis School of Law. While in law school, White participated in moot court, received the Excellency in Trial Advocacy award and scholarship, and won the CALI award for Trial Advocacy. White also graduated summa cum laude with her M.B.A. from Bryan College and B.A in History from Freed-Hardaman University. White most recently obtained a Master's in Information Science degree summa cum laude from the University of Tennessee, where she continues to conduct research in legal reference services and Access to Justice. Prior to joining LMU Law, White was an associate with Kramer Rayson LLP for two years, followed by eleven years as a research attorney for LexisNexis.
"I am excited and humbled to have the opportunity to continue to serve LMU and its mission, while taking on a more active and vocal role in the presence and programming of our law library. I am truly blessed to work with such amazing people, and I look forward to years of growth and collaboration," said White.
White maintains an active law license in Tennessee and is a member of the American Bar Association, Tennessee Bar Association, and Knoxville Bar Association. She is also active in the East Tennessee Lawyers' Association for Women (ETLAW), serving as the Community Outreach Chair. She has presented CLEs on several topics from legal research to discovery.
White's teaching philosophy focuses on learning through experience and context. White is a firm believer that one learns far more from failure than success and encourages trial and error in her classroom to best foster these teaching moments. It is White's goal that all students feel confident, included, and safe in expressing their beliefs, thoughts, and ideas in the classroom.
The Lincoln Memorial University Duncan School of Law is in Knoxville's Historic Old City Hall Building. LMU Law is an integral part of LMU's values-based learning community and is dedicated to preparing the next generation of lawyers to provide sound legal service in the often underserved region of Appalachia and beyond.