Adriannette Williams Joins LMU Law as Assistant Dean of Diversity, Equity, and Inclusion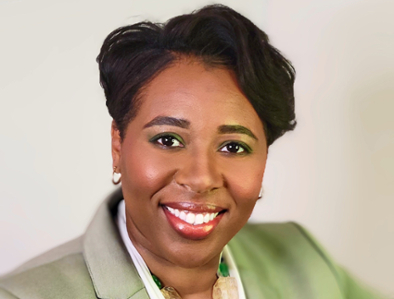 Lincoln Memorial University Duncan School of Law (LMU Law) announces the hiring of Adriannette Williams, the law school's first Assistant Dean of Diversity, Equity, and Inclusion. Dean Williams is also teaching one course per semester at the law school.
Serving as a critical member of the administrative team, the Assistant Dean of Diversity, Equity, and Inclusion is collaborating closely with the Dean, other law school and university leaders, students, faculty and staff to develop, promote, and facilitate LMU Law's strategic goals and concrete actions to forward its progress in diversity, equity, and inclusion.
"We are extremely fortunate to have Dean Williams join our leadership team," said LMU Law Vice President and Dean, Matt Lyon. "Her practice, experience, and her understanding that comes from years of working with legal professionals on DEI issues make her the ideal person for this new role. Moreover, as a first-generation law student herself, she can relate easily with our law students, nearly one-third of whom are first-generation college students."
Dean Williams comes to LMU Law from Tampa, Florida, where she was in private practice after years of working as the Managing Attorney for Dependency, coordinating and supervising attorneys and staff for all dependency cases assigned in Hillsborough County, one of Florida's largest counties. Prior to that, she worked for the Florida Bar, maintaining CLE standards and training judges, lawyers, and staff throughout the state on issues of professionalism, diversity, and inclusion. She has also developed and overseen diversity and inclusion strategies and taught as an adjunct professor at the undergraduate level.
"I am honored to join LMU Law in this inaugural position," said Dean Williams. "I believe diversity, equity, and inclusion are paramount to actual and perceived justice in the legal field. The practice of law is a privilege that comes with many responsibilities, and I do not take my charge lightly. As a first-generation law student, I understand that I may be the only person who stands in between justice and injustice."
Dean Williams holds bachelor's and master's degrees from the University of West Florida and her J.D. from the Western Michigan University Thomas M. Cooley Law School, where she was President of the Black Law Students Association (BLSA) and participated in a summer study abroad program hosted by the University of Oxford in Oxford, England. Dean Williams also has a long record of serving various legal and community organizations, including as the Chair of the American Bar Association's YLD Social Justice Committee, as a Florida Executive Committee Member of NAACP Tallahassee, and as a founding member of the George Floyd Memorial Foundation's Board of Directors.
The Lincoln Memorial University Duncan School of Law is located in Knoxville's Historic Old City Hall Building. LMU Law is an integral part of LMU's value-based learning community and is dedicated to preparing the next generation of lawyers to provide sound legal service in the often-underserved region of Appalachia and beyond. For more information about LMU Law, call 865.545.5303 or visit us online at Law.LMUnet.edu.