Foster-Bruce Promoted to Title IX Coordinator, Institutional Compliance Officer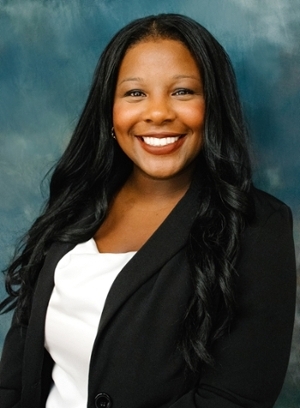 Lincoln Memorial University (LMU) Assistant Vice President for Academic and Student Support Services Blaze Bowers has announced the promotion of Title IX and Institutional Compliance Investigator Checovoia Foster-Bruce to Title IX coordinator and institutional compliance officer.
Foster-Bruce joined LMU in the Title IX office in April 2022. She is a 2020 graduate of the LMU Duncan School of Law (LMU Law), where she excelled both in and outside the classroom. She served as president of the Student Bar Association in her third year, served as event coordinator for the Black Law Student Association and was a Faculty-Selected Peer Leader.
"It is with great confidence that we promote Ms. Foster-Bruce to Title IX coordinator and institutional compliance officer for LMU," said Bowers. "As an LMU Law graduate, she brings not only premier legal training and acumen, but she also brings the spirit of LMU—evident since her first day as our investigator."
Title IX is a federal law and an accompanying body of regulations that prohibit discrimination on the basis of sex in education. Originally intended to promote equity in athletics, Title IX now applies to many areas of higher education: athletics, access to education, protection against sexual harassment, admissions, scholarships and even financial assistance with tuition.
As Title IX coordinator, Foster-Bruce will provide notification and education of Title IX rights and responsibilities to LMU faculty, staff and students. She is responsible for overseeing the Title IX and institutional compliance investigator's office and the coordination of all reports and complaints of alleged discrimination and/or harassment. Her office will provide victim services as necessary and provide institutional monitoring and compliance assurance.
"I am honored and excited to serve LMU as the Title IX coordinator and institutional compliance officer. I am committed to upholding the values stated in the University's mission while supporting LMU's efforts to comply with federal and state law and pertinent regulations," said Foster-Bruce. "I will be working with students, faculty and staff to ensure that LMU is a safe and respectful environment for all and that all students have continued access to a safe education."
Foster-Bruce graduated from Tennessee Technological University in 2017 with a Bachelor of Science in Political Science. While at LMU Law, she served as a legal extern for the Knox County (Tennessee) District Attorney's Office and was granted a limited license to practice law. She later served as a legal intern for the Smith, Lehberger and Bodie law practice in Knoxville and as a remote hearing officer for the Missouri Division of Unemployment Security. As an LMU Law student, she received the faculty-selected Lincoln Lawyer Award for Leadership, was nominated for the faculty-selected Lincoln Lawyer Awards for Character and Service, and qualified for the General Oliver O. Howard Award for completing over 100 pro bono service hours.
"Ms. Foster-Bruce will bring a careful hand to our compliance efforts at LMU and a vibrant passion for educational programming and training," said Bowers. "I look forward to working with her as we promote a culture of going beyond compliance and ensuring a safe and enjoyable learning environment for our students, staff and faculty here at LMU."
A native of Kingston, Tennessee, Foster-Bruce lives in North Knoxville with her husband, Josh, and their young son, Lucca.
Lincoln Memorial University is a values-based learning community dedicated to providing educational experiences in the liberal arts and professional studies. The main campus is in Harrogate, Tennessee. For more information about the undergraduate and graduate programs available at LMU, contact the Office of Admissions at 423.869.6280 or email at [email protected].